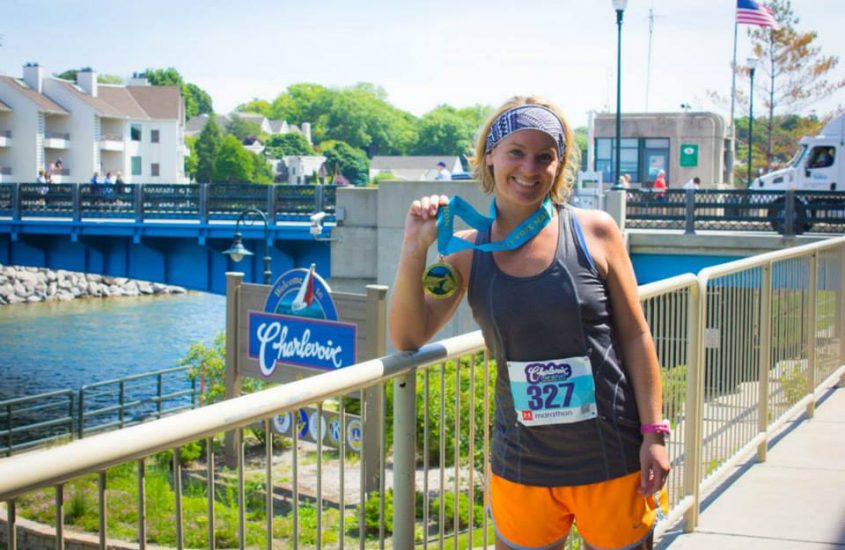 Well that came along quickly, didn't it?  I feel like just yesterday I signed up for this thing, promising myself I'd run miles and miles of training, cross train everyday, and become a lean mean running machine.
How did that go you ask?
If your answer is "not quite as planned" then don't worry, you had a similar experience to me, and believe it or not an overwhelming number of runners do the same.
I'll start by saying I am an avid runner but need motivation.  I sign up for races months in advance, so I have little beacons of motivation to keep me outside sweating my stuff on the trails. In the early spring of 2015, after completing my third half marathon of that year, I foolishly decided that it was time to check "Full Marathon" off my bucket list.  Making my mind up I abruptly signed up for the Charlevoix full 26.2 marathon, thinking I'd be able to stick to a rigorous training schedule and actually complete a marathon.  Obviously these races are nearly all non refundable, so this was my way of putting a $90.00 bet on myself.
Sometimes life gets in the way
Hard core training lasted for about 3 weeks before minor injuries, heat and travel started to get in the way.  Not making up excuses, but I was also in the middle of a job transition, so things were very chaotic.  Although I was running, it was rather sporadic and I was not even coming close to hitting my mileage goals.  Marathon day was always looming out there, but I was so busy I didn't think much about it.  Every few days I'd go for a 3 mile run, but I certainly wasn't doing any real training. I finally got it together a few weeks before and managed to pump out two separate distance runs, one 16 miles and one 18.  Both were rather difficult and my time completely terrible, didn't matter. I had already paid for this race… I was running.
Race Day
So that Saturday morning I woke up at 5am and prepared myself the best I could for what I thought was going to be one of the worst races of my life.  I honestly barely knew what to expect.  I just kept reminding myself of all the people I knew that had already achieved this goal.  If they could do it, then so could I.
So at 7:30am as I crossed the starting line, of course my ego kicked in.  I saw the 10:00 minute mile pacers and decided to go for it.  
"Okay, I'll just run as many miles as I can, then if I have to walk, it is what it is."
10 miles later and I was still running. I convinced myself to stop and walk for a bit around the 13 mile marker because I knew I wouldn't finish if I kept that pace the entire time.  Aside from a distance of 1-2 miles, I ran the entire freaking thing!
Celebrate small victories
One of the best parts of it all?  When I first started my training my goal was to finish in under 5 ½ hours.  Not a fast time by any means, but since I wasn't sure what to expect I would have been very happy with this.  I crossed the finish line at 5:13:12!  Keep in mind that is with almost zero training.  Don't get me wrong, I am not proud of myself for slacking on my training, and in no way would I ever suggest this method to anyone else.  Although, it's experiences like this that make you realize that you can do ANYTHING you set your mind to.  Obviously this probably isn't something you should strive for.  Do the training, log the miles, put the work in.  But if you do ever find yourself in a pickle like I did, mental toughness and adrenaline will most likely get you through.  Also just focus on yourself.  It doesn't matter what anyone else is doing.  It's kind of like life.  Everyone is going to have their own goals and are going to be traveling on their own path.  The only true way to become successful is to figure out what works for you and pursue that vigorously.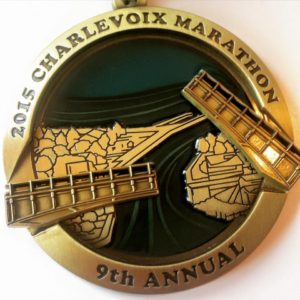 Future strides
It has been almost two years since my first marathon experience, and I am happy to report I have decided to run another one, the RIGHT way this time.  The race is October 9th and I plan to start training around the end of July.  I will hopefully be able to share some incredible comparisons between these two races when it's over. Although it was a partial failure, this experience was monumental for me, and now more than ever I believe I can truly do anything!