Sausage Sweet Potato Breakfast Skillet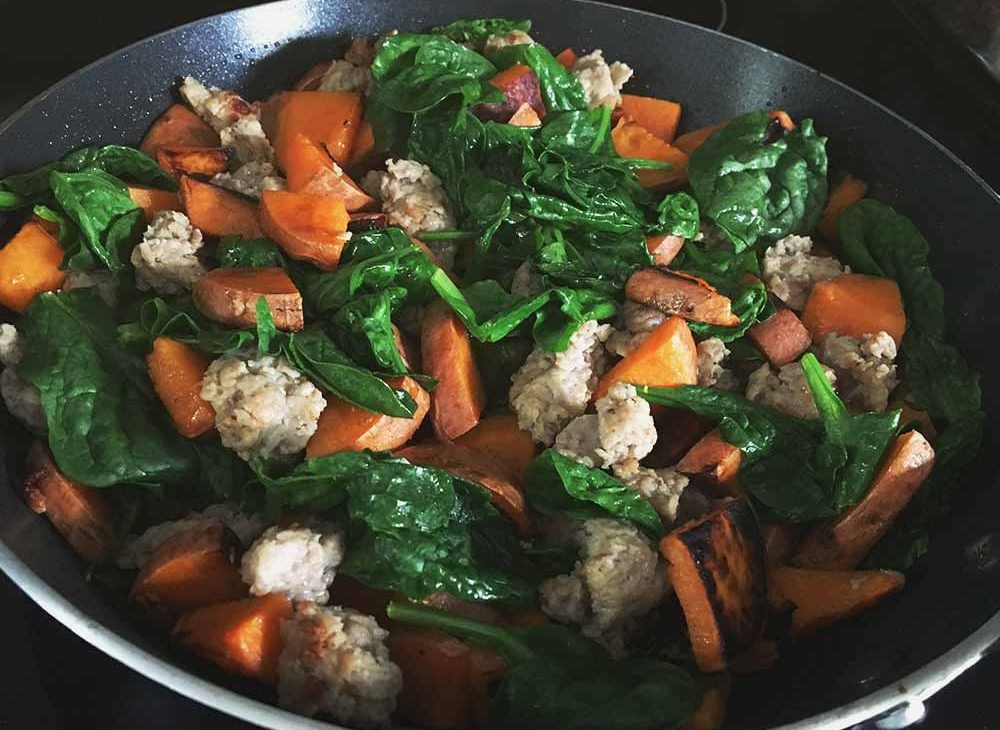 I love to cook breakfast. I would have to say it's one of my favorite parts of my weekend.  It's so nice to relax in the kitchen and spend some time with good music and the people you love. I've actually dedicated a Spotify playlist specifically to this activity called "Sunday Morning Over Easy" Which I would highly recommend following if you enjoy your weekend mornings as much as I do.
So as far as food, I wanted to share a few of my go-to weekend recipes that never let me down.  Most of what I make is pretty simple but never seems to disappoint. This particular recipe actually evolved from a paleo dinner that I made once which wasn't all that impressive. So the next morning  I decided to try and dress the leftovers up with some eggs and spinach. It turned out amazing and now it's become one of my most used meals.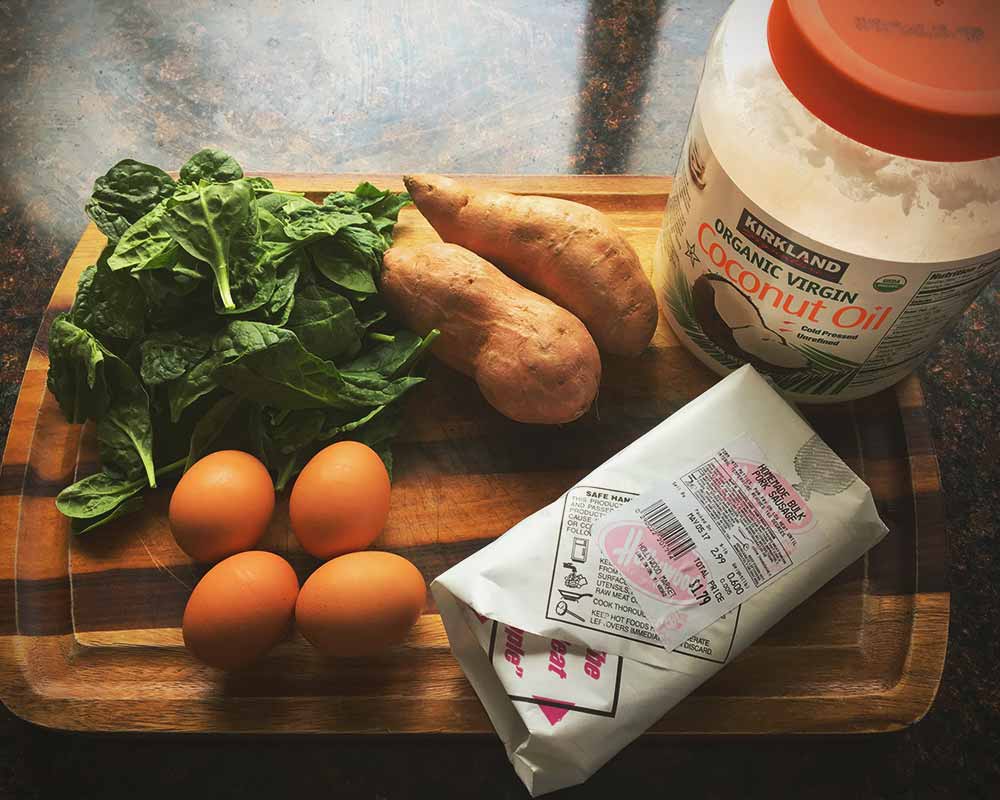 Add coconut oil to the skillet then add diced sweet potatoes and cover for ten minutes. Stir occasionally.
Add sausage to a separate skillet. Cook, drain grease, and set aside.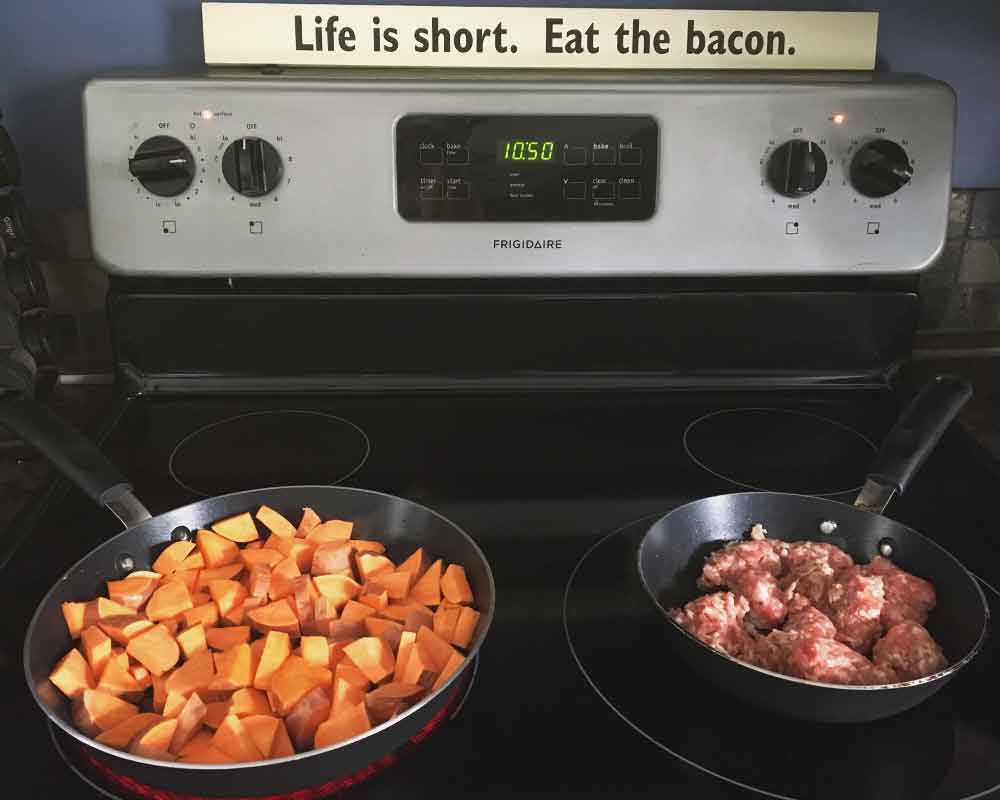 Once sweet potatoes are three quarters of the way cooked add cooked sausage and spinach. Be careful to not overcook the sweet potatoes. End result could be mushy if left on burner too long.

Cover skillet and remove from heat.
Cook eggs over medium.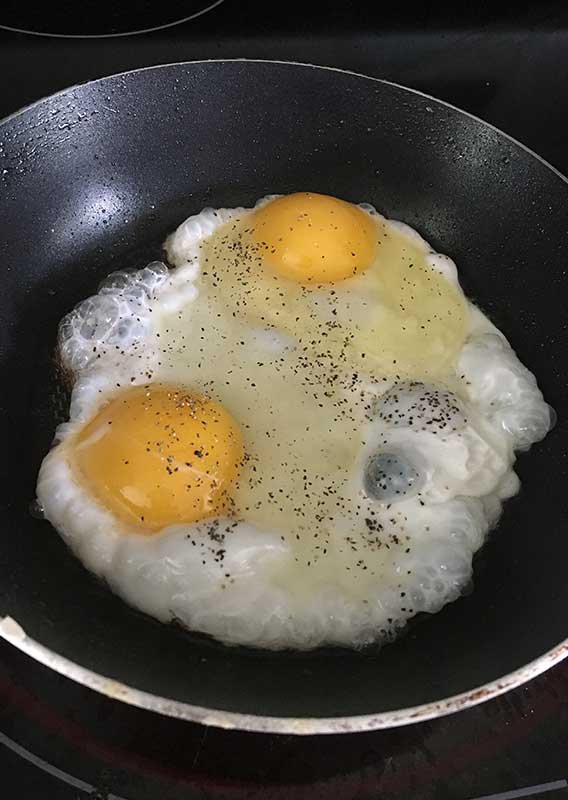 By now spinach should be steamed and end result should look something like this.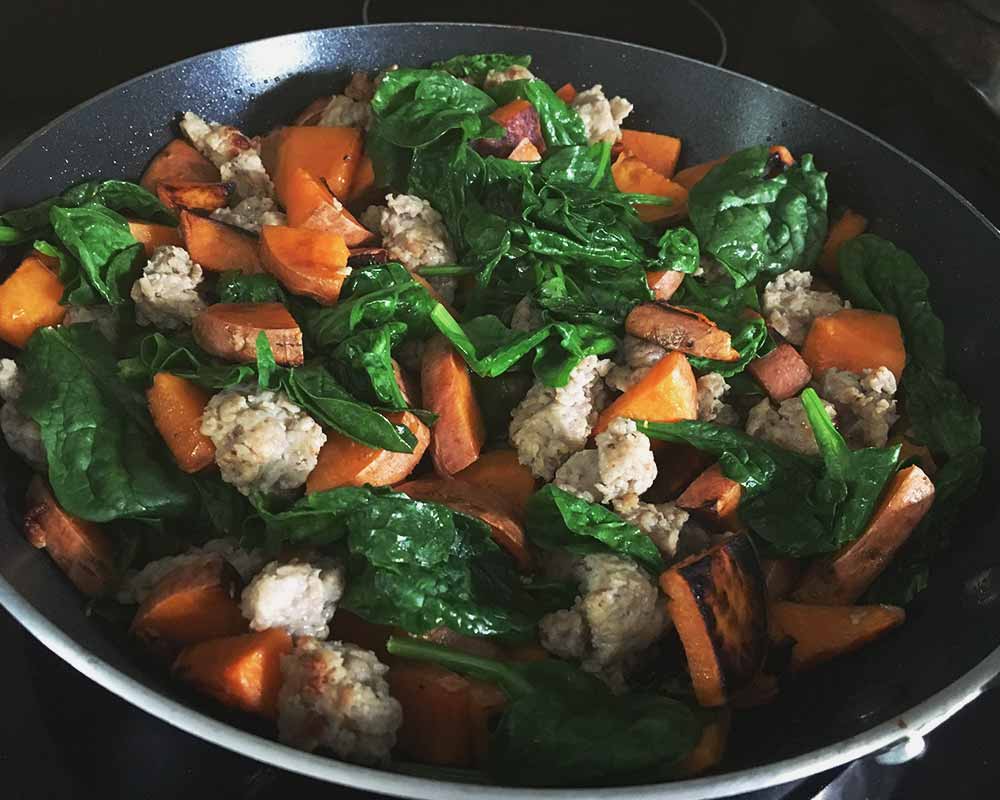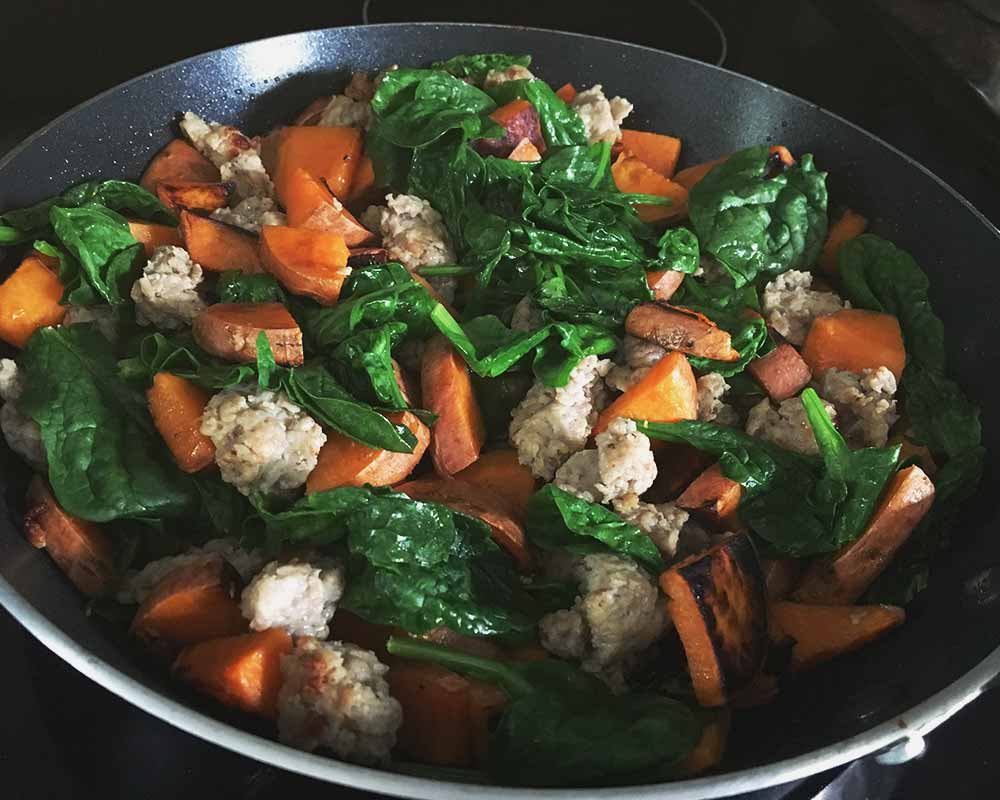 Place cooked items on to plate and serve with egg on top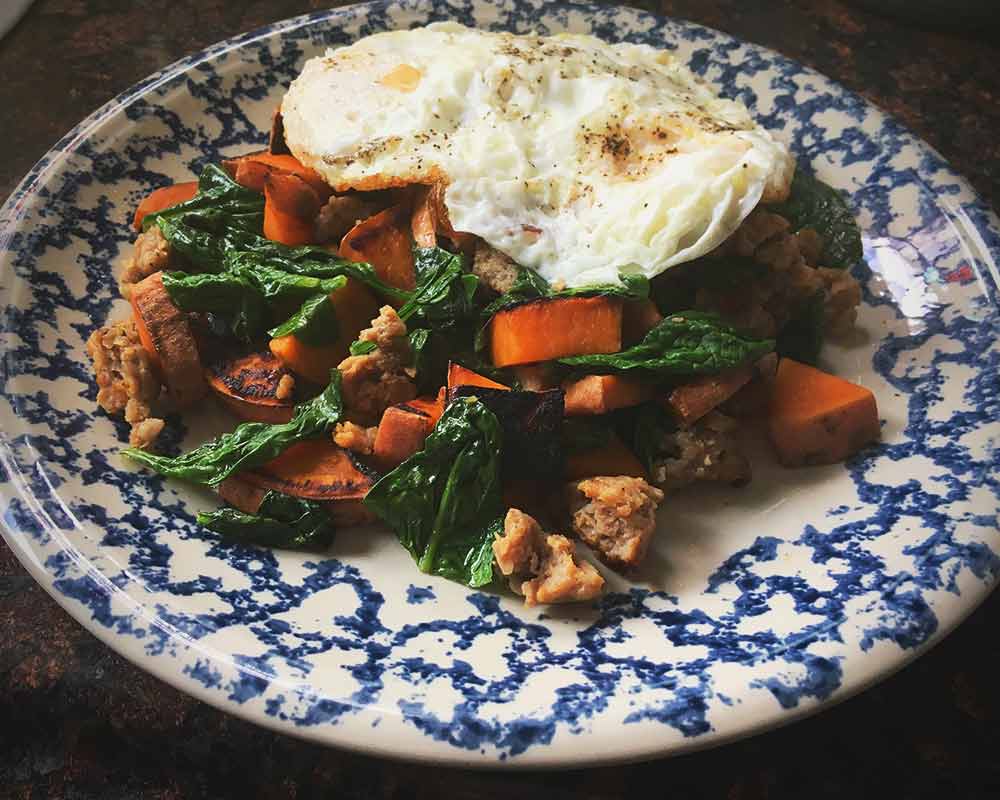 Enjoy!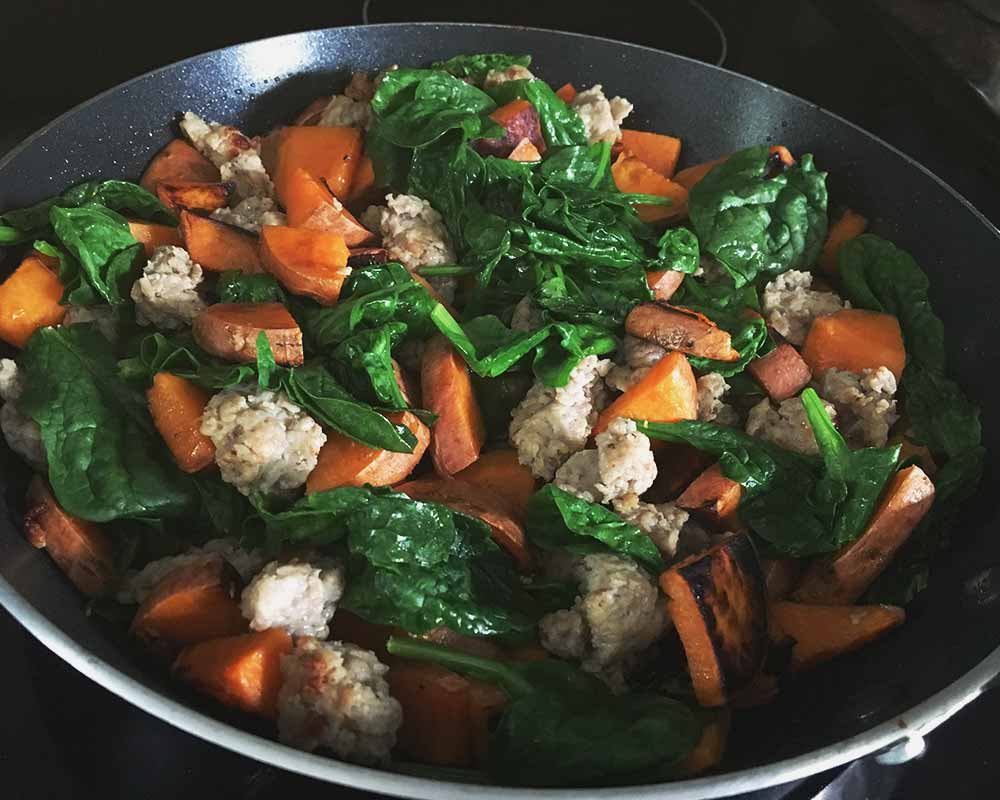 Sausage Sweet Potato Breakfast Skillet
Depending on servings adjust ingredients.
Ingredients
2

Medium Sized Sweet Potatoes

2

Cups

Spinach

4

Cage Free Organic Eggs

1 1/2

Tbsp

Coconut Oil

1

lb

Breakfast Sausage
Instructions
Add coconut oil to skillet then add diced sweet potatoes and cover for ten minutes. Stir occasionally.

Add sausage to a separate skillet. Cook, drain grease, and set aside.

Once sweet potatoes are three quarters of the way cooked add cooked sausage and spinach. Be careful to not overcook the sweet potatoes. End result could be mushy if left on burner too long.

Cover skillet and remove from heat.

Cook eggs over medium.

Place cooked items on to plate and serve with egg on top