My Love Affair With Coconut Oil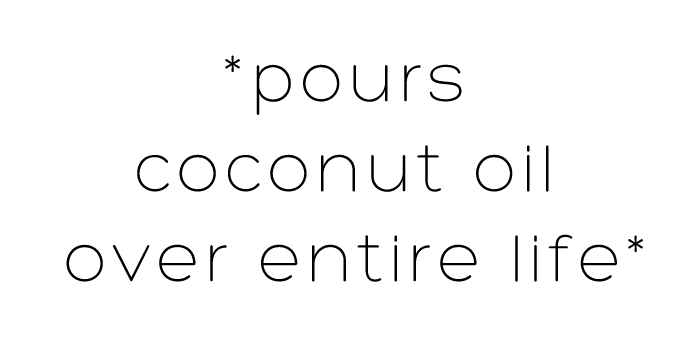 I am OBSESSED with coconut oil. I wanted to write this blog because this all around wonder product has been making my world go round for about two years now. Cold pressed, extra virgin coconut oil is a miracle food.  It is incredibly nourishing, healing, protective and delicious.  Coconut oil contains less calories than other oils, its fat content is easily converted into energy and it does not lead to accumulation of fat in the heart and arteries.  As a bonus it also helps boost energy and endurance.  I use coconut oil dozens of different ways on a daily basis in both the kitchen, and as a beauty staple.  There are many different health benefits to this super food, some including – maintaining cholesterol levels, weight loss, increased immunity, proper digestion, hair/skin/dental care, and bone strength.
Add this oil to your diet.  Replace vegetable oil, butter or margarine with coconut oil.  Replace your facial moisturizers with coconut oil. Swap your mouthwash or even your coffee creamer with coconut oil.  Get it in there!  It's delicious and super healthy!
Here are a few of my favorite daily uses:
In cooking (obviously) – Great for baking, stir fry, or as a dairy free replacement to butter.  It even makes a mean grilled cheese!  Adds rich flavor to sauteed veggies or baked veggies- especially sweet potatoes!  It's really multi purpose and in every situation it adds the best flavor and smooth creamy texture.
Metabolism boosting coconut oil coffee – Boosts energy and alertness. This may surprise you, but I put coconut oil in my coffee.  It's delicious! But I don't do it just for the yumminess.  Coconut oil gives me super powers. For realz. It gives me a boost of energy and helps me fight all the super germs I come into contact with daily.  Add 1-2 teaspoons to your coffee to burn a ton of calories/gain superpowers.
Eye makeup remover – This may sound so strange but seriously I have yet to find anything that takes off my makeup so effectively. Just rub a pea sized amount over both eyes and eye makeup will melt off. *Bonus* rubbing this on your eyelashes at night also increases growth and moisturizes the lashes so they won't fall out.  If you want to take it a step further you can mix ¾ castor oil and ¼ coconut oil.  Pour both into a squeeze bottle and use an old eyeliner brush to apply.  Results take about 2 months, but guaranteed longer lashes- so it's totally worth it!
As a replacement to your daily moisturizer or body lotions – Every night I use a small amount of coconut oil on my face as moisturizer and now I always wake up looking so much fresher than I ever used to.  This happens because coconut oil is full of vitamin E, which encourages the growth and repair of skin cells, protects against aging and also makes the skin smooth and soft.  Bonus, it also aides in helping to resolve acne.  As a body lotion it's also amazing.  It's so effective that you'll only need to use it about once a week to keep your skin hydrated and soft.  For my whole body I probably only use two tablespoons or so, and I normally apply it right after I shower to let it sink in throughout the day.
Added to dog food for a delicious daily treat for your pets –  It keeps their hearts and coats healthy.  Coconut oil is made up of more than 90% medium chain triglycerides (MCTs) which are the main source of benefits.  Having these super awesome MCTs can do a lot for your dog, Including: Clear up skin problems from allergies or dry skin, improve general skin health, make their coats shiny while also deodorizing doggie odor, improves digestion, reduces bad breath, increases energy, and aids with arthritis or ligament problems.
Oil pulling which improves gum health and whitens teeth – If you aren't familiar with oil pulling, it's simply swishing oil in the mouth for a period of time (5-20 minutes) and then spitting it out in the trash.  It is said to help reduce plaque and coconut oil is naturally antibacterial and is even said to kill specific bacteria that causes cavities.  Oil pulling also helps to decrease gum swelling and bad breath.
Rubbed into the scalp and on hair as a mask – Believe it or not, coconut oil also makes an awesome hair mask.  I try to apply it over night once every week or two to keep my hair soft and shiny.  Simply add about a teaspoon to your ends, then brush them to make sure the oil is spread evenly. To remove the mask, simply wash it out with shampoo and conditioner a few hours later or even the next morning.  Doing this will stimulate growth, leave hair shiny, lustrous, and dandruff free. I avoid my roots as it can be harder to rinse out and can result in hair looking greasy.
Helps to suppress appetite in order to increase weight loss – Twenty minutes before mealtime is the best time to take your coconut oil as it will significantly reduce appetite and help you feel full more quickly and satisfied with smaller portions.  I simply eat the coconut oil and let it liquify in my mouth for a few seconds before swallowing.  It can also be used as an immediate source of energy when eaten on it's own that isn't stored as fat. I sometimes eat a spoonful before a long run.
Coconut oil is pretty easy to find too, and unlike most health foods there isn't a huge discrepancy between the quality of different brands.  They're almost all awesome! There are a few things that you should look for when buying your coconut oil though.  It really needs to be raw, unrefined "virgin" oil in order to get all these super health benefits – WARNING this can be more expensive, but each jar lasts a few months and trust me it's really worth every penny!!