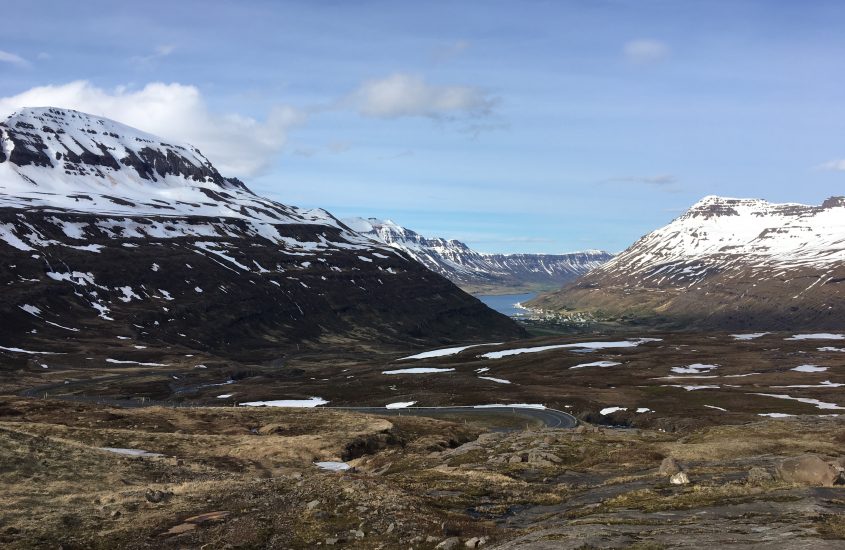 When you think of Iceland what is the first thing that comes to mind? Majestic glaciers? Glittering ice caps? Vibrant green northern lights darting across the sky? Well, for me the first thing that came to mind was bucket list. Iceland has been on my list for ages. It always seemed like the perfect place to get lost-in-nature. So much so, that it almost seemed liked the unattainable dream. Like that perfect place that you always dream of, but you will most likely never go. Well, much to my own surprise and excitement, I finally went! And to say that Iceland exceeded my expectations would be a total understatement!
Our itinerary was based on a 7 day/6 night trip to Iceland and was completed using a rental car. We thought it best (and cheapest!) to stay in hostels along the way, but you your accommodations are entirely up to you. You have many options as far as hotels, bed & breakfast, or even campgrounds but keep in mind that Iceland isn't the most budget-friendly destination. Although, the cheapest way for us probably would have been camping. We had to keep in mind that it can get pretty cold or rainy depending on the season you're going. Since we chose to plan our trip during the shoulder season to avoid the crowds, we decided a warm room made more sense due to Iceland's crazy and unpredictable weather.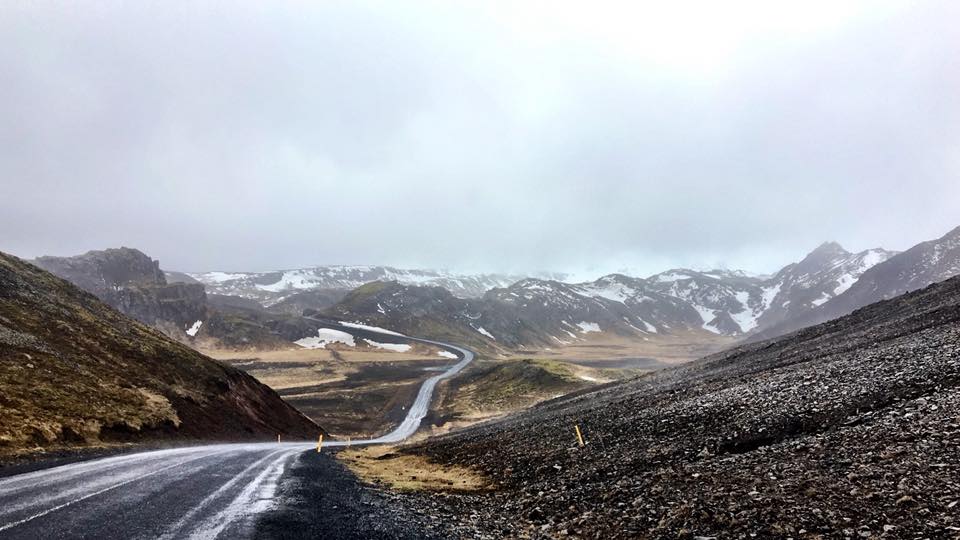 The Ring Road
The Ring Road is the perfect dreamy destination for an epic road-trip. It wraps it's way around the country in a circular fashion – 800 miles of paved highway, this is your main road from which all other roads will branch off from. The first thing you are going to want to decide when planning your trip is how long you are going to stay. It is recommended to take about 7-10 days to tour the ring road in its entirety, so we were really hauling ass trying to do everything in 7 days. What direction you will want to drive in should be your next question. Although there is really no right or wrong way, you'll want to pull up a map of the country and choose at least 5 mini bases for your trip. We chose to stay at a different place each night in order to keep moving, but it was tiresome and made for some long days. If that seems like too much for you, there is so much to do in southern Iceland that you could just stay put for at least two days while touring that area. Whatever you choose, I suggest planning each day's itinerary before you leave and then adjusting it there depending on weather, route completion and energy levels the day of.
Planning your Iceland road-trip itinerary might be harder than you think! So take the time to do your research! When I first started searching where to go to Iceland, I was immediately overwhelmed by the sheer number of things to see and places to pick from in this country. Not to mention the crazy Icelandic language! The names of all the attractions are seriously wild and it makes it even more difficult to plan your days. So you'll want to be prepared with your distances and destinations are written out in order to maximize your time for each day.
Flight info: WOW AIR
Depart: Tuesday, May 22 – 12:50am
Arrive: Tuesday, May 22- 10:50am

Day One- Arrival In Reykjavík and Golden Circle
This Day in a Glimpse: Geothermal Area, Geysir, and Gullfoss Waterfall

(Selfoss HI Hostel)
From airport to Selfoss 50 minutes without the golden circle
Everyone flies into Keflavik International Airport (REK) so this is where our journey will begin. On the day of arrival, the weather was less than ideal, to the point of being almost comical. The winds were so strong you couldn't even pull open a car door and the rain was pouring out of the sky in buckets. We took a shuttle from the airport to the rental car agency and got ready to hit the road. The Golden Circle was a nice introduction to Iceland. It is a popular tourist route which includes stops at the national park Pingvellir, the waterfall Gullfoss, and the valley of Haukadalur, a geothermal area which hosts the infamous Geysir. It was the perfect day-one adventure because the yucky weather kept the crowds away and after seeing the rest of the sights on the island, I think if the trip was reversed I would have found these slightly seriously underwhelming. With nothing to compare it to, day one was perfect.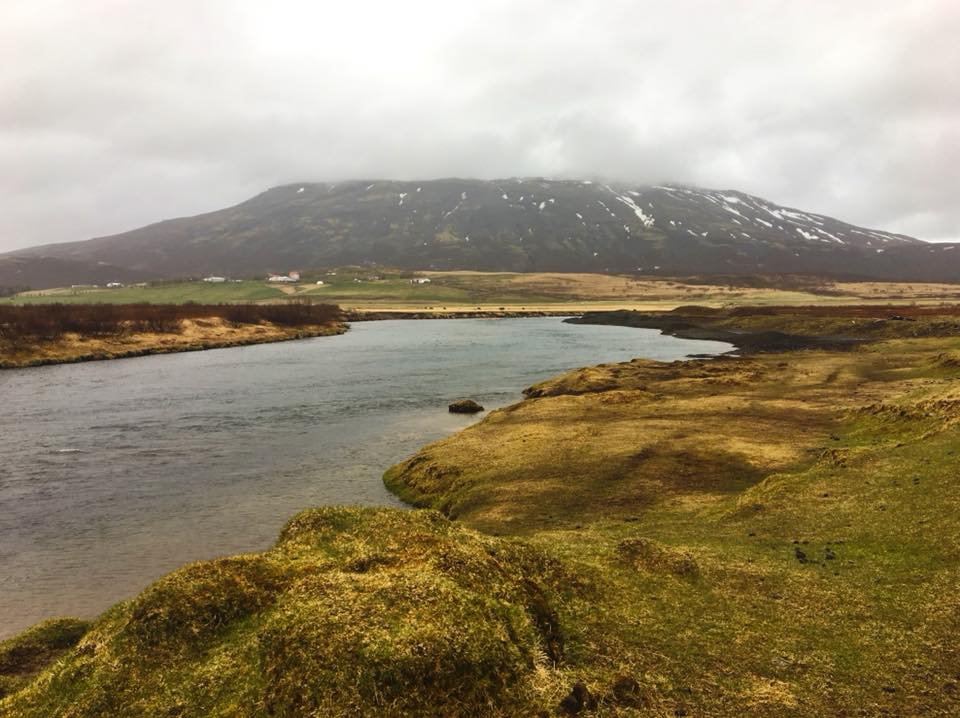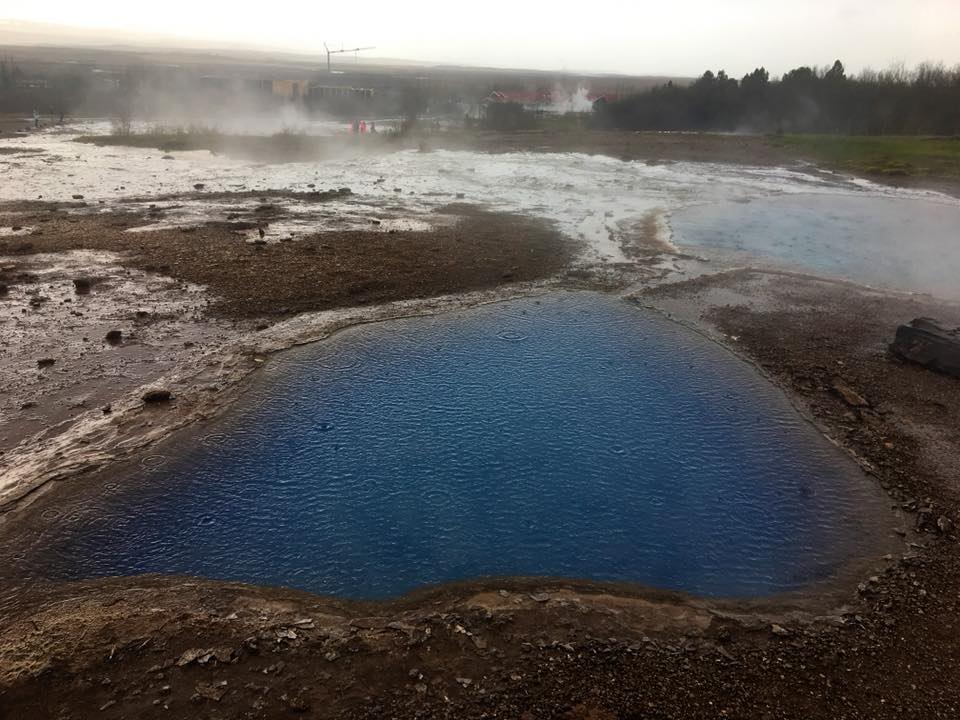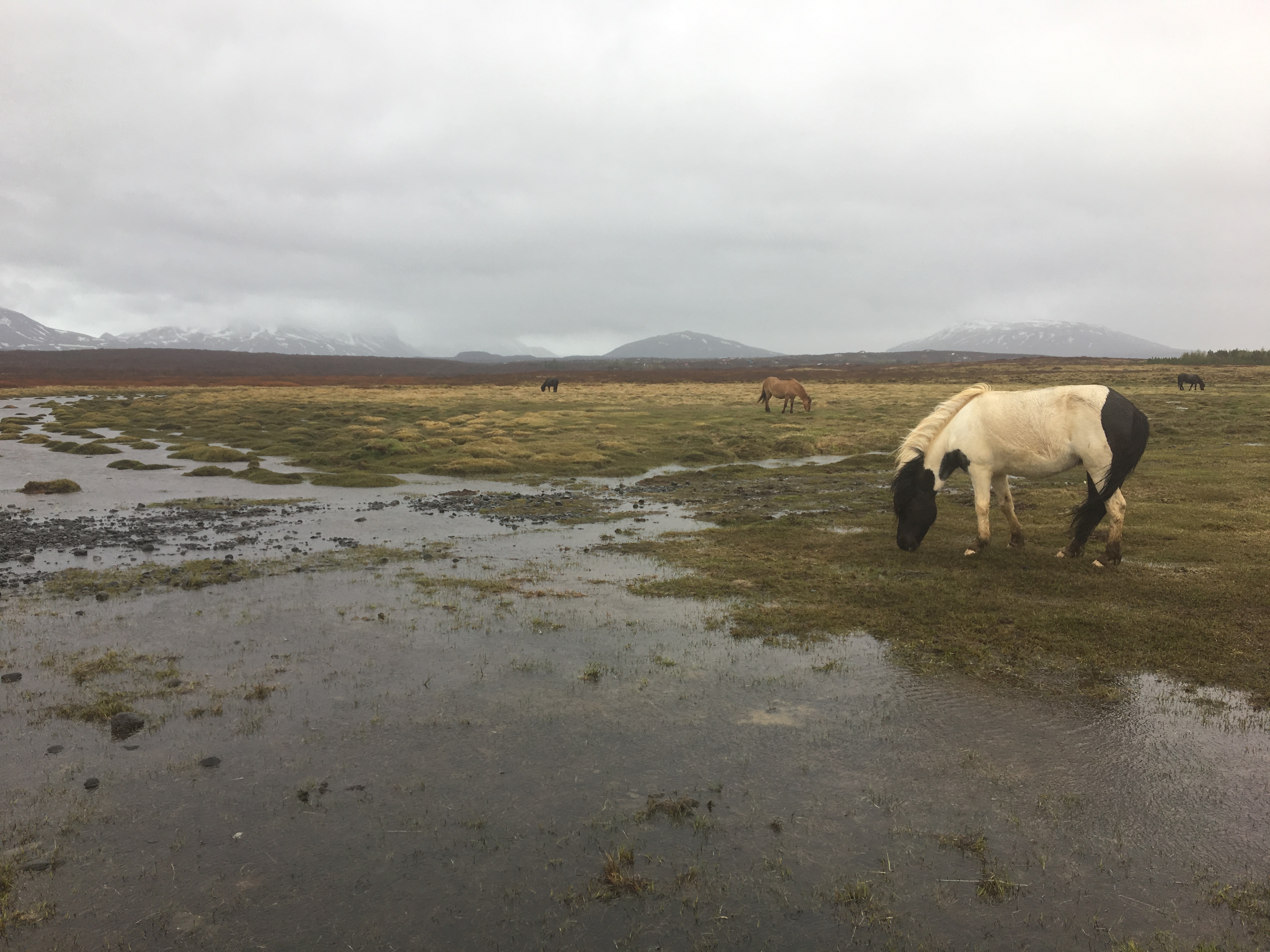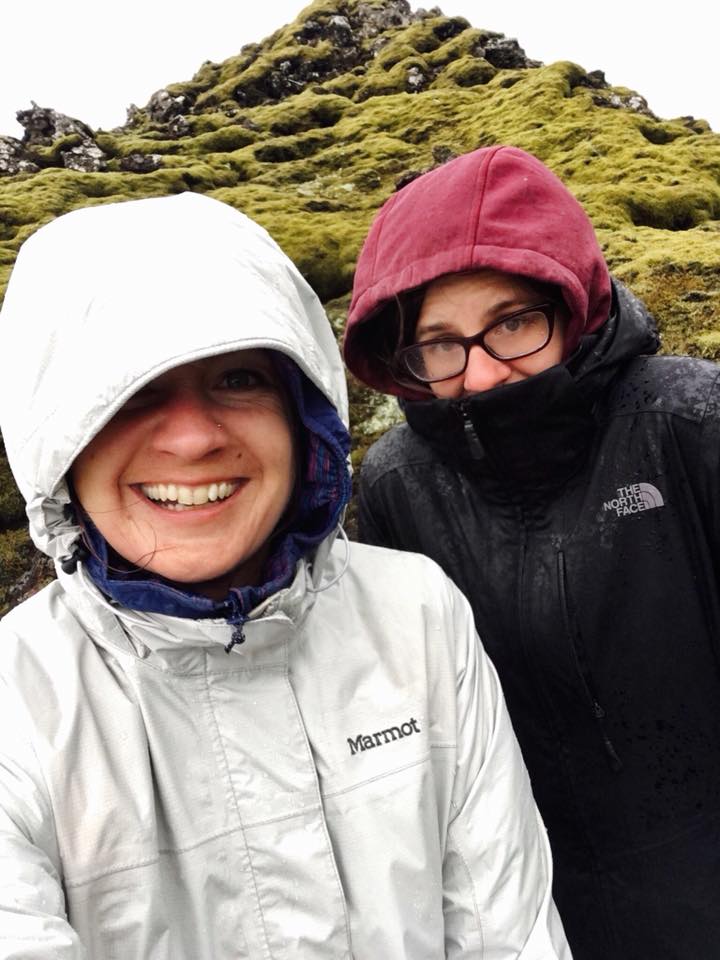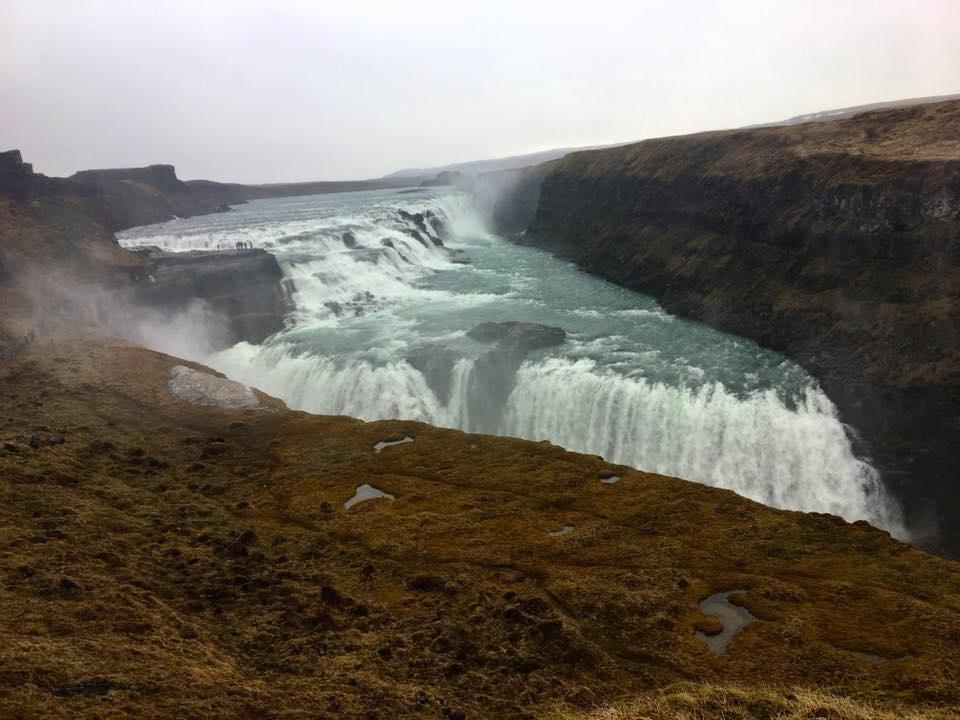 Day Two- Selfoss to Vik
This Day in a Glimpse: Seljalandsfoss, Skógafoss, Glacier, Black Sand Beach, Reynisdrangar, Lava Fields, Fjaðrárgljúfur Canyon

(Vik HI hostel)

From Selfoss to Vik 1 hour 39 minutes without stops
On this day the theme was water. We met two of Iceland's best-known waterfalls, and one of it's most visited beaches. Driving up to our first stop, Seljalandfoss, from the West was so awesome because we could already see the waterfall's narrow stream shooting out from the side of a mountain through the early morning sunshine. The mist from the powerful falls sent rainbows shooting all around and it looked like some type of scene from a fantasy movie. Keep in mind that Seljalandfoss is a place where you are able to walk completely behind the waterfall, so I would strongly recommend being waterproofed from head to toe.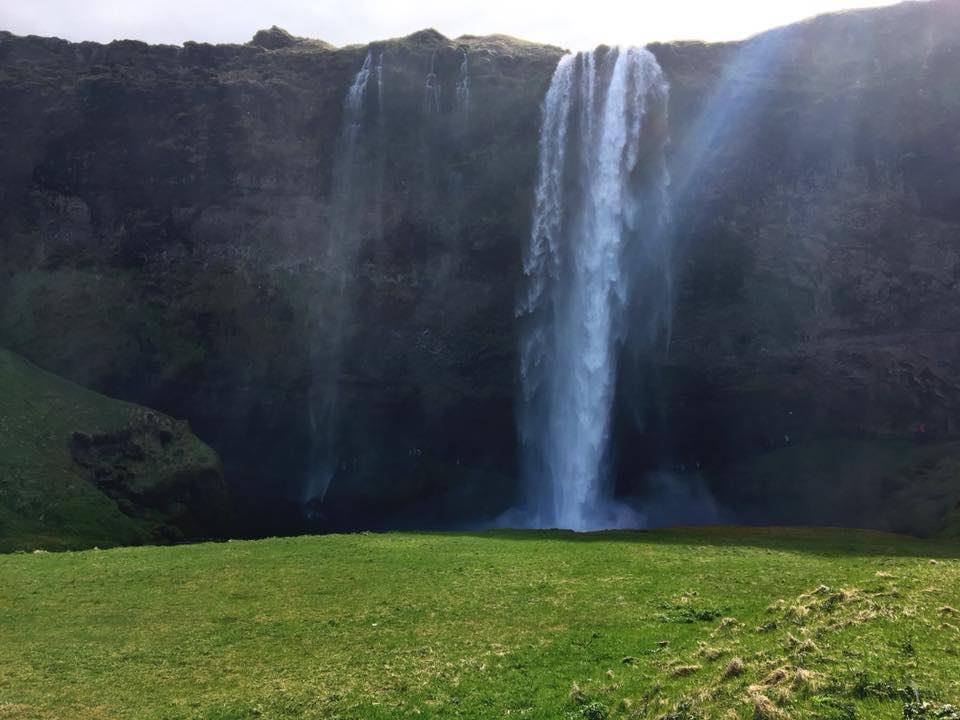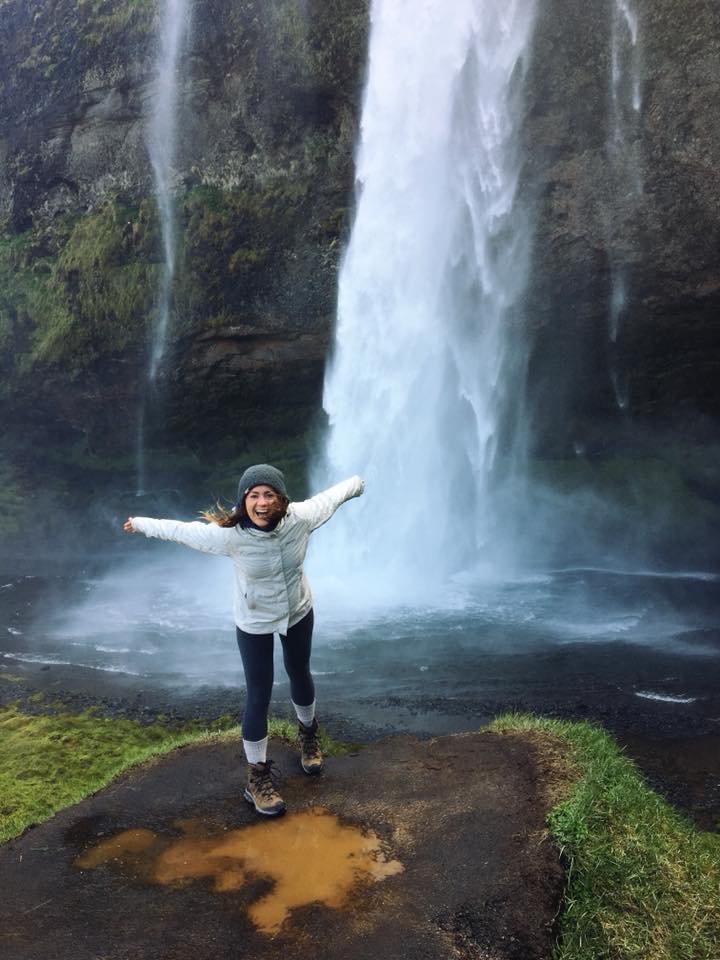 After a short hop back in the car, we drove a few miles down the road to Skogafoss, which is probably the most recognizable waterfall on the whole island! What is so cool about these falls is that you can get essentially as close as you want, just be prepared to get wet! There are also stairs (lots of them) that take you to a beautiful overlook of the falls and more winding trails and canyon views.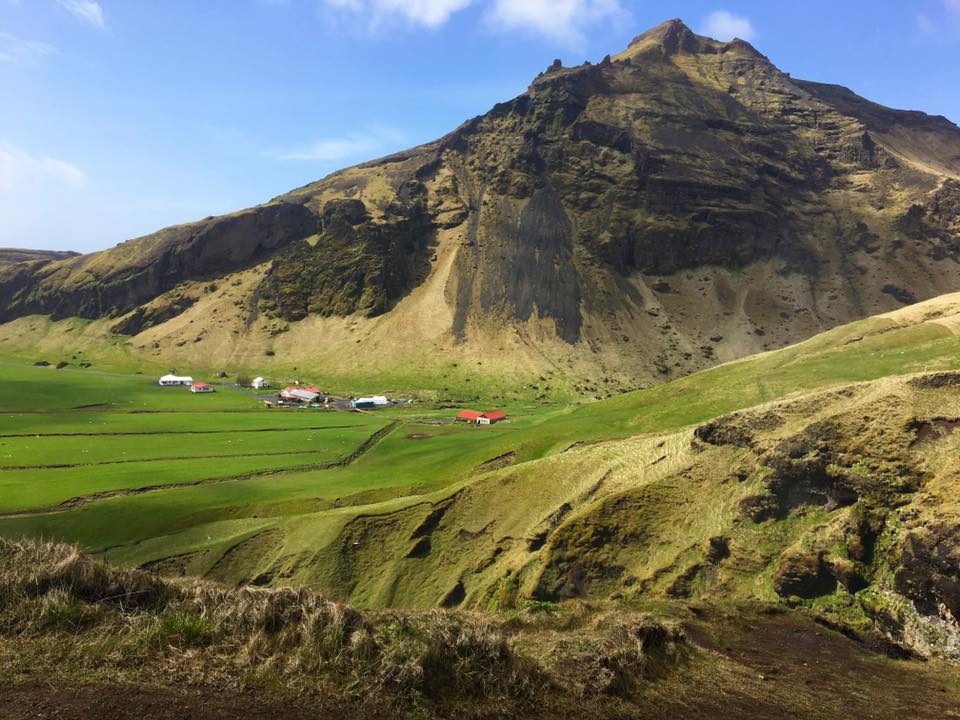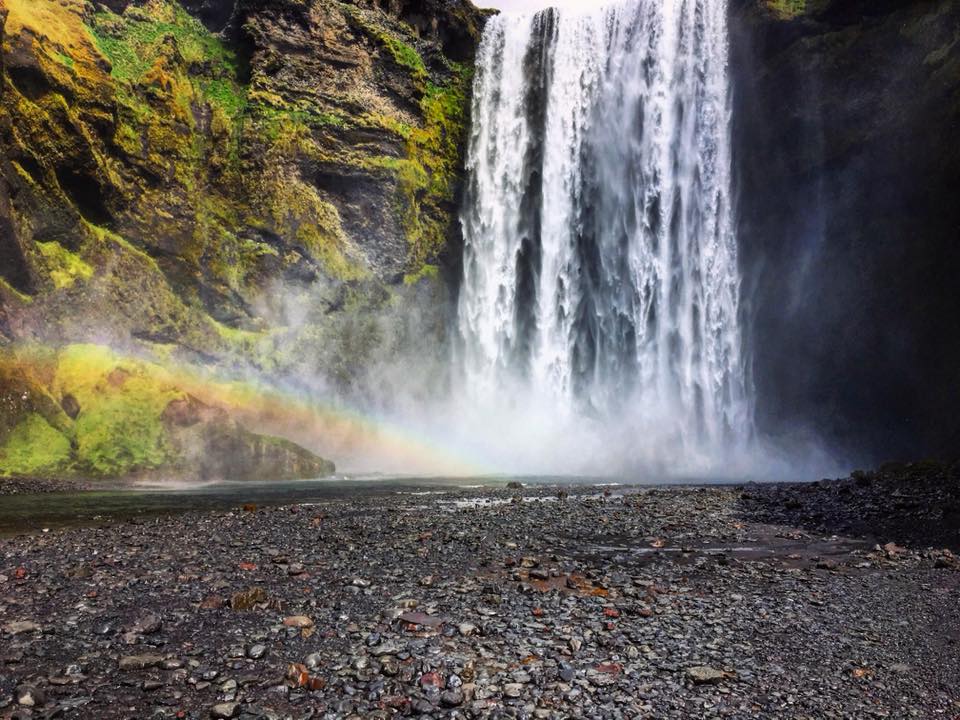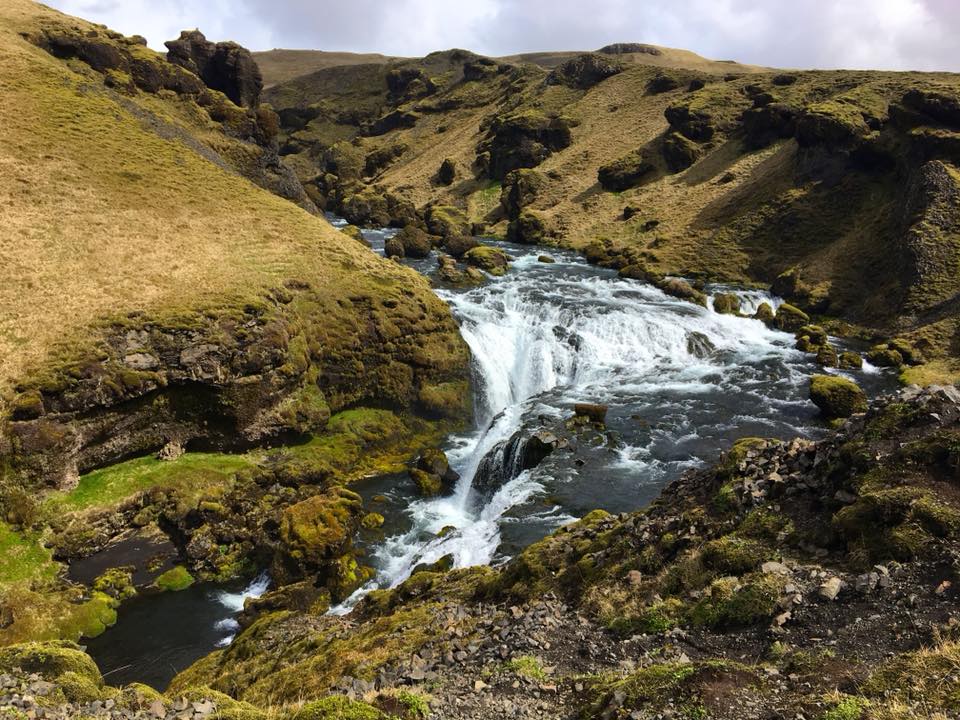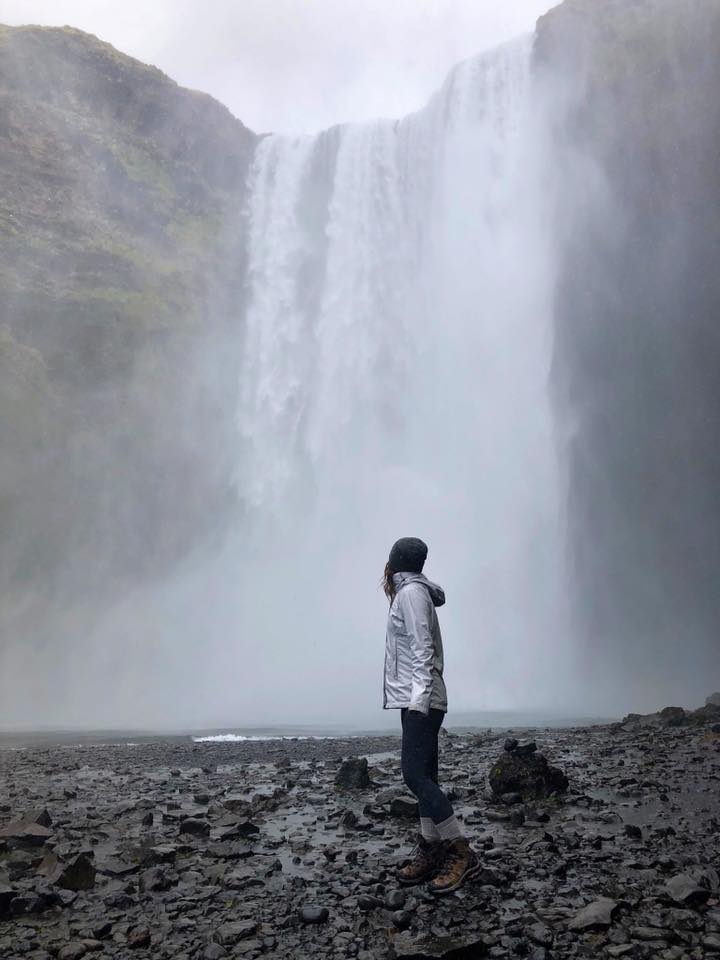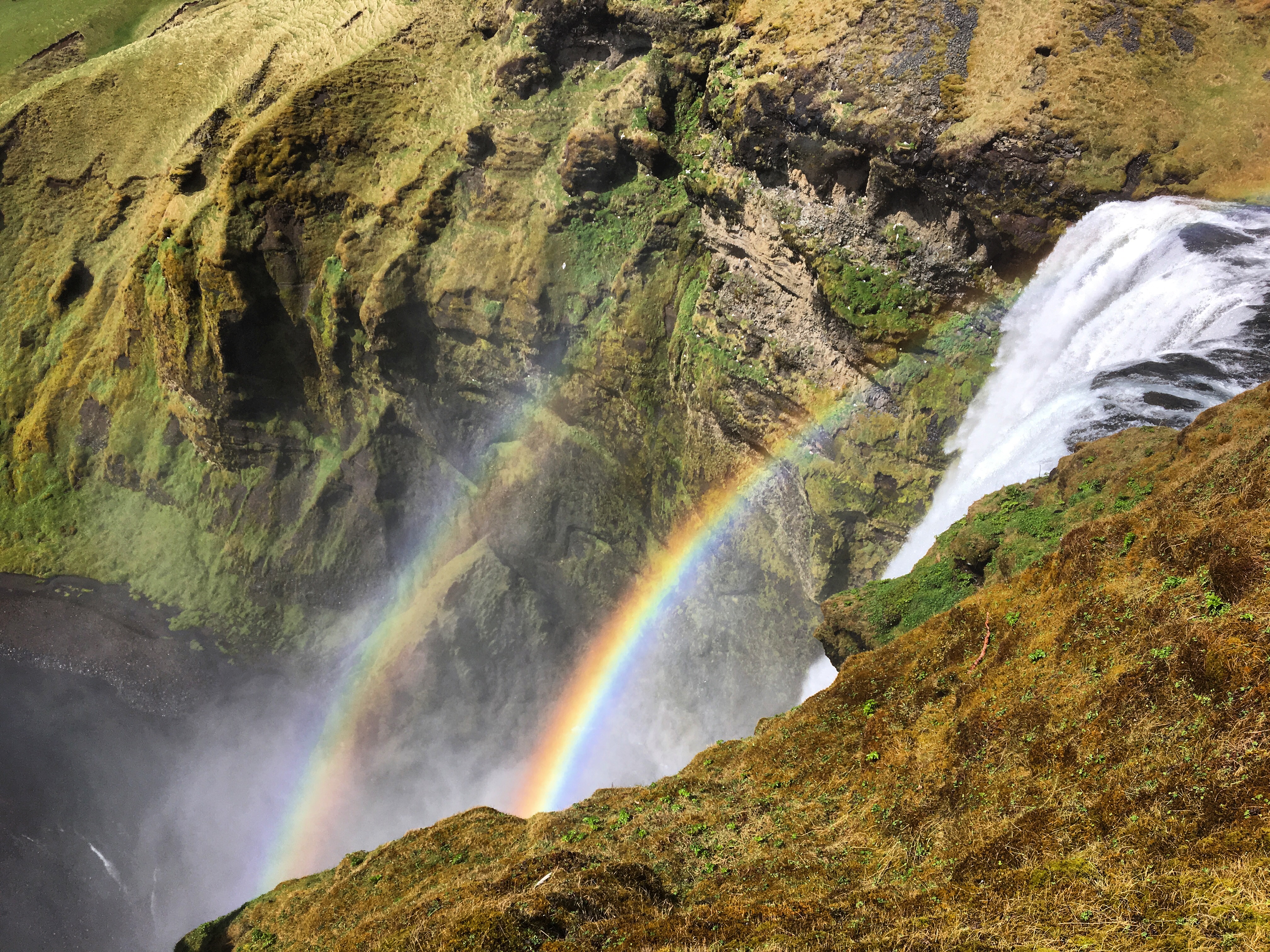 Just a few minutes drive west of Skogafoss is a sign that says Svinafellsjökull, which we almost passed by (actually we did, but then we turned around, and we were glad we didn't miss it!). Take the turn at this sign and in 2 km you'll be at the foot of a massive glacier. Sólheimajökull glacier is part of the Mýrdalsjökull ice cap and is the southernmost glacier in Iceland. Making this stop gave us the opportunity to walk through a varied landscape formed by the glacier. From this point, it's actually possible to see how rapidly the glacier has melted over the last 15 years. This place was crazy cool!
Our next stop was the Solheimasandur Plane Wreck. This plane wreck is of the most famous places to visit in Iceland. The plane crashed back in 1973. To get there, you'll have to park your car and then walk to the site, and from what we heard it takes around 1 hour and 30 minutes for the round-trip. When we got to the parking lot it was packed with tourists. Leah and I looked at each other and just kept driving. Looking back, I am a bit bummed we decided to skip this one, but neither of us could bring ourselves to burn that kind of time for a less than epic view that would be crawling with tourists. I have a few friends that recently made the trek and took some lovely photos of the wreckage, and honestly seeing those was more than enough for me.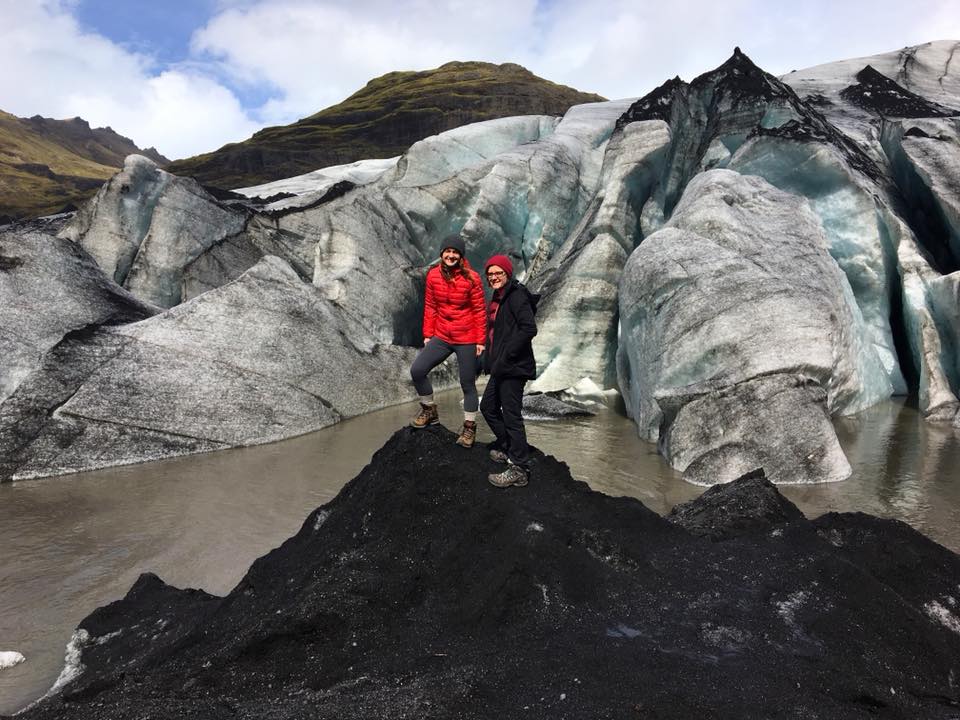 The black sand beaches were one of the coolest things I was looking forward to seeing when I came to Iceland, and they didn't disappoint. Although there were a lot of tourists, there were also so many unique vantage points from which you can see stark contrast of the angry white crashing sea on ebony sand. I've got a confession: Reynisfjara was slightly disappointing to me. The basalt columns you find at this location are actually kind of small and there were SO MANY tourists here. If you are heading to this part of the beach to try and get some photos, I would recommend trying it in the very early morning. Otherwise, it's not somewhere you're going to want to spend a lot of time.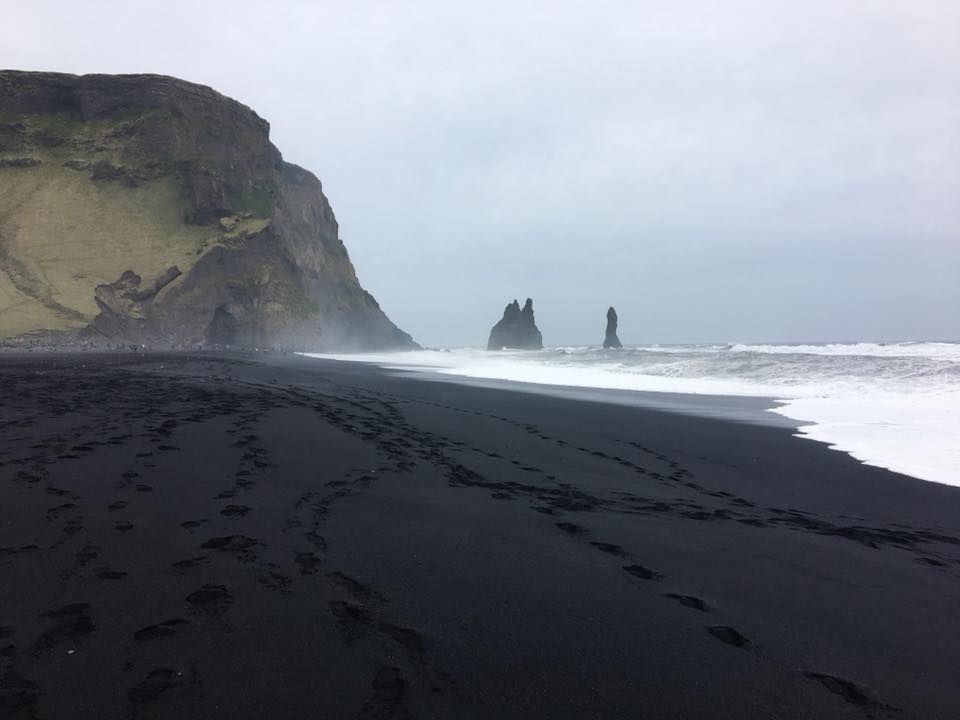 We decided to head into Vik early to get things at the hostel settled. We ate a quick dinner and headed back out since the sun in Iceland wouldn't set until about 11:45 at night that time of year. Since it was a beautiful and clear night we chose to take a 45-minute detour and head towards Fjaðrárgljúfur, also known as Moss Canyon. Fjaðrárgljúfur is a beautiful lush valley carved into the Icelandic countryside that continues on for 2 km with a picturesque waterfall at the end. The hike was said to be beautiful and we lucked out with such a perfect night to go. When we arrived the roads were still shut down due to the danger and risks of snow that time of year. So the two of us had to do a few extra miles on foot but we didn't mind. The views were totally worth it. When continuing on Ring Road past Vik in either direction, you'll also become aware of the moss-covered rocks on both sides of the road as far as your eye can see. These rocky fields were once lava and now the moss has taken over. The scenery makes for a pretty cool photo op. Almost feels like being on some other planet. Just be mindful of where you walk because this ecosystem is pretty fragile.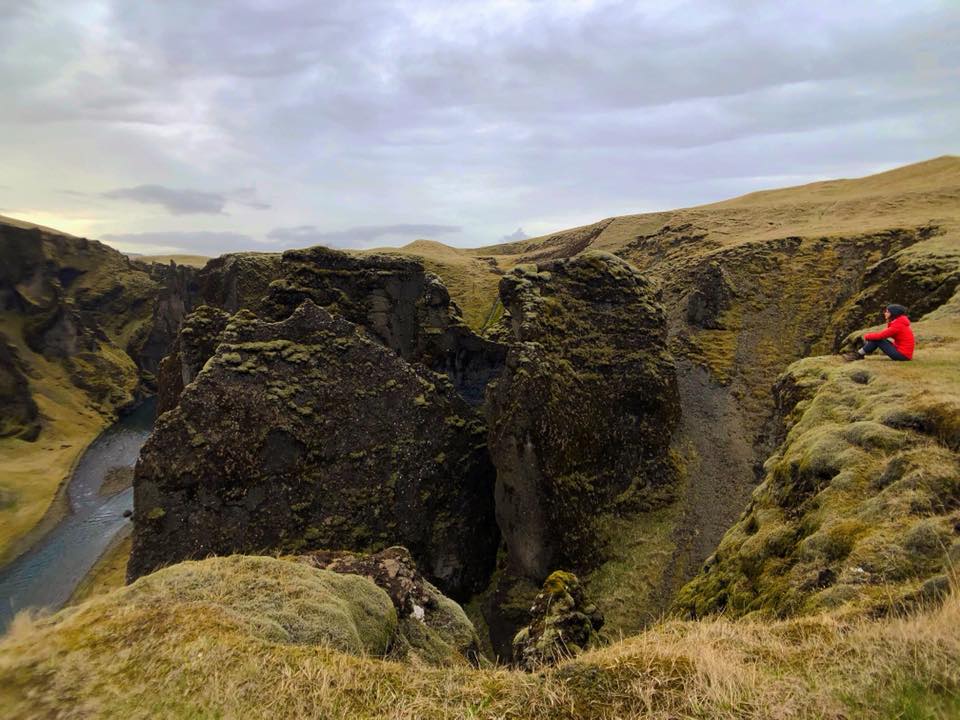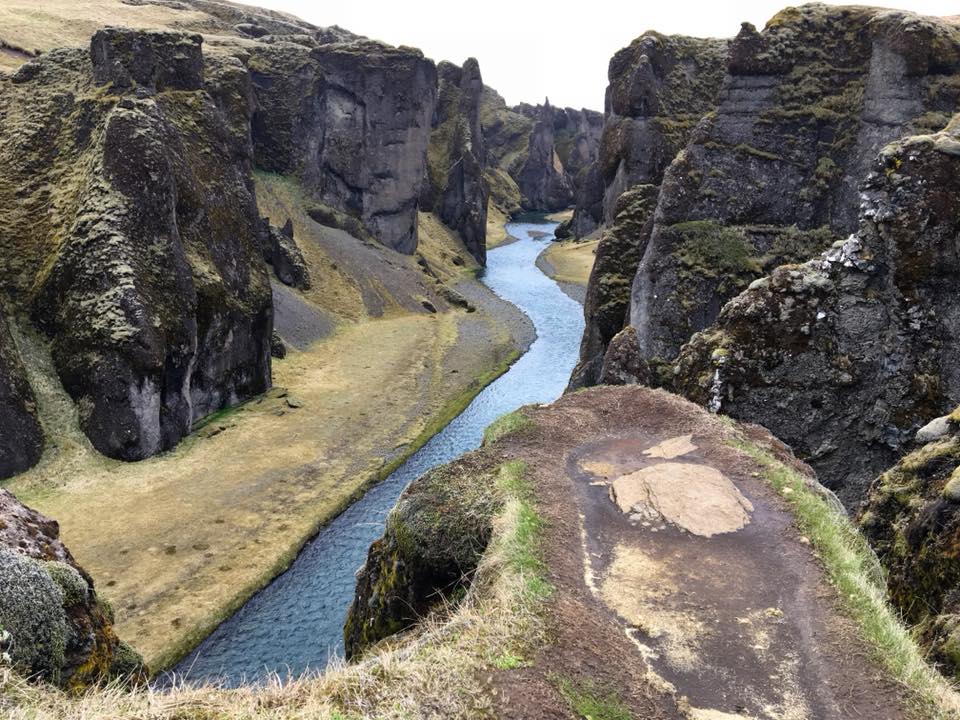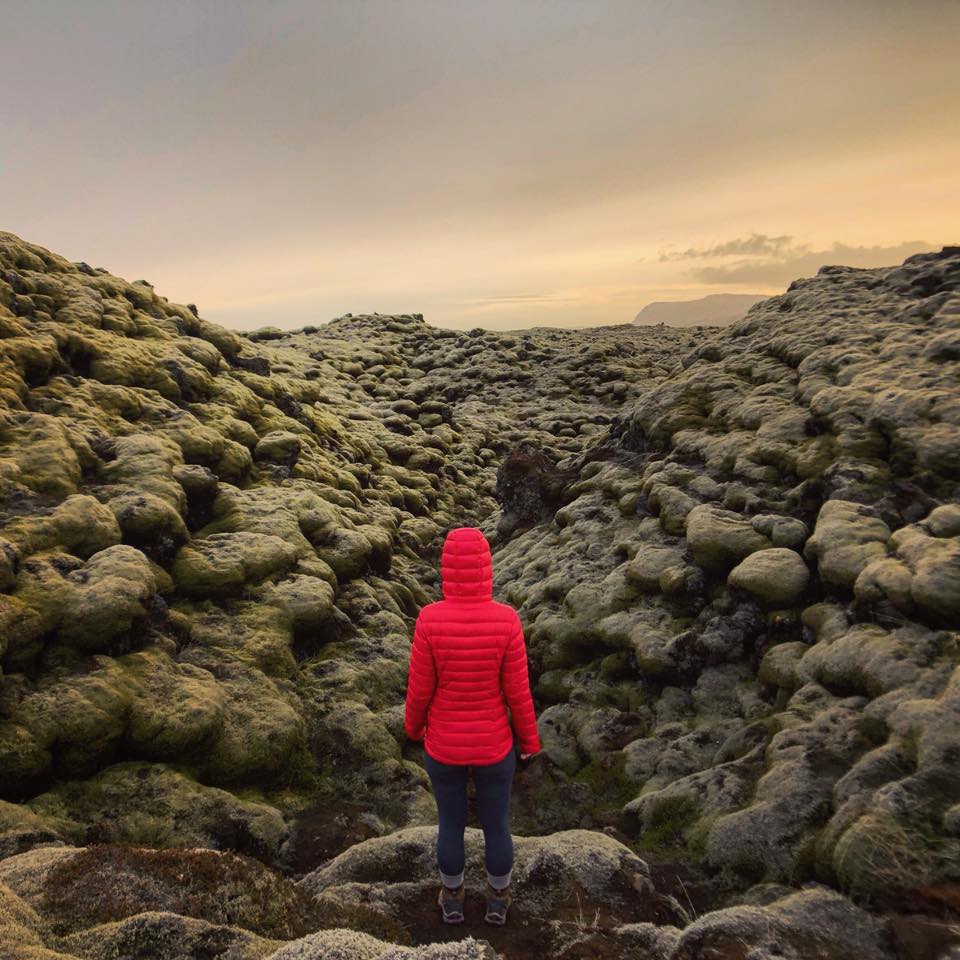 We made it back to the hostel just before the sunset and we were pretty exhausted. Our drive time between nightly accommodations was less than two hours, but yet somehow we had managed to keep moving from dawn until dusk. Vik put on a pretty little show for us, so we took one last hike up the mountain behind the hostel to take in the sunset.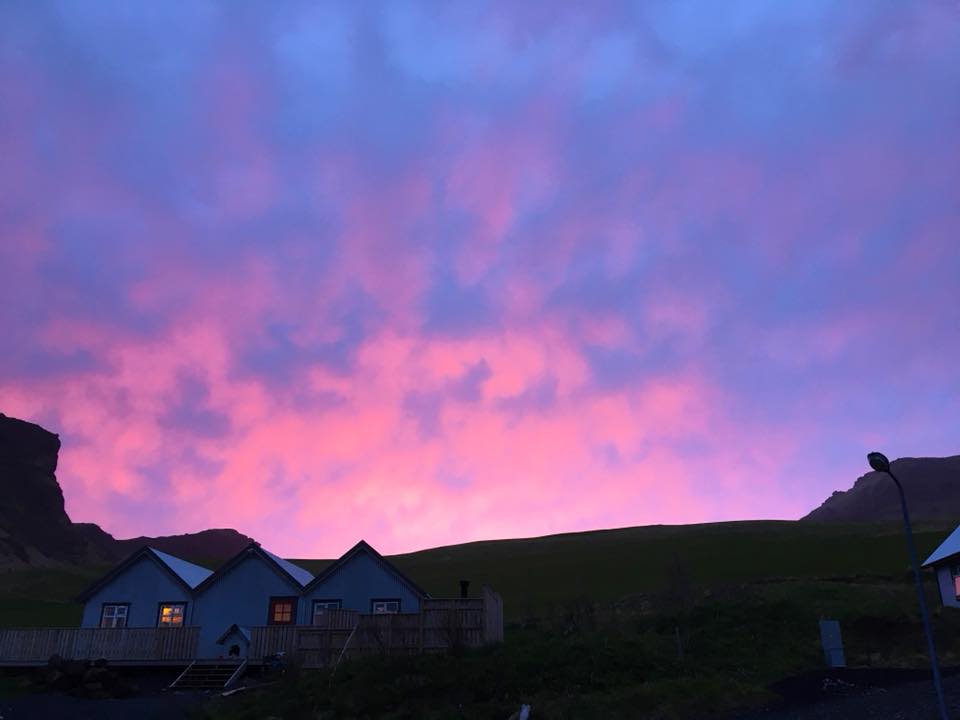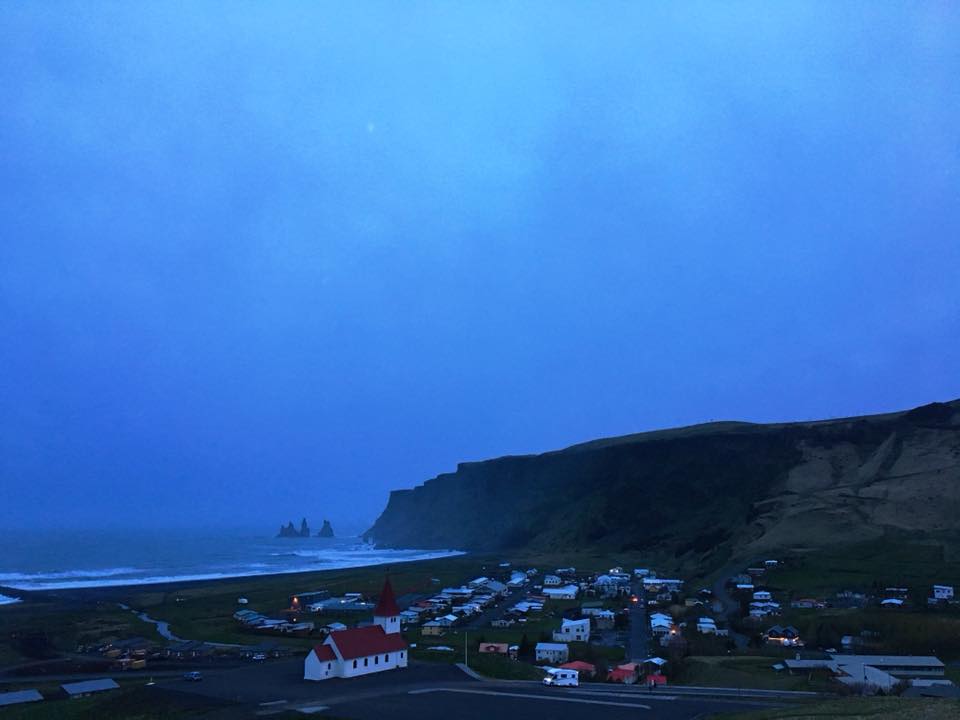 Day Three- Vik to Vagnsstaðir
This Day in a Glimpse: Reindeer, Jökulsárlón Glacier Lagoon, Diamond beach, the Glacial hike of Mt Breidamerkurfjall

(Vagnsstaðir HI Hostel)
From Vik to
Vagnsstaðir
2 hours 37 minutes without stops
We woke up to a cold and rainy morning. Which wasn't terrible since we had overlapped a few of our sights the previous evening. We did, however, thank our lucky stars we decided to hit Fjaðrárgljúfur the night before. We had a few hours of driving to go and picked up a few hitchhikers along the way. They were a young couple from Russia who had decided attempt to hitchhike the entire ring road in 10 days. We took the Russians all the way from just outside of Vik to the Jökulsárlón Glacier Lagoon with us. The rainy and cloudy ride left for very limited views which were kind of a bummer. Although we did see a ton of Reindeer along the way. Which was totally awesome to Leah and I because we had never seen one!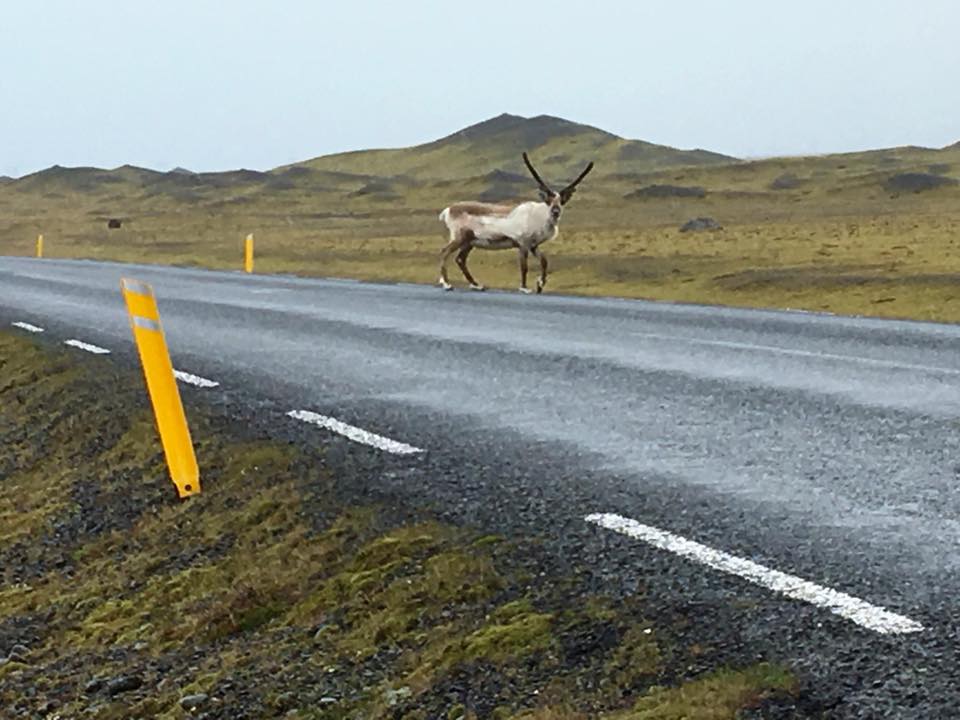 Making it to Jökulsárlón Glacier Lagoon is a total must. This ice beach and lagoon is one of the most unique places I have ever seen. There are a few different stops here, but each one has its own unique views. The first stop is just before the bridge on the left. This area was much less crowded and allows for you to walk right down next to the lagoon to get up close to the ice chunks as they float by. After that, the bridge on the right gets you down to the beach to see all the ice that washes up on shore. It's pretty neat to be able to see and touch all these massive chunks as they are thrown around by the waves. The final stop is just across the bridge at the lagoon. It's the busiest but it's also the coolest. From here, you can walk up a little hill for a nice view overlooking the lagoon. If you're lucky like us you'll see seals swimming around in the ice. We were lucky enough to view this area twice. Once in the morning when it was still raining and cloudy. Then again later that day after the sky had cleared and the sun showed up. Thanks, crazy Iceland weather!
After checking into the hostel we headed out to find some dinner. We managed to locate an adorable place called Jón Ríki Brewery that was located just 25 minutes outside of where we were staying. We dined on shepherds pie and drank raspberry sour beers. It was still a beautiful day after we finished our dinner. So we headed out to Mt Breidamerkurfjall. The trail was probably better accessible by a more rugged 4WD vehicle or SUV (oops) but we managed to make it in. The trail is an outcrop of the country's highest mountain, Oraefajokull. To the west of the mountain, another much smaller, but much steeper glacier tongue, cascades down the slopes into a small lagoon. The view was unreal, and we were the only ones out there for miles. We stayed around and took in the sunset of this perfect day.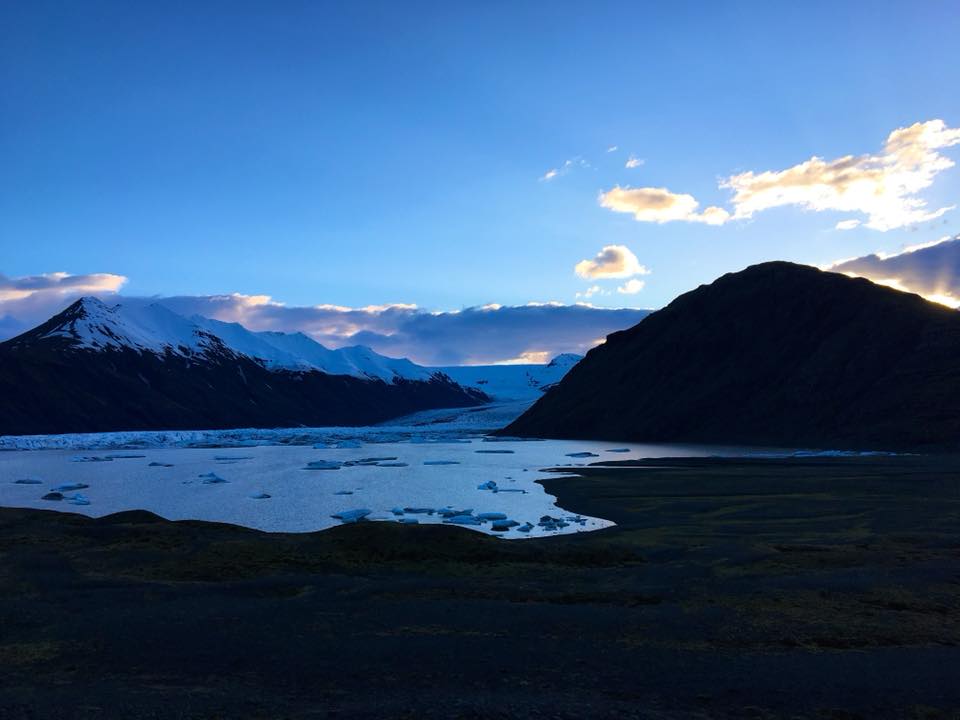 Day Four- Vagnsstaðir to Seyðisfjörður
This Day in a Glimpse: Höfn, East Fjords, Vestrahorn mountain, Rainbow road
(Hafaldan – old hospital building HI Hostel)

From Vagnsstaðir to Seydisfjordur it's 3 hours and 43 minutes without stops
Driving through the East Fjords was by far my favorite day. It was a long day of driving, but easily the most scenic. So on this day, we spent a lot of time looking at beautiful mountainscapes from the car. The long and windy road will keep you close to the sea and drooling over every view. I think the only thing worse than missing the East Fjords would have been to rush them. This drive took us nearly all day due to all the stopping and hiking around we did. If you don't have the time, I would recommend saving this stunning section of Iceland for another trip when you can do it properly. If the weather allows, I would recommend skipping the Golden Circle and spending an extra day on the Ring Road to visit the Fjords.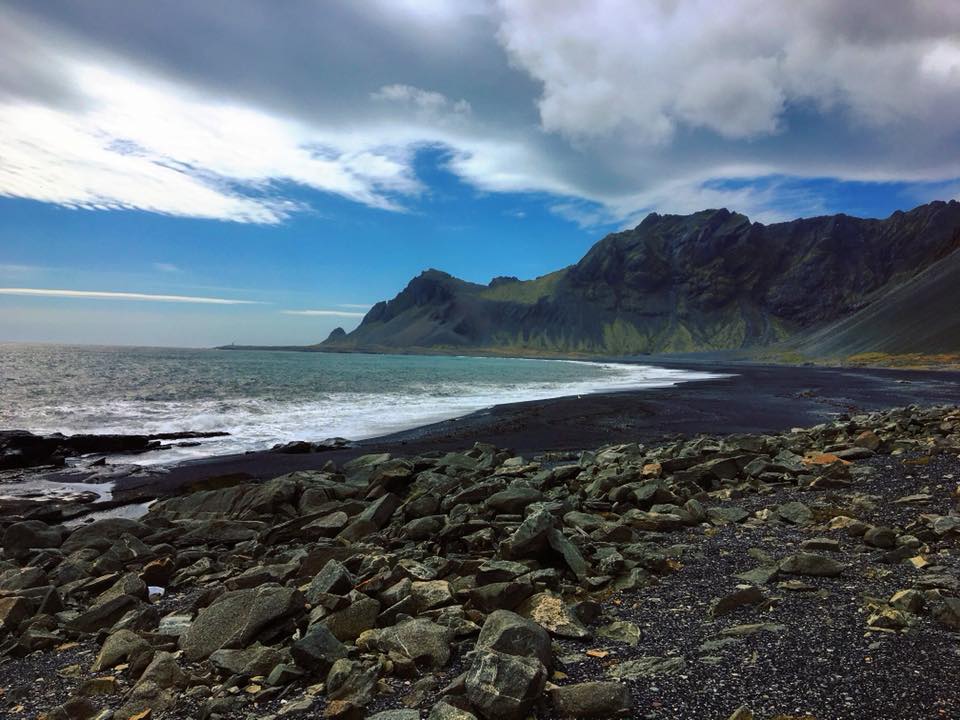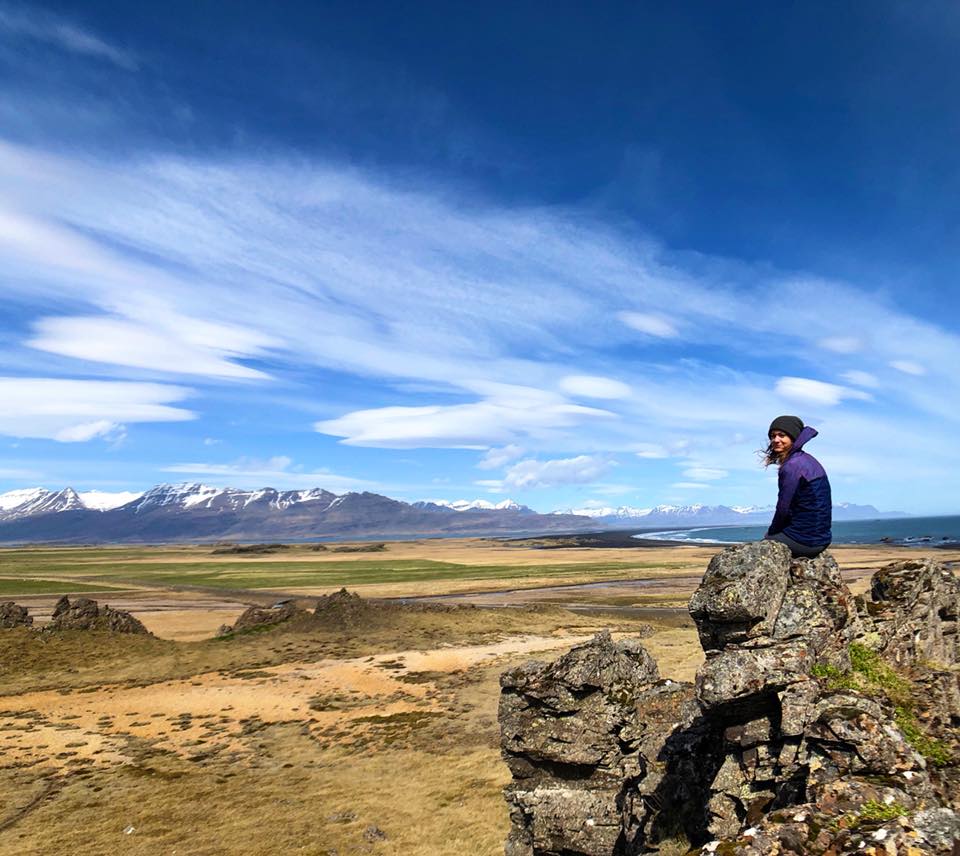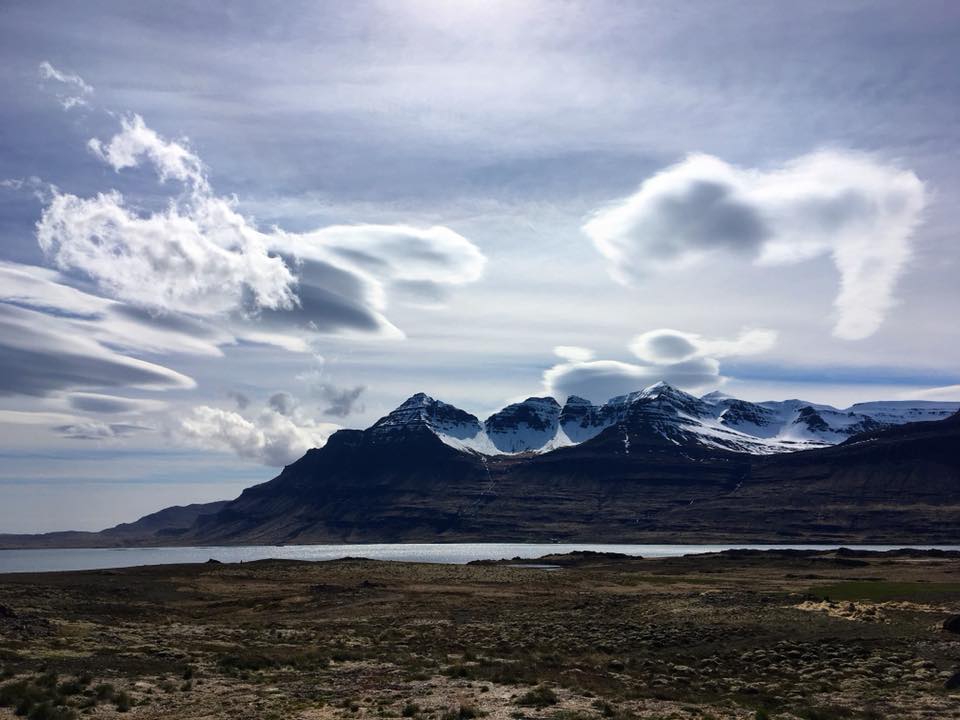 Our end destination was the small town of Seyðisfjörður. You have to take a questionable mountain pass from eastern Iceland's largest city of Egilsstaðir to access this tiny town, but if the weather permits it's worth it to visit this adorable place. The main attraction has to be one of Iceland's prettiest, tiniest churches which is lead up to by what people call "rainbow road" for obvious reasons. This town is also home to a few new friends that we made at a local pub, and we even ran into a few people from Detroit and our neighboring city of Windsor! Our night out in this town was by far the best! A small local band took the stage and we stayed up late drinking and laughing with our new friends.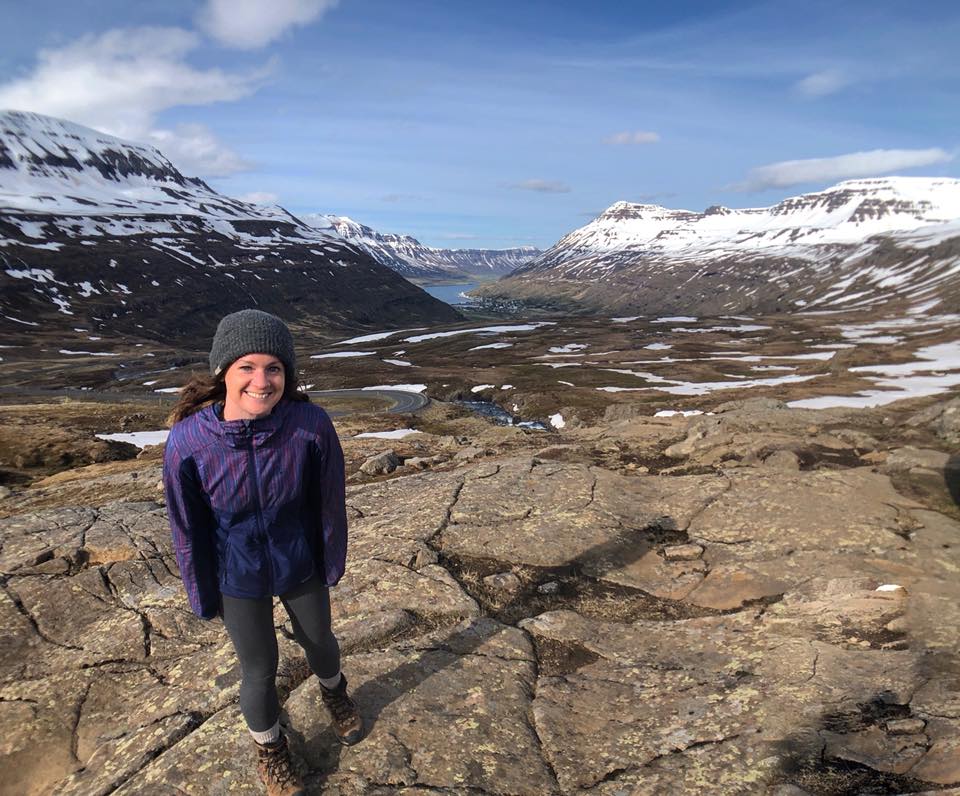 Day Five- Seydisfjordur to Vatnsnesvegur
This Day in a Glimpse: Mývatn, Nature Baths, Námafjall Hverir, Grjótagjá, Goðafoss waterfall

(Ósar HI Hostel)
From
Seydisfjordur
to Vatnsnesvegur it's 6 hours and 4 minutes without stops
The morning after Seyðisfjörður was a rough one. We got on the road early, but driving through those winding mountain passes with a hangover was less than desirable. I think this day had to be the quietest that we had the entire trip. We headed west through the north towards Mývatn for a much needed thermal bath. This area of Iceland is one of the most alien areas that you can encounter from the Ring Road. The landscape largely comprises of lava rock, and the craters especially make it feel like you're on some other planet. The Mývatn Nature bathes are a much less expensive alternative to the Blue Lagoon (which we had decided to skip). Here you can experience the Icelandic tradition of naked bathing and getting into ultra hot water. The pools are surrounded by the geothermal area Námafjall Hverir, which is bigger and more impressive than the others we saw on the trip. We even made our way to Grjótagjá, which is a small lava cave near lake Mývatn that has a thermal spring inside. This cave is so beautiful it was used as a location for a filming location of Game of Thrones. Great job, Iceland, you no longer just seem like something out of a fantasy novel, now you actually are.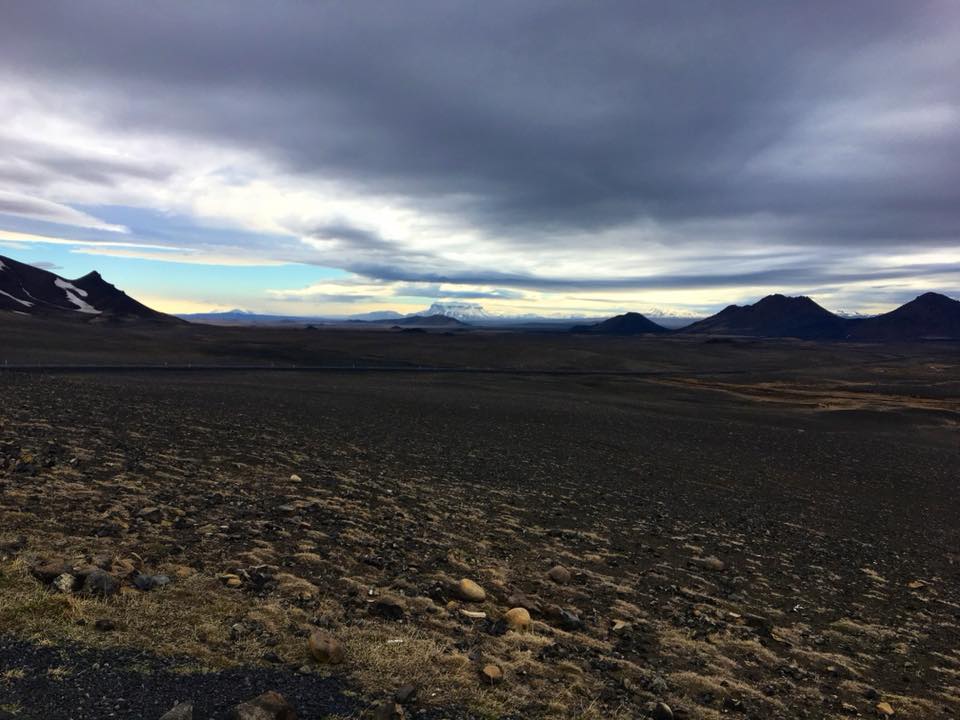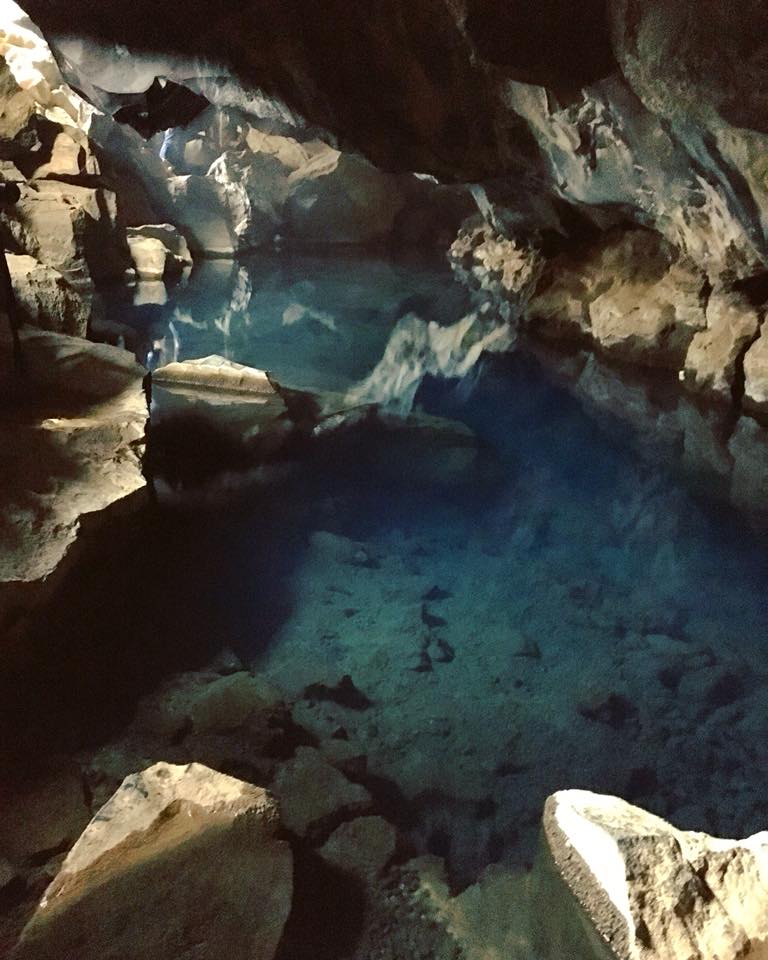 Day Six- Vatnsnesvegur to Snæfellsbær
This Day in a Glimpse: Hraunfossar & Barnafoss, Kirkjufell, Arnarstapi Arches, Búðir Black Church

(The Freezer Hostel)
From Vatnsnesvegur to Snæfellsbær it's 3 hours and 17 minutes without stops
Today was Leah's birthday! We had breakfast with the seals on the beach of our hostel then got back on the road towards the Snæfellsnes peninsula. There wasn't a whole lot on the itinerary for this particular day for two reasons. One, because the weather was awful. It was really cold and pouring down rain the majority of the time. Two is that it was her birthday. We hoped to find a local establishment to sit down in and do some celebrating. There were a few sites along the way that we hit, but most of them were just afterthoughts. Kirkjufell is one of the most famously photographed places in Iceland, so it almost made me feel more original to not take a picture of it. Although it was iconic being that was one of the places that always made me dream of visiting the island. I just chose to take in the scenery by memory instead of a photograph at that one.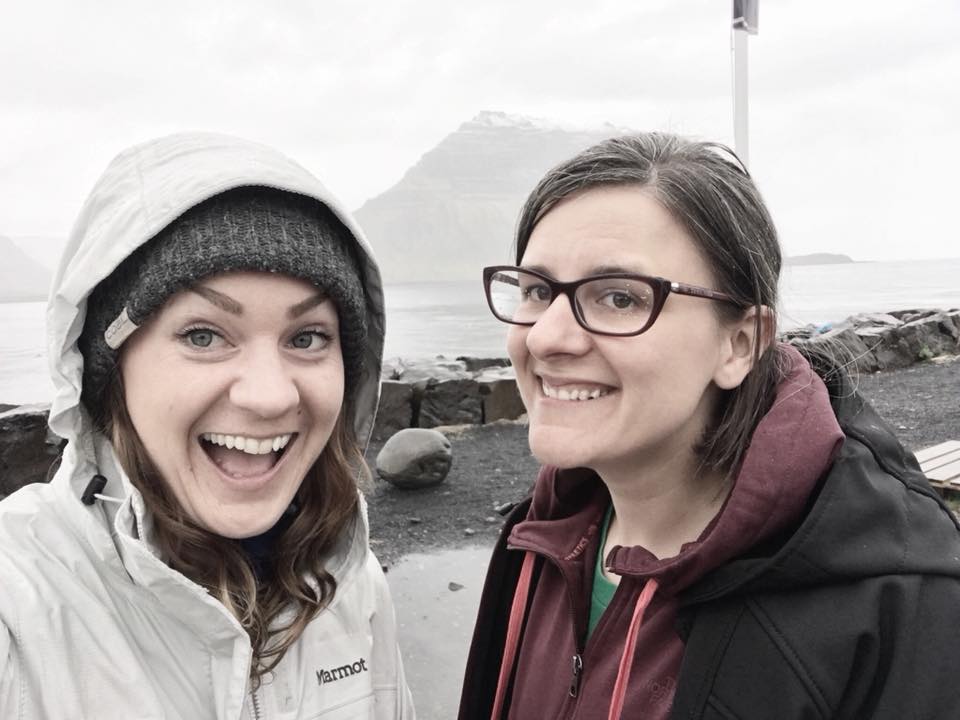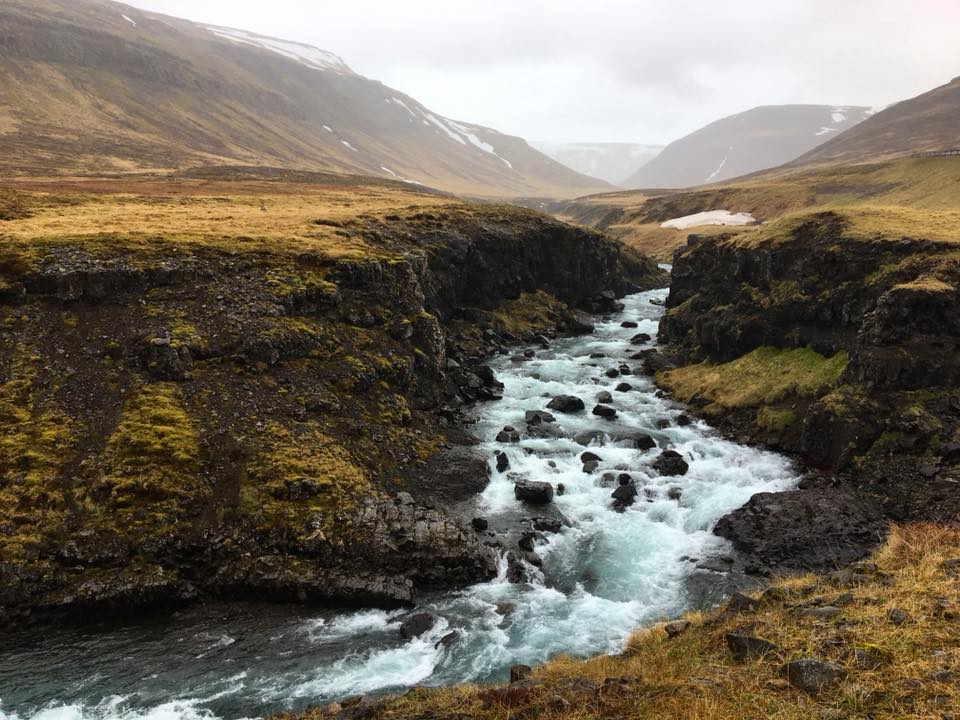 We had our dinner in Grundarfjörður, one of the larger towns on the Peninsula. We went all out for an expensive seafood feast. Complete with cocktails, appetizers and even dessert! Since it's no secret that Iceland is not a cheap country, our meal would not be an inexpensive one. But we decided to splurge the $300 American dollars anyway. So, I'm sure you can imagine our surprise and delight when our waiter informed us that the restaurant had picked up the entire check since it was Leah's birthday! After refusing to accept any type of gratuity (they don't tip in Iceland) he simply wished us a good evening and sent us on our way. Wow. That will sure make your birthday special!
Day Seven- Snæfellsbær to Reykjavík
This Day in a Glimpse: City of Reykjavík and Say Goodbye!

From Snæfellsbær to Reykjavík it's 2 hours 7 minutes
We had some time in the morning after our drive back, so we decided to venture into Reykjavik. We had skipped the city our first day because we were too eager to get out onto the road. Reykjavik is an adorable brightly painted, tourist-heavy town that can be explored in approximately one afternoon. So we took the time to meander around town and see some of Reykjavik's cute, historic streets. Also, anything we hadn't done yet in Iceland, today was our day to do it. Shop for that jewelry, pick up that sweater, get some souvenirs, and just take it easy and enjoy a beer in the local pub. After we had our fill exploring Reykjavik, it's was time to return our rental car and head off to the airport. Being on the road for seven days in Icelandic was not enough to see and do everything, but definitely sufficient time to get us thinking about visiting again. Truthfully, Leah and I thought this was the perfect 7-day Iceland itinerary for our first time in Iceland and we wouldn't change a thing! We saw so much in just a week, but also had time to relax and soak up the beauty without being rushed. The two of us headed home, happy but sad to say goodbye to this adventure-filled country!
Flight info: WOW AIR
Depart: Monday May 28th- 9:25pm
Arrive: Monday, May 28th- 11:50pm
What To Bring With You
Clothes are always a personal decision. I won't give you too many specifics because presumably, you know how to dress yourself, but just in case you're at a total standstill on what to bring, here are some suggestions from my experience in late May:
Jackets– Bring at least two jackets, possibly even three. I brought a packable down jacket, mid-layer jacket and a rain/wind shell. I am not exaggerating when I say I wore each one at least once a day. I also invested in a last-minute pair of rain pants which ended up being my golden ticket item because, well, it rains a lot.
Layers – I'm fast becoming the master of the layers and I'm telling you that nothing beats them. Light layers that pack easily is by far the best way to go. That way they can easily be put on and taken off depending on the temperature and they fit right into your backpack. Also, don't forget your head, finger, and toes.
Shoes– If you are not going to do some crazy hiking you don't need to run out and buy super expensive hiking boots but it's good to have at least waterproof trekking shoes with you because most of the terrain is rough and you'll want to keep your feet comfortable, warm, and dry.
Sun stuff– Even though Iceland is the land of unpredictable weather, don't forget the sunglasses, bathing suit, and sunscreen. YES, the sun does come out and it can be quite intense. Also, hot water is in abundance in Iceland, so you would be doing yourself a disservice to not plunge into one of the magnificent thermal pools, blue lagoon or warm springs and rivers around the country.
Maps and Travel Books- A hard copy map is recommended, you can pick them up at any gas station. We also came with a copy of Rick Steve's guide to Iceland which faired super helpful. It contains scaled down maps of all the most popular destinations along the ring road, and we used it for reference quite frequently. It also gave suggestions for local eateries and other tourist attractions that we hadn't considered. It was a good investment. Google Maps was also extremely helpful for planning our route and getting a sense of how long it takes to drive between destinations.