"We Pictured It Perfect" A Weekend At Pictured Rocks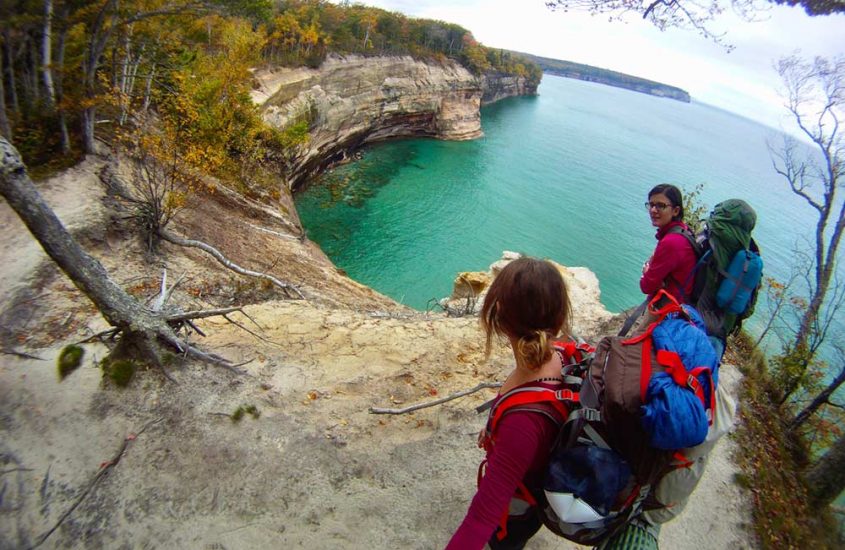 Activity: Backpacking
Date Visited: 10/12/17 – 10/15/17
Distance: 28.9 miles
Parking: Chapel Rock Parking Lot
Transportation: Shuttle from car to Grand Sable Visitor Center
Trailhead: Grand Sable Visitor Center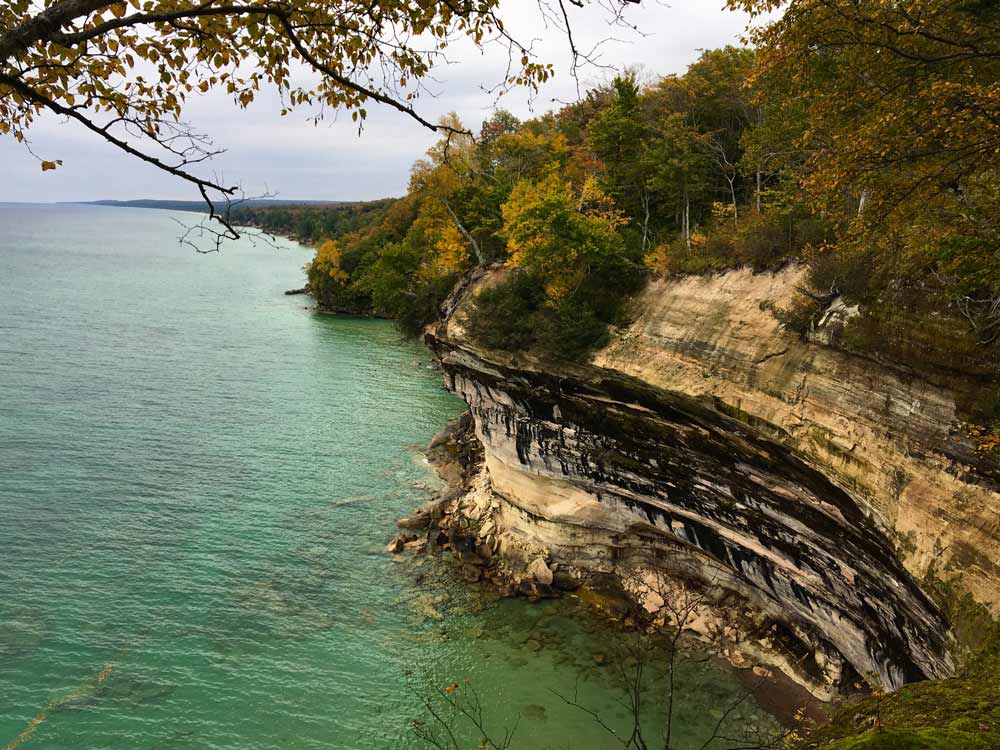 Pictured Rocks National Lakeshore spans 42 miles of Lake Superior and is comprised of 50′ to 200′ sandstone cliffs. It stretches from Munising to Grand Marais and the entire length offers spectacular shoreline scenery of rock formations, sea arches, waterfalls, rivers, sand dunes and the beautiful pristine waters of Lake Superior. Pictured Rocks derives its name from the colors in the cliffs that are created by the large amounts of minerals in the rock. As the water evaporates, these minerals leave streaks of color. Iron(red), manganese (black-white), limonite (brown or yellow) and copper (pink or green)
This place is incredible and I have been trying to take this adventure for the last three years. Even though I had previously been there and hiked/kayaked some of the more popular areas, I remember thinking how cool it would be to set up camp in the backcountry, especially within earshot of Superior. Three years later I finally returned to do just that!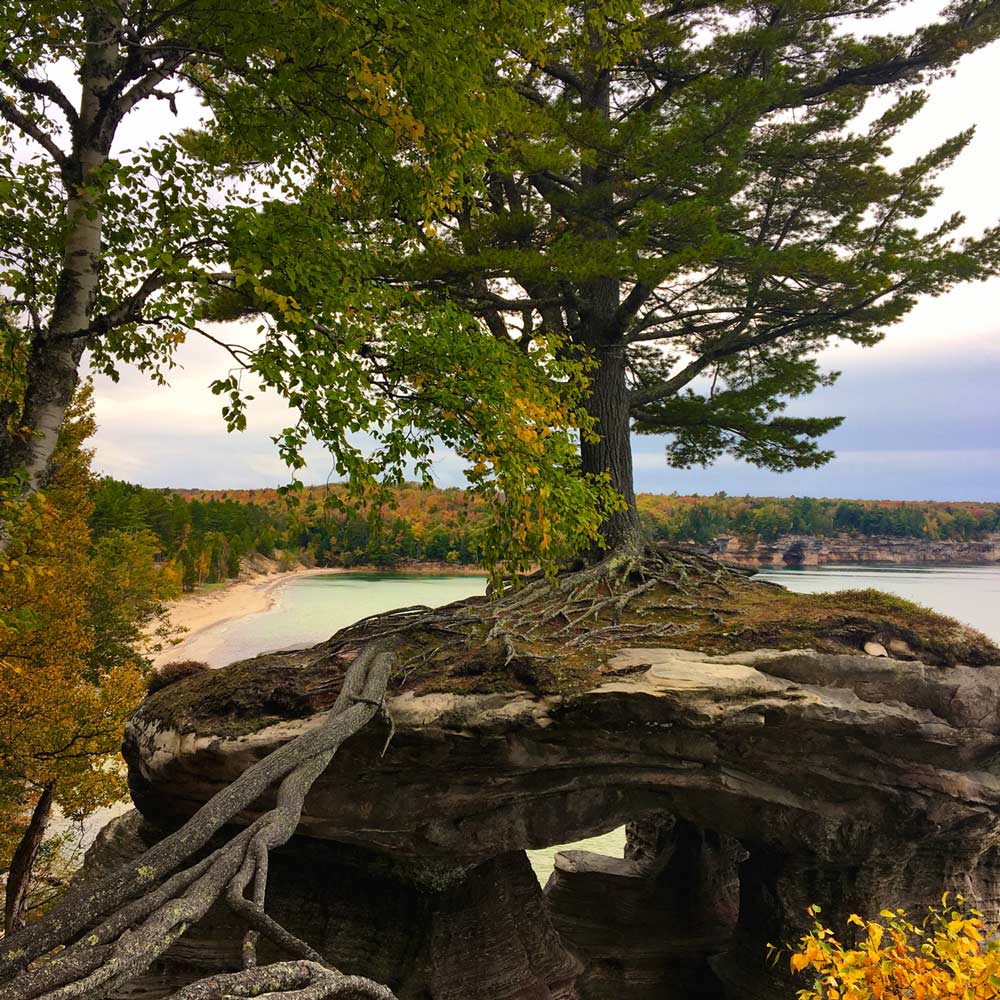 Leah is my best outdoor adventure friend. Before our trip she had only been to Pictured Rocks once in the winter to snowshoe. After discussing some relaxed plans for this trip she became extremely excited about our fall weekend in the woods. So much that she actually volunteered to plan the mileage, shuttle pick up and time management breakdown. Good news, right?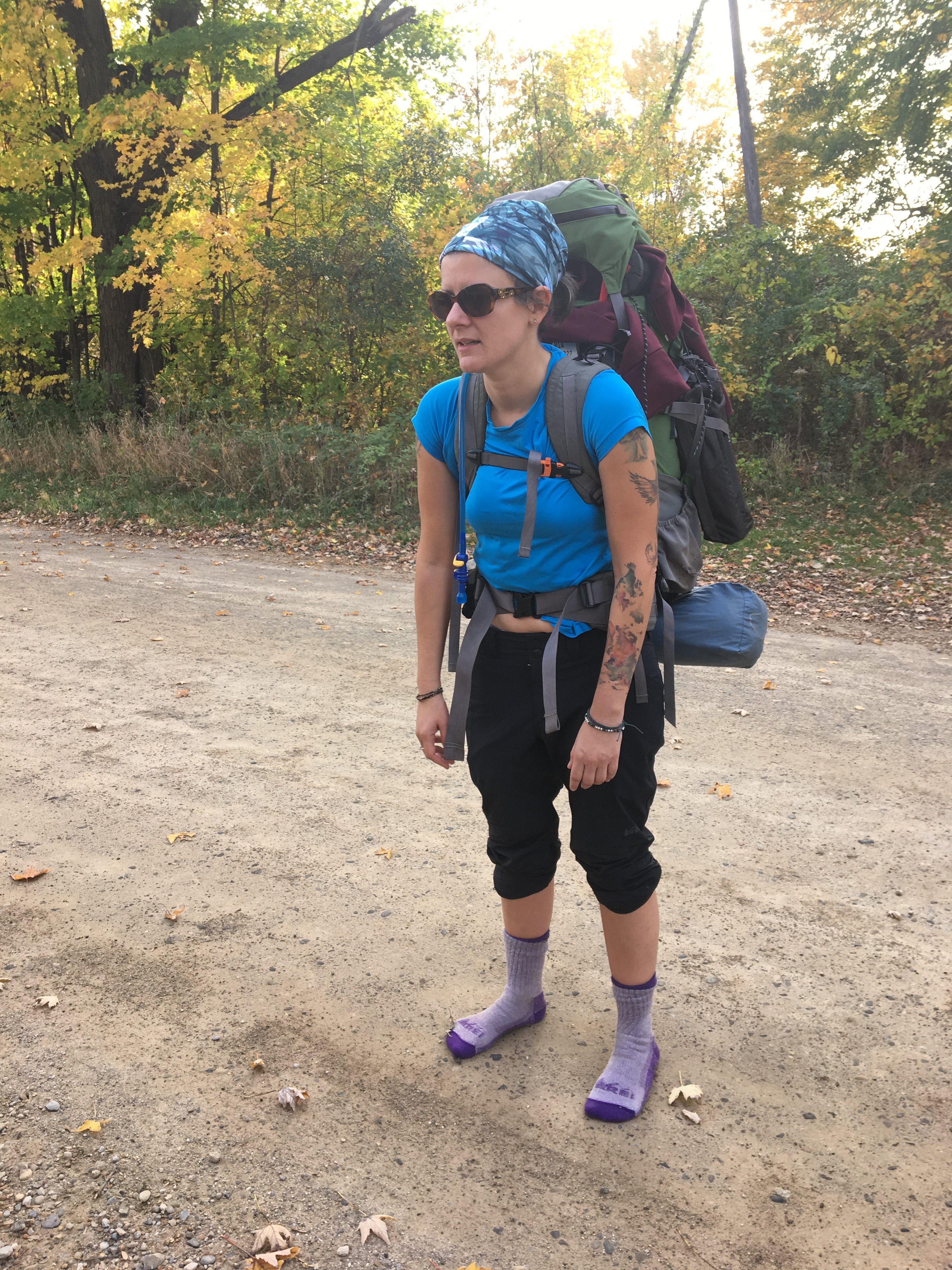 Before I go any further, I need to briefly explain the dynamic between Leah and I. As an overly organized person, I will never understand disorganized people. I am a planner and an over-thinker. Organized people like me are hyper-aware of their belongings. We know where everything is even when we don't know where everything is. How you can be in charge of things and never know where they are or what's going on is a terrifying concept to us. Which is why every time I spend time with my adventure partner, I am continually amazed that we can tolerate one another. But not only tolerate, somehow we are able to truly enjoy each other and respect our differences. These are things that sometimes go through my head when I am with Leah: "Who are you? How can you function in your life? WHY? Why are you doing this to me? Why can't you change? Why aren't you more like me? Just stop and be more like me." I realize that everyone is different and I am in NO WAY proud of these thoughts, but it's the truth. Sad part? If I'm being honest, my controlling and rigid "need to be perfect" attitude is exhausting to say the least. My inability to "let go and relax" has pushed more important people out of my life than I can count. So at the end of the day, I know I need to embrace Leah and her behaviors that I struggle with. She is so adaptable and easy going. I've know her a few years now and I am yet to see her become truly upset over anything. She's a goldmine of qualities I need more of in myself and somehow she's able to put up with me.
So with that being said, Leah made a few mistakes and I'd like to think that I handled the fluctuating itinerary pretty well. Although, that would need to be confirmed with Leah. So here is the weekend that was originally presented to me and we agreed on.
Leah's Original Trip Itinerary:

Day One: 11.2 Miles – Grand Sable Visitor Center to Benchmark
Day Two: 10.5 Miles – BenchMark to Coves
Day Three: 4.2 Coves to car in Chapel parking lot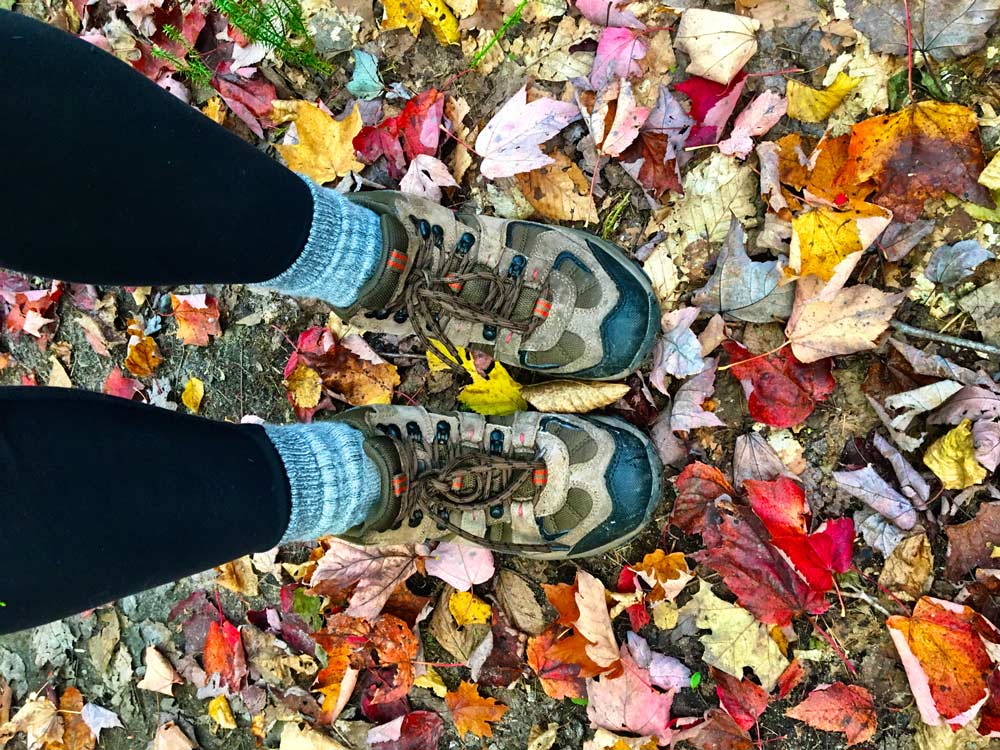 Thursday October 12th
Prelude – The Night Before
Both of us had traveled excessively over the summer, so vacation days were scarce. Not to mention each of us felt pretty buried at work. So unfortunately, a full day of work had to be completed by both of us on Thursday. Leah and I live about 45 minutes from one another. She is downtown Detroit, while I am outside of the city in a quiet little town. Because I am the northern of the two of us we had decided to meet at my house. Most days we both get out of work around 3:00pm. Leah would need to run home, grab her stuff and head over. She arrived at my house around 4:30pm which isn't bad considering rush hour traffic. We didn't waste anytime and got right on the road. Munising is about 6 hours hours away from my house without factoring in traffic and stops, so we wanted to get a move on. The trip wasn't bad and we arrived sometime around 11pm. The original plan was to grab a campsite near the trailhead but with the late arrival we decided it would be better to just sleep in the car at our pickup location, since our shuttle was going to be picking us up at 8:00am. So that's what we did. After a few much needed beers we folded the seats down and spread out our sleeping bags for a few hours of shuteye before our big hike out.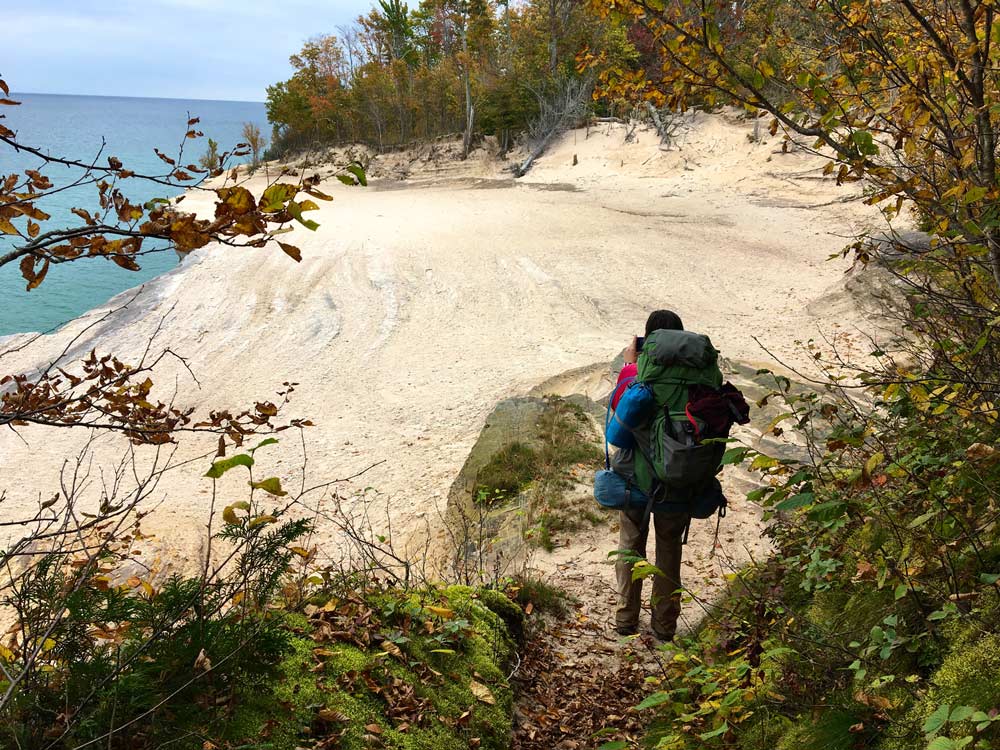 Friday October 13th
Day One
Alarm sounded at 7:00am and we got moving. Washed up, packed our backpacks up, and waited for our pickup. They had stated to be 15 minutes early, which we obviously were since we slept at the pickup location. Soon 8:00am had come and gone and it was pushing 8:30. I inquired whether they had mentioned being late due to other pickup's in the area. Leah decided to check the reservation. Guess what? The shuttle had been booked and paid for, only problem was it had been scheduled to pick us up the following morning. Shit. We were at least 20 minutes out from having any chance of cellphone reception and had zero luck consulting a passing park ranger on what to do. We got back into the car, thinking we could drive to the visitor center to use a phone and hopefully modify our reservation. We weren't 5 minutes down the road when we realized it was about 40 minutes to Grand Sable Visitor Center and we weren't even certain they could help us. We could possibly be looking at hours before we even got on the trail. It was a beautiful, crisp, sunny fall morning and we were anxious to get moving. Leah pulled over to think. Based off of the milage she had planned, if we left from Chapel and walked straight to Benchmark it was only an extra 4 miles or so. Could we do that? 15 miles was long hike. Did we have it in us? Did we really have a choice? We turned the car around and started walking.
Adjusted Trip Itinerary:
Day one: Chapel Parking to Benchmark Backcountry Site – 14.2
Day two: Benchmark to coves – 10.5
Day Three: Coves to Chapel Trailhead- 7.5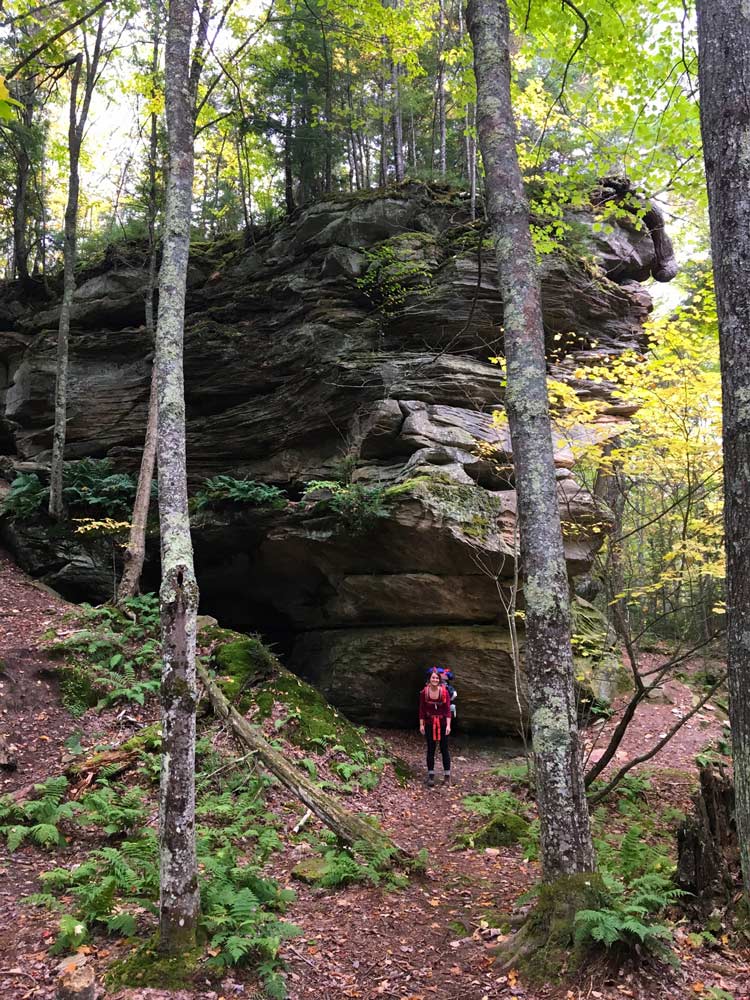 The first few miles were glorious. We didn't see a soul and the weather was simply perfect. We made it to Chapel Beach in lightning speed and decided that would be a nice spot to make some coffee and have a snack. We probably spent longer than we should have on the beach, but it was such a perfect fall morning. Just the same, we had another 10 miles ahead of us so we needed to get moving.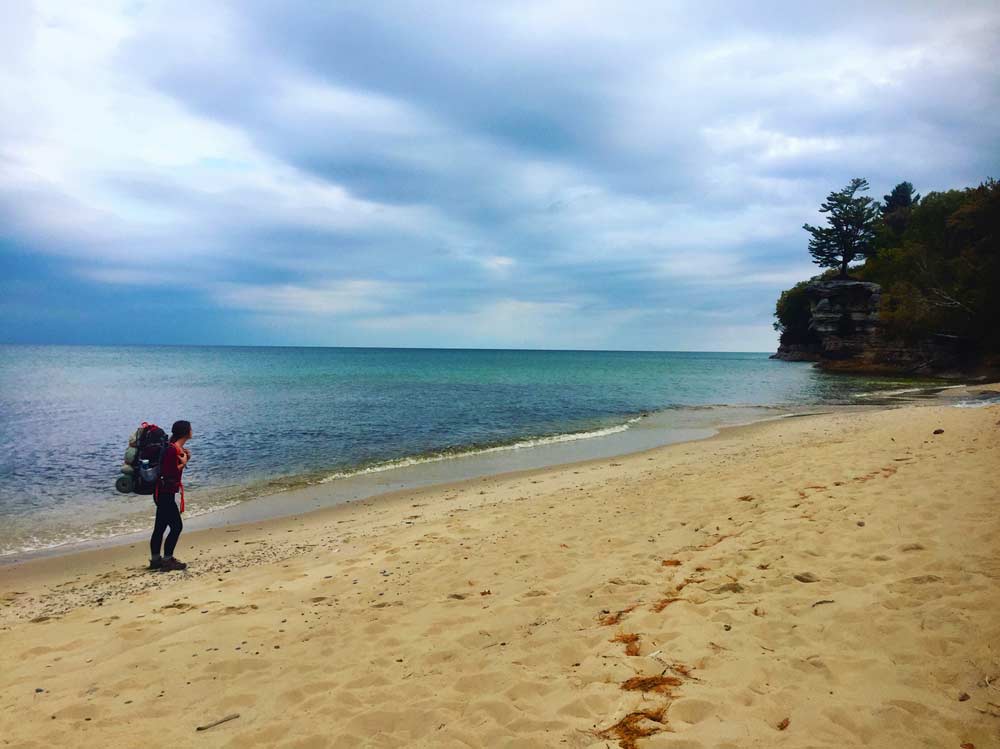 We headed toward Benchmark, only stopping a few times to shoot a few photos and take in the incredible views. We felt we were making great time, so we didn't worry much about our arrival at all. Although, after we hit Coves we started to feel like maybe we should have gone further by that point, so we decided it might be wise to pick up the pace just a tiny bit. Once we made it to Beaver Creek we both started to realize that something was wrong. Not only did we get lost by making a wrong turn somewhere, but also the hike from there to Trappers seemed to take forever. When we stopped for our lunch break just before Trappers, we had hiked about 12 miles and we were unpleasantly surprised to see a sign that marked Benchmark being another 7 miles away. How could this be? The hike was only supposed to be 15 miles. I knew I couldn't make it another 7 miles because my feet were already aching and my shoulders felt terrible from the weight of my pack. I have lost some weight so I couldn't tighten my waist strap any tighter and the pull was destroying my back. After reviewing the map and concluding that Leah had gotten her milage wrong, we made a choice to check out the Trappers campground. It was only another half mile in and we were hopeful someone could advise us as to whether or not it was full for the night.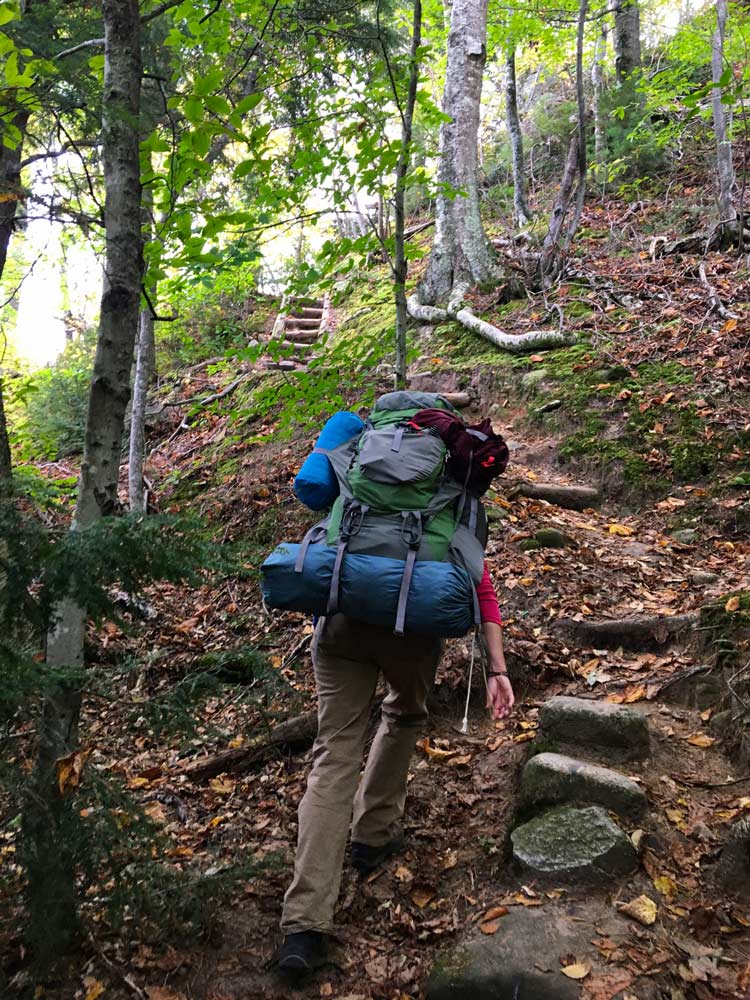 Backcountry camping at Pictured Rocks does require you to reserve your campsite for each night. So that during the busy season campers are able to guarantee their site and milage. Luckily for us, it wasn't the busy season. Trappers only had one site reserved and the campers had just made reservations that morning. Great news. We decided to take the group site at the far end of the campground because it contained it's own fire pit, and everything else was community. We set up and kept our fingers crossed that no one showed up requesting that we move. Our site was stunning and as the sun started to go down we enjoyed the beauty that surrounded us while we gorged our hungry stomachs on jambalaya.
The forecast had called for rain and clouds but after a few glasses of wine around the fire, we realized it was quite the opposite. Looking up all you could see were stars. Their had been predictions that the Northern Lights may be visible in the area as well. The beach was only a half mile walk, so of course we did exactly what two drunk girls shouldn't do, and hiked into the woods in the pitch dark towards the water. I have to admit, I was a little nervous. More about getting lost but also a little about animals. Our luck hadn't been the greatest and nothing ruins a night like running into a bear on a dark trail. Magically we made it to the beach unharmed, and even more magically the Northern Lights were visible upon stepping out of the woods. I could have cried. I had never seen them before that point and it made everything we had gone on up until then completely worth it.
Saturday October 14th
Day Two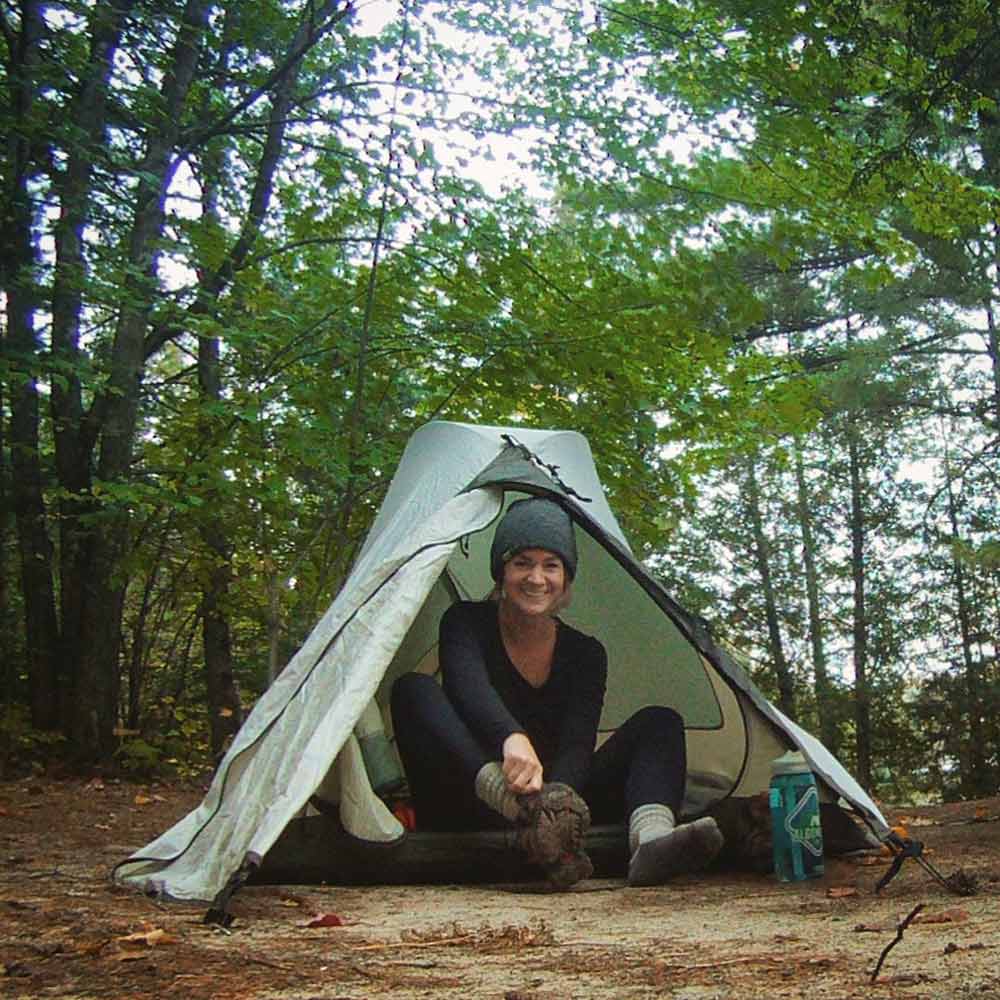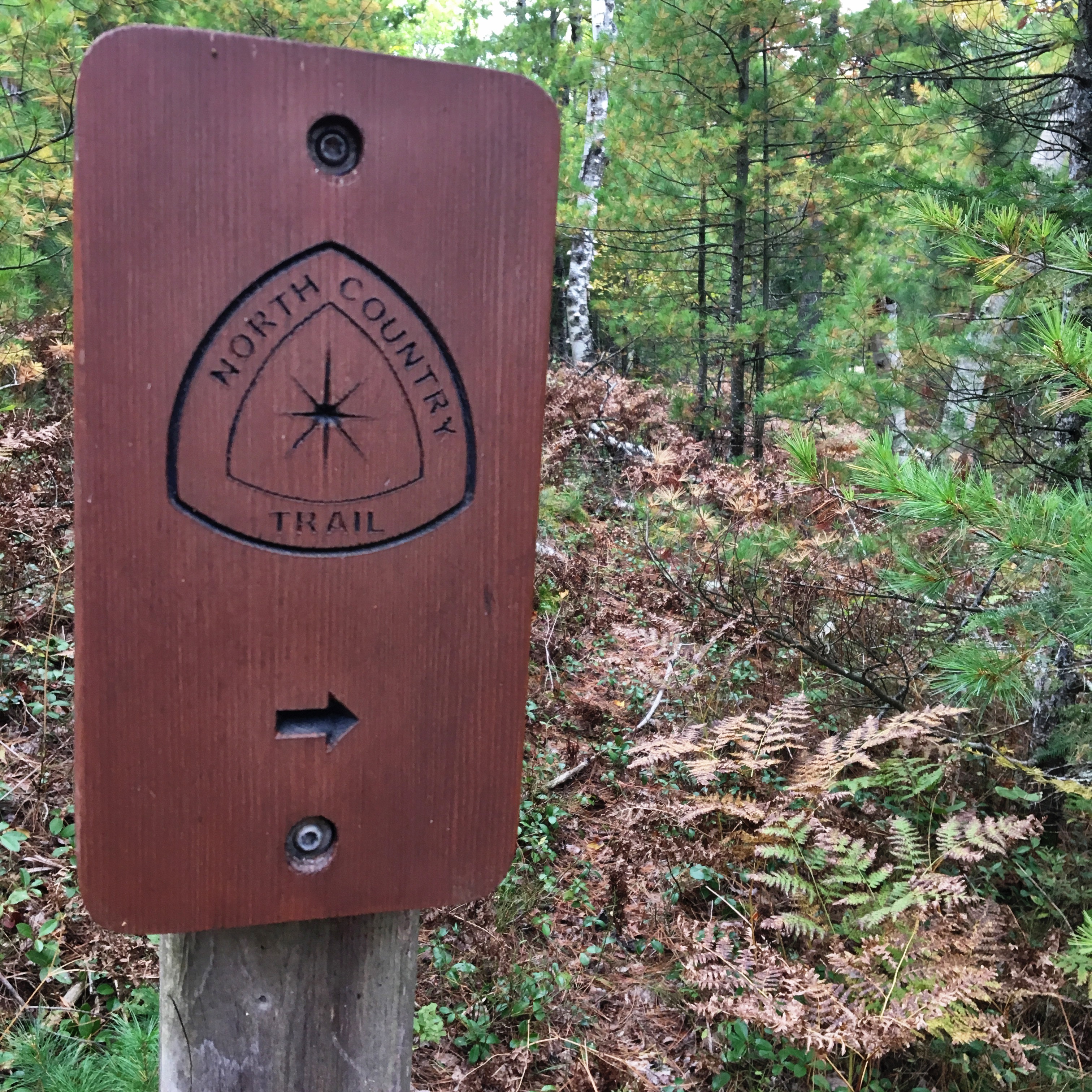 I woke up sort of late thanks to all of our wine induced star gazing. Leah had already been up a few hours but luckily wasn't in much of a rush to get moving. I made my breakfast and slowly started to pack back up for our next hike. Since we didn't make it all the way to Benchmark, our hike today was going to be the shortest. The two of us had gathered the previous day that it was 6 miles (wrong again) because it was actually 4. Are you sensing a theme here? Yeah, pretty much don't trust either of us with the map.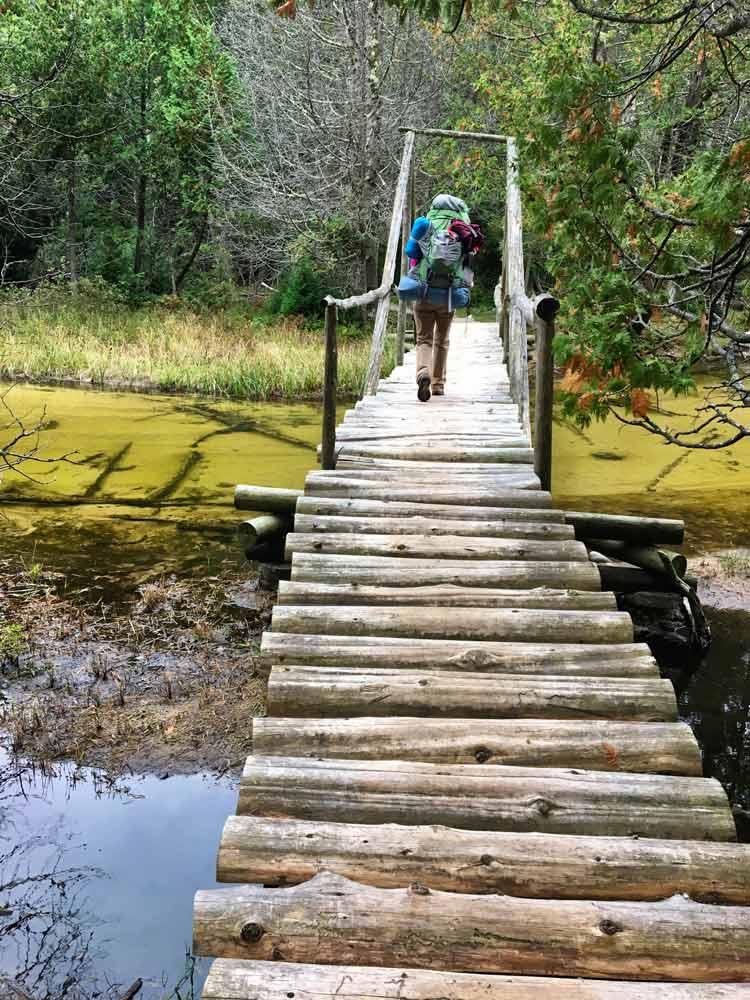 As it turns out, after the long grueling first day, the shortened milage on day two was a blessing. We made it to our campsite in record time and had a few hours to relax and set up. We even got the chance to take back off for some additional day hiking without our packs, which was glorious. We walked the beach for a while and enjoyed the sights and sounds of beautiful Lake Superior. While we were gone we had some new friends swing through our site and we were thankful that we had hung our food before leaving.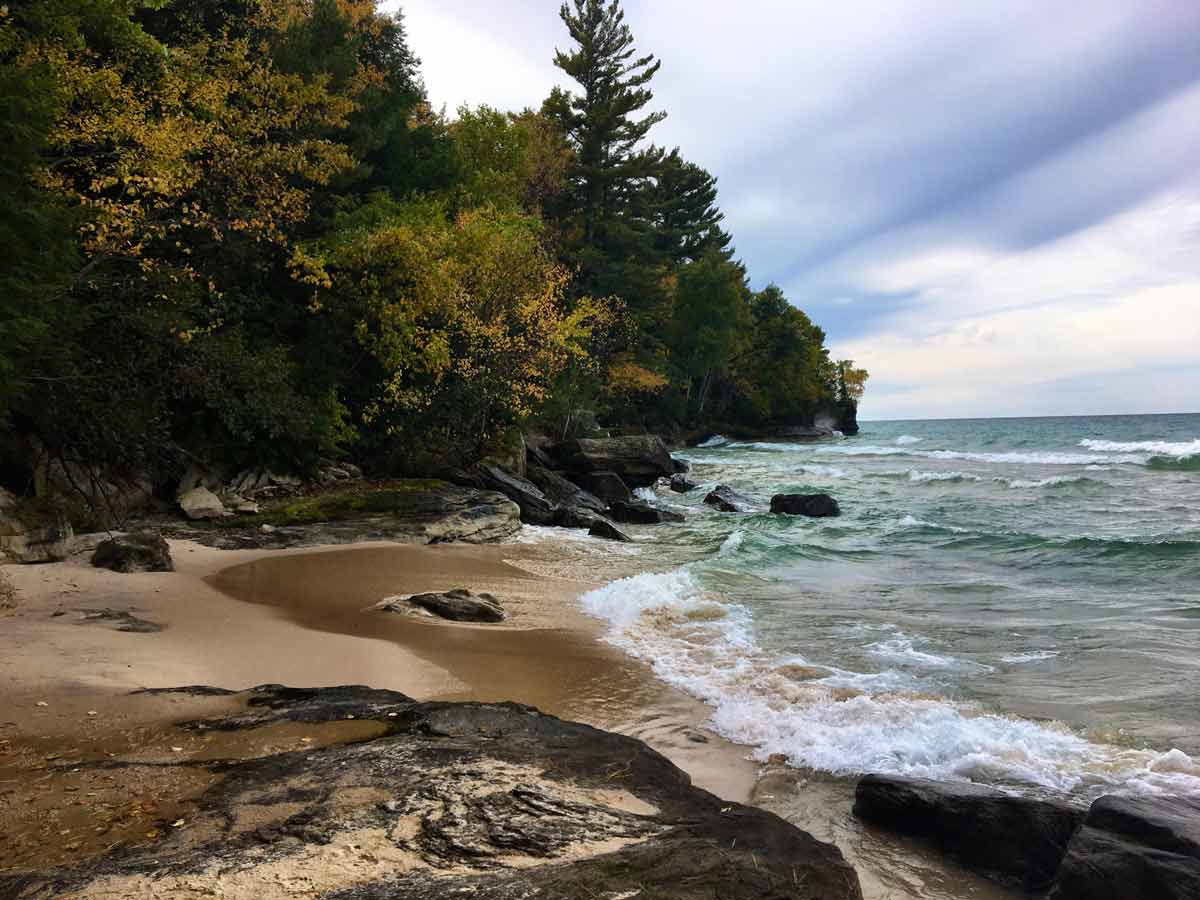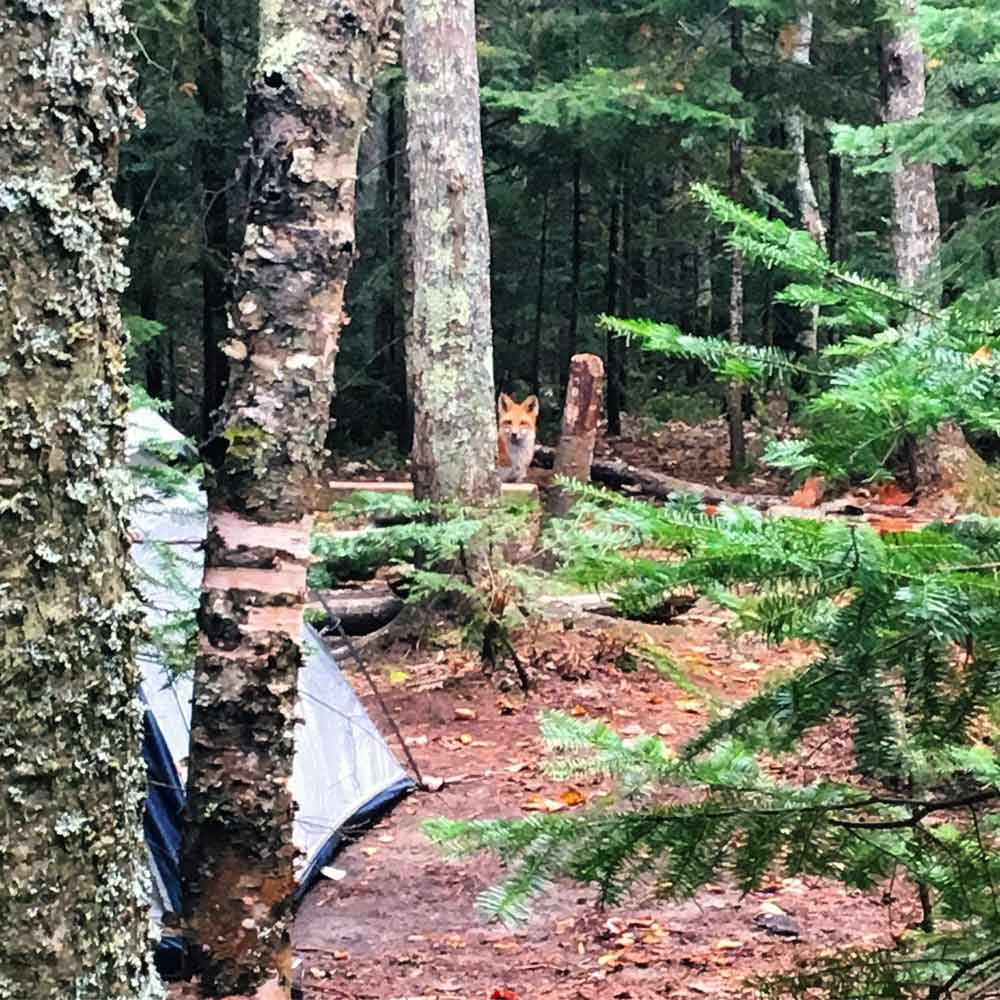 Dinner was amazing again. Something about backpacking food makes me really happy. Leah made spaghetti and it quite possibly been the best spaghetti I had ever eaten. Realistically it probably wasn't, but damn does hiking make me hungry. We didn't have much alcohol left due to all the late night shenanigans at Trappers. So we shared what was left of the wine and stayed warm with a nice fire. I didn't make it very long that night and decided to turn in around 9:00pm. Leah stayed up and read her book and tended the fire until the rain started up around 11:00.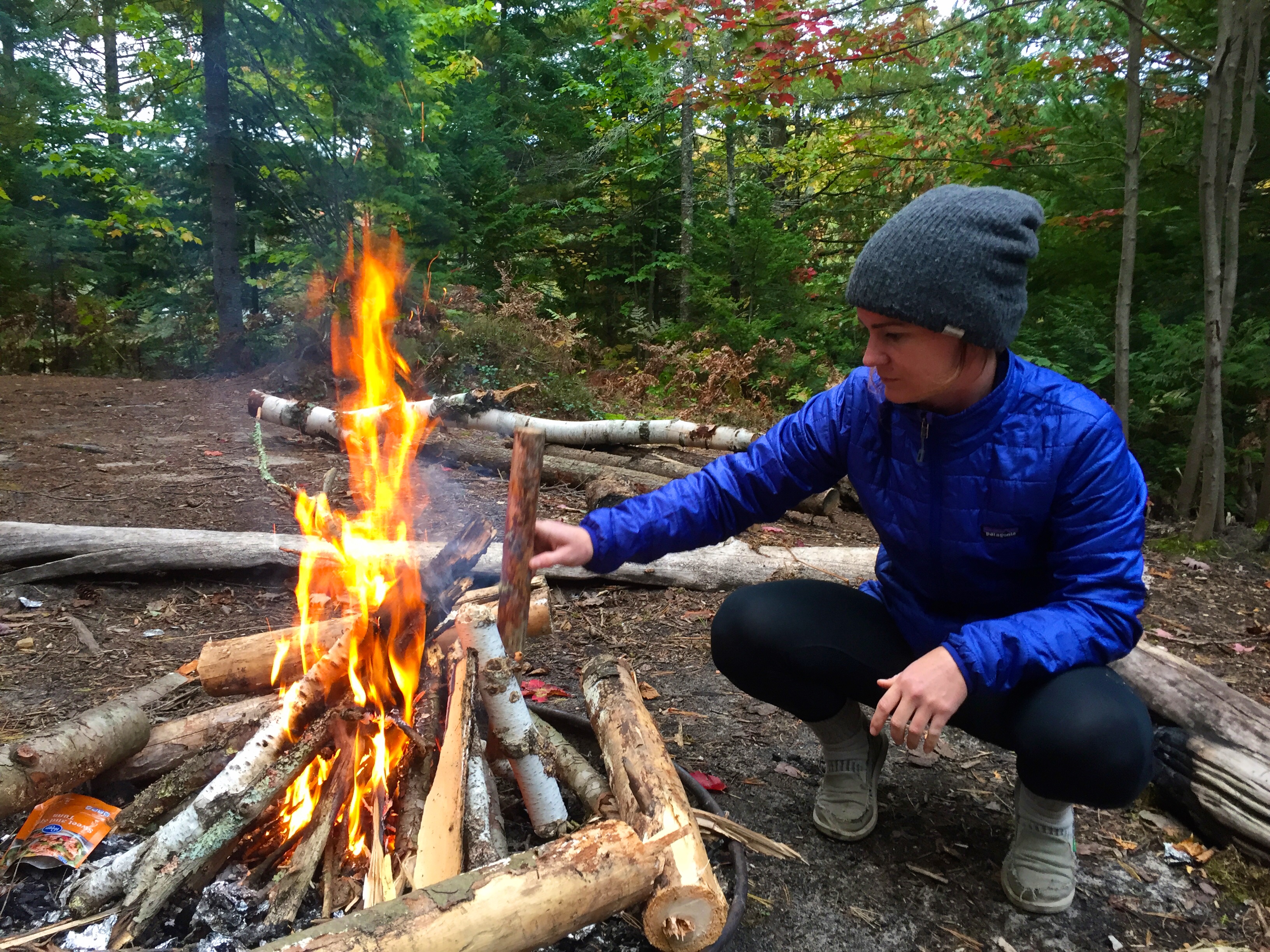 Sunday October 15th
Day Three
I'm not sure what happened between 11:00pm and midnight because I was asleep, but my only guess is there was some type of monsoon. I awoke to the the icy chill of cold water. Confused, I sat up only to find my entire tent was in about 3 inches of standing water. Great. Now what? I sat there for a minute trying to reason a solution. It was pouring outside, so if I relocated to Leah's tent, I would surely get drenched. Although, the inside of my tent didn't offer me much of an option since almost everything I had was already waterlogged. It was only about 40 degrees, so sitting in my wet tent just wasn't feasible. I made a break for it. I tried to grab everything I could while keeping it as dry as possible. As you can imagine I nearly terrified Leah when I came barreling into her tent in the middle of the night, but she was very helpful once she realized what was going on. Relocation offered temporary relief and I thought that maybe the night would be okay. Wrong. Everything was already too wet and the water continued to seep from my pack and sleeping bag onto anything that was left dry. The next few hours were miserable and I spent them struggling to keep warm while I waited for morning. At 6:30am I called it. I hadn't slept but a few hours and I just wanted to get moving. I began changing into the dryest clothing I had left available and woke Leah to explain the situation. You see, I chose not to wake her sooner because I knew she would try to help, and then we would have both ended up freezing and miserable. So I let her sleep. She was an amazing sport and got right up with me and started packing up camp in the dark. We got things down in record time and actually hit the trail before first light. The path was treacherous and because I have terrible night vision. So I was relieved when the morning finally broke.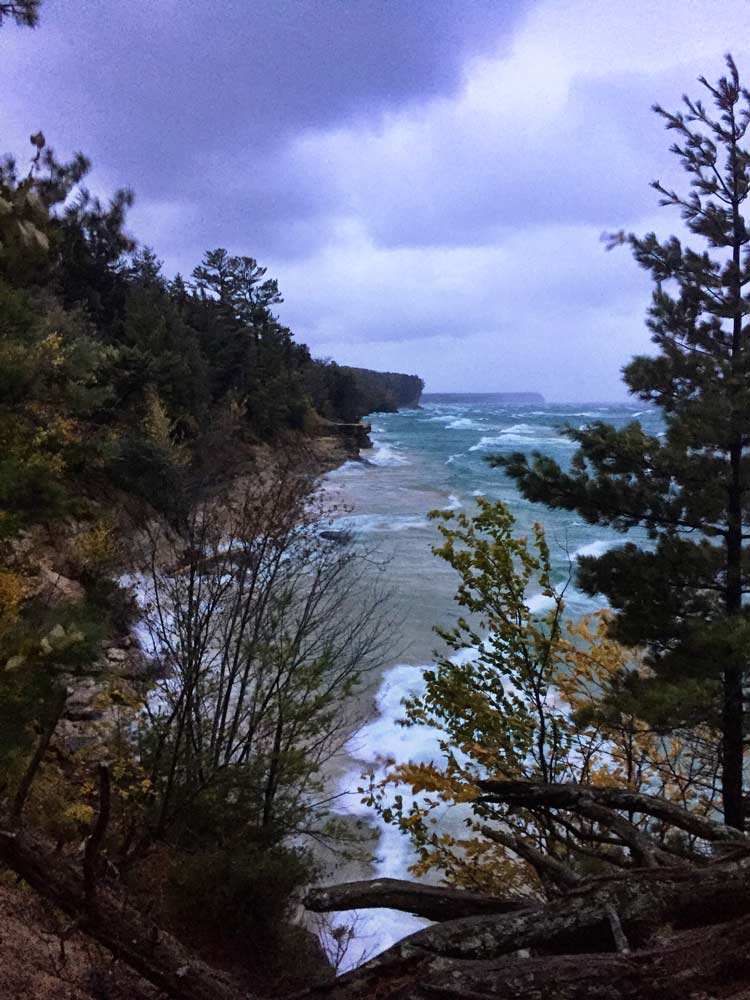 It was still only about 40 degrees and the winds off of Superior where crazy like I had never seen. They were so strong that they actually blew me off my feet a few times, which was pretty scary from the top of a 150 foot cliff. While the rain continued to pour down, waves crashed into the shoreline with anger and every few minutes we could hear trees crashing down around us. It was a long 7 miles. By the time we made it back to Chapel Beach we were both drenched but thankful to be moving further from the shore. The freezing mist off the water was not something we would miss.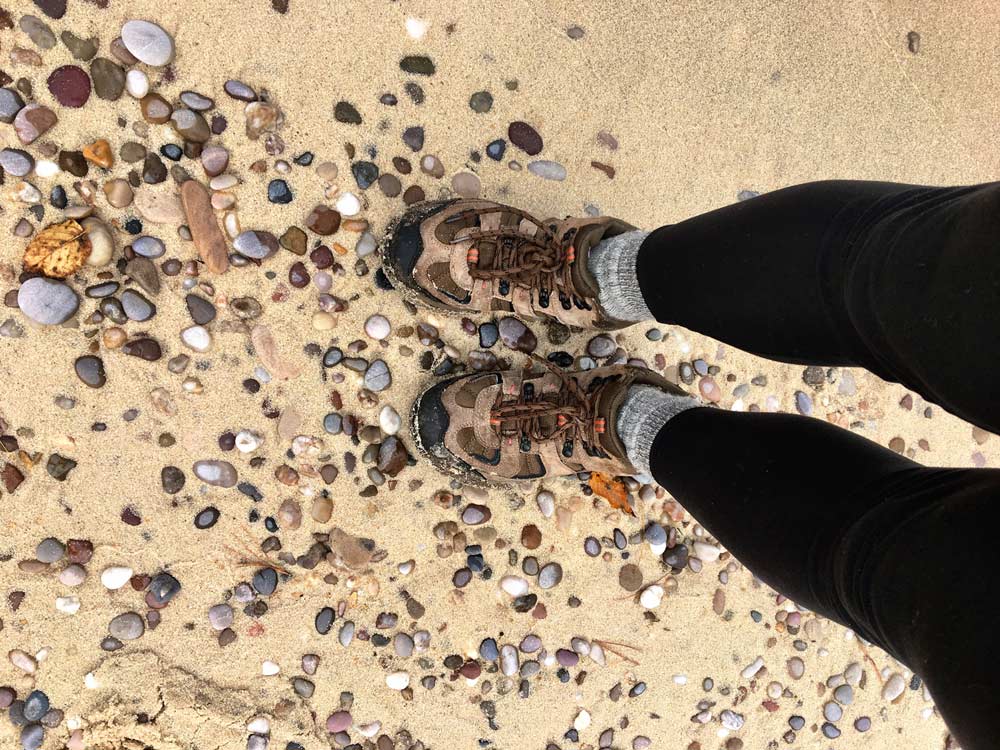 It was only another 4 miles back to the trailhead but it felt like 10. Neither of us spoke much. No one was angry but I think we were equally miserable and knew that anything that came out of our mouths at that point would have been negative, so it stayed silent. We passed the first people of the entire morning about a ¼ mile from the trailhead, and they were a welcomed sight, but not nearly as welcomed as Leah's car in the parking lot. At 11:00am, after 3 some hours of hiking, we made it back to the parking lot. I wish I had a video of us when we finally reached the vehicle because I guarantee it would be comical. Packs came off at lightning speed and we both began stripping off wet clothes in the middle of the parking lot, scrambling to find anything that was dry left in the car to change into. It took about 20 minutes of blasting heat and a fresh pair of socks purchased from a roadside stop before either of us felt normal again. The hike was long, wet, cold and exhausting but the weekend was amazing nonetheless.
The weekend had come to a close. Although we hit more than a few road bumps over the weekend, I don't think I would change any of it. Taking in the adversity of our oversights was probably good for both of us (mostly me) and we both learned some valuable lessons. We closed out the weekend with a backpacking tradition of a giant greasy burger and headed home.
Final Trip Itinerary:
Day One: Chapel Parking to Trappers Group Site – 11.4
(Detour from wrong turn – 2.1)
(Late Night Star Gaze/Northern Lights Viewing – 1.2)
Day Two: Trappers Group to Benchmark – 4.2
(Day Hike / Beach Walk – 2.5)
Day Three- Coves to Chapel Trailhead – 7.5
Know Before You Go
Required Permits: Information about hiking and camping can be found at the National Park Service website. A backcountry permit is required and can be purchased online at Recreation.gov – Permits cost $10/night.
Double Check Your Mileage: Don't be like us. Double check your plans and mileage and be sure to end up at your registered site. Summer months are busy and you may not be as lucky as we were.
Gear List:
Pack/ Tent / Sleeping bag / Sleeping pad
Map and compass
Extra Clothing
Hiking boots and socks
Backpacking stove / Cookware
Water filter / Food
Headlamp / Flashlight
Saw or hatchet
Emergency fire starters / Matches or Lighter
First Aid Supplies