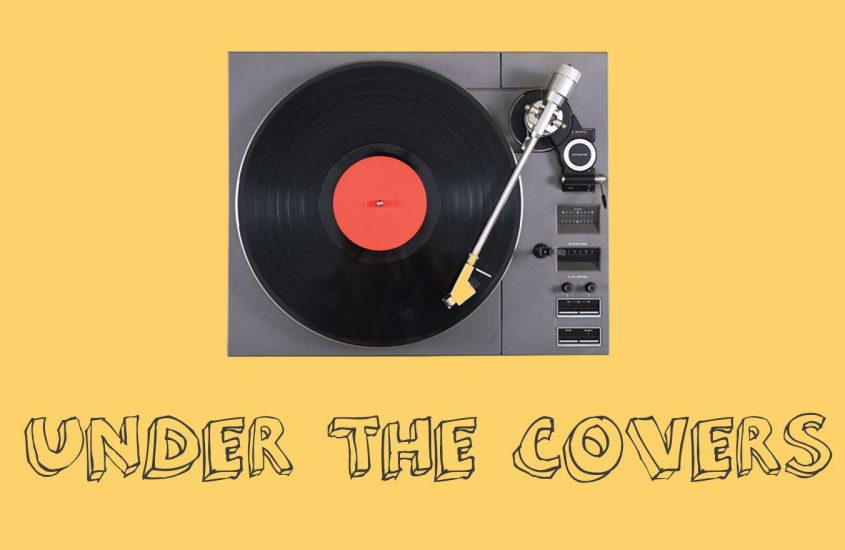 There is nothing wrong with a good cover. These remakes go all the way back to the earliest days of popular music and have stretched across all musical genres. Just because something is the first doesn't always necessarily mean that it is the best. Sometimes to our surprise, a cover song can even be better than the original. Or sometimes the cover does an excellent job of recreating the song in their own special way. I recently had a conversation with someone about favorite covers that are close to hearts. Here are mine:
Sturgill Simpson
"The Promise"

So truth be told, I actually learned the cover version of this song first. Which is probably unconventional for this list, but I don't really care. "The Promise" is an 80's pop ballad that was originally released in 1988 by the British new wave group, When In Rome. Although, it took me hearing Sturgill's beautifully chilling version to investigate the original. Oh man, was I in for a surprise. As most 80's band's did, When In Rome masked the heart melting lyrics of this song with their 80's synth sound. Sturgill Simpson's voice possesses an acoustic swing that's naturally suited for heartbreak and it gives this song the sadness it wants and deserves. Every time I hear him sing his version, I get goosebumps.
Ruth Moody
"Dancing In The Dark"

I have never been a big Springsteen fan myself. Something about his style just doesn't do it for me. Although, I do respect him as a songwriter and performer and I am more than fond of a few of his songs lyrically. Dancing In The Dark just happens to be at the top of that list. I think the song is brilliant and when I heard this Canadian folk songstress sing it I absolutely fell in love. Next to Alison Krauss I think Ruth Moody possibly possesses one of the prettiest voices in all of North America. Her harmonies take this normally uptempo song to some darker, deeper, and beautiful places.
Faith No More
"Easy"

Written by Commodores lead singer Lionel Richie, the song paved the way for Richie's solo career. It's about a man expressing his feelings as he ends a relationship. Rather than being depressed about the break-up, he states that he is instead "easy like Sunday morning." The song itself is a classic and whether or not you want to admit it, probably one of your guilty pleasures. Although in the Faith No More cover Mike Patton takes the song to whole new heights with his amazing vocal range. It is remarkably close to the original but it is so effective. In my opinion this version of the song is the best version by far.
Ryan Adams
"Bad Blood"

Bad Blood is a song by singer/songwriter Taylor Swift about betrayal by a good friend off of her studio album 1989 released in 2014. Ryan Adam's album 1989 was released in 2015 and is a track-by-track cover of Swift's original album. Need I say more? It still feels like some sort of weird pop dream. I love Adam's entire album and had to put at least one of these perfectly remastered tracks onto my list.
The White Stripes
"I Just Don't Know What To Do With Myself"

"I Just Don't Know What to Do With Myself" was first recorded by Tommy Hunt and released as a single in May 1962, but did not chart. In the summer of 1964 Dusty Springfield re-released and "I Just Don't Know…" topped the charts in the UK. Later in 2002 The White Stripes gave the song a full raw-rock treatment, which is by far my favorite. A wall of guitar noise set to Jack White's erie and tantalizing voice is a certain win.
Nada Surf
"Where Is My Mind"

Ahhh yes, Nada Surf. One of my favorite 90's alternative rock bands. They actually hold a number of covers to which I am rather fond of. Although their 1999 cover of the Pixies 1988 hit "Where Is My Mind" has to be at the top of the stack. Obviously credit is due to the pixies for creating this incredible song, but Nada Surf took it and turned it into one of the all-time greatest songs ever. The way they perfectly captured the feeling of freedom and release in the tone, somehow gets me every time.
G Love and Special Sauce
"50 Ways To Leave Your Lover"

Originally written and performed by Paul Simon, this song has a special home in my heart. I was raised on road trips that had the soundtrack of Graceland and this song was always my favorite track on the album. I have memories of a younger me singing this song with Dad on early Saturday morning drives. I obviously had no idea at the time that the song was actually about leaving your spouse to to be with your lover, but I suppose that is all irrelevant at this point anyway. When I saw that G-Love had put out a cover I was immediately skeptical because I assumed one of my nostalgic childhood songs was going to be butchered and left for dead. Much to my surprise, it wasn't. In fact, I truly enjoy the remake. He left the song the same at it's core but added more of a younger vibe.
Somewhere Over the Rainbow
"Israel Kamakawiwoʻole"

SOMETIMES an alien sound comes along and we all just fall in love with it. That's what happened with the late but legendary Hawaiian ukulele star known as IZ. He reclaimed "Somewhere over the Rainbow" which most of us thought could never be disassociated from The Wizard of Oz and Judy Garland's trip to the Emerald City. But somehow his simple, gentle Hawaiian version captured not only my heart, but the hearts of millions of people around the world. Also a fun fact, from what I understand this song's popularity also put a large boost into ukulele sales.
Shooter Jennings
The Neverending Story
Hello, Are you there? Childhood nostalgia is calling. Thank you to this movie for teaching everything we needed to know about the 80's. I love synth-pop music for the same reasons I love the 80's movies that feature it. Because it takes me back to my childhood and helps me think about a magical world that is sparklier, like Fantasia. In 2016 outlaw country rocker Shooter Jennings worked alongside Brandi Carlile to create his ode to the Italian disco legend Giorgio Moroder, who was the original theme song performer of this epic ballad. Weird? Yes. Amazing? Hell Yes.
Don't Think Twice It's Alright
Various Artists

This song gets an honorable mention. With all this talk of covers I thought it was worth sharing a special bonus cover. Originally written and performed by the amazing Bob Dylan in 1962, this song has since been covered by over 70 different artists. Some of which include Willie Nelson, Merle Haggard, Peter, Paul and Mary, Randy Travis, Johnny Cash, Ed Sheeran, Elvis Presley, Waylon Jennings, Donavon Frankenreiter, Jerry Reed, Joan Baez, O.A.R, John Mayer and Eric Clapton, just to name a few. I think the song has been covered so many times over due to the sheer emotional nature of it. "Don't Think Twice, It's All Right," is Dylan's saddest, most beautiful, screw-off song ever written. It's a break up song, and the guy is hurt and wounded, but like most of us during a split, he refuses let on. The song evokes emotions that are equally tender and forgiving, yet also incredibly spiteful. The lyrics capture the very essence of what it feels like exhausting everything one could do to make something last, but still having things fall to ruin in the end. You can't not love this song. Because let's be honest, I think we all have someone that the lyrics "You just kinda wasted my precious time, but don't think twice it's alright" ring true for. I certainly know I do.