Algonquin Adventures – The Beginner's Edition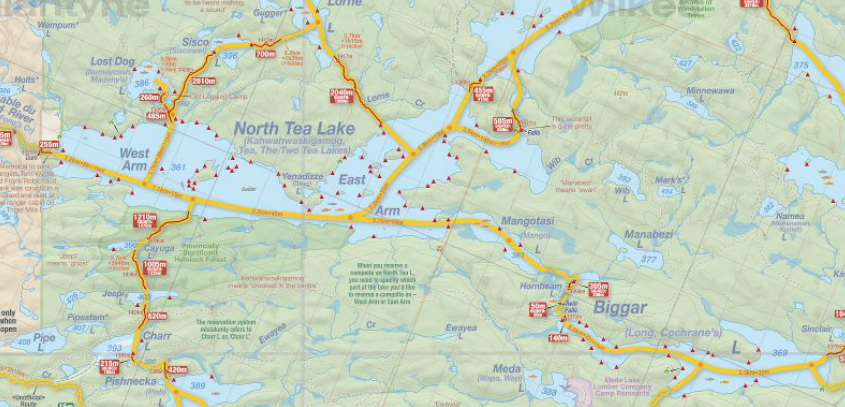 It was somewhere around two years ago when I had first decided that I needed to take a backpacking trip into Algonquin Provincial Park. As it turns out, planning this adventure was much more difficult than I had originally anticipated. Since what I actually meant by "backpacking" was we would canoe, portage, then canoe some more while looking for a campsite in a large and foreign park.
For anyone who is unfamiliar, Algonquin park was Established in 1893 and it is the oldest provincial park in Canada. The park is a massive 2,955 sq mi (7,653 square kilometers to the rest of the world) in size and contains over 2,400 lakes and somewhere around 700 miles of rivers and streams. The park is so large, that the map has been split into four separate sections because of the size. As I'm sure you can imagine, planning a trip to a park this large with little or no knowledge of the area can prove to be rather difficult. With 29 different access points and over 1,900 campsites, not knowing where to start became my first battle.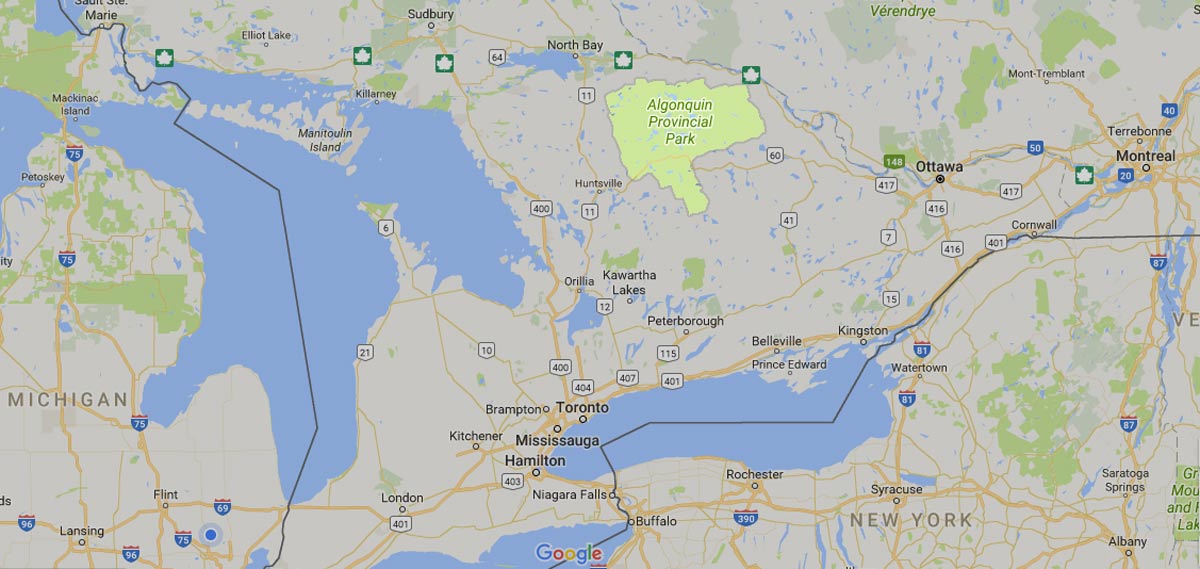 Luckily for me, I had a stroke of good fortune after a previous trip to Killarney Provincial Park. I somehow stumbled across a profile of an avid backcountry camper from Northern Ontario. After finding him I reached out for advice. This particular individual was gracious enough to advise me during the months of preparation and planning of my trip. Additionally, after months of contact with him, he actually ending up joining the trip himself and spending the weekend camping and paddling with us. While I do not advocate meeting and befriending strangers from the internet, in this specific example it actually faired satisfactory.
We left Detroit just after 4am and started our 7 ½ hour drive to Algonquin Park. After a short detour off the beaten path to my favorite Muskoka Brewery for a pint, we arrived at our destination around 3:00pm. Due to the fact that we do not own a canoe, this trip demanded that we rent one from a local outfitter. Taking the advice of our newfound Canadian friend, we decided upon Voyageur Quest Outfitting. This choice was extremely convenient for us because this outfitter happened to be located at access point #1, which was our departing location for our planned route. In addition the staff was extremely friendly and helpful and conveniently they also doubled as permit office for the Ontario Park System. This allowed us to pay any additional fees and pick up our backcountry permits at the same location.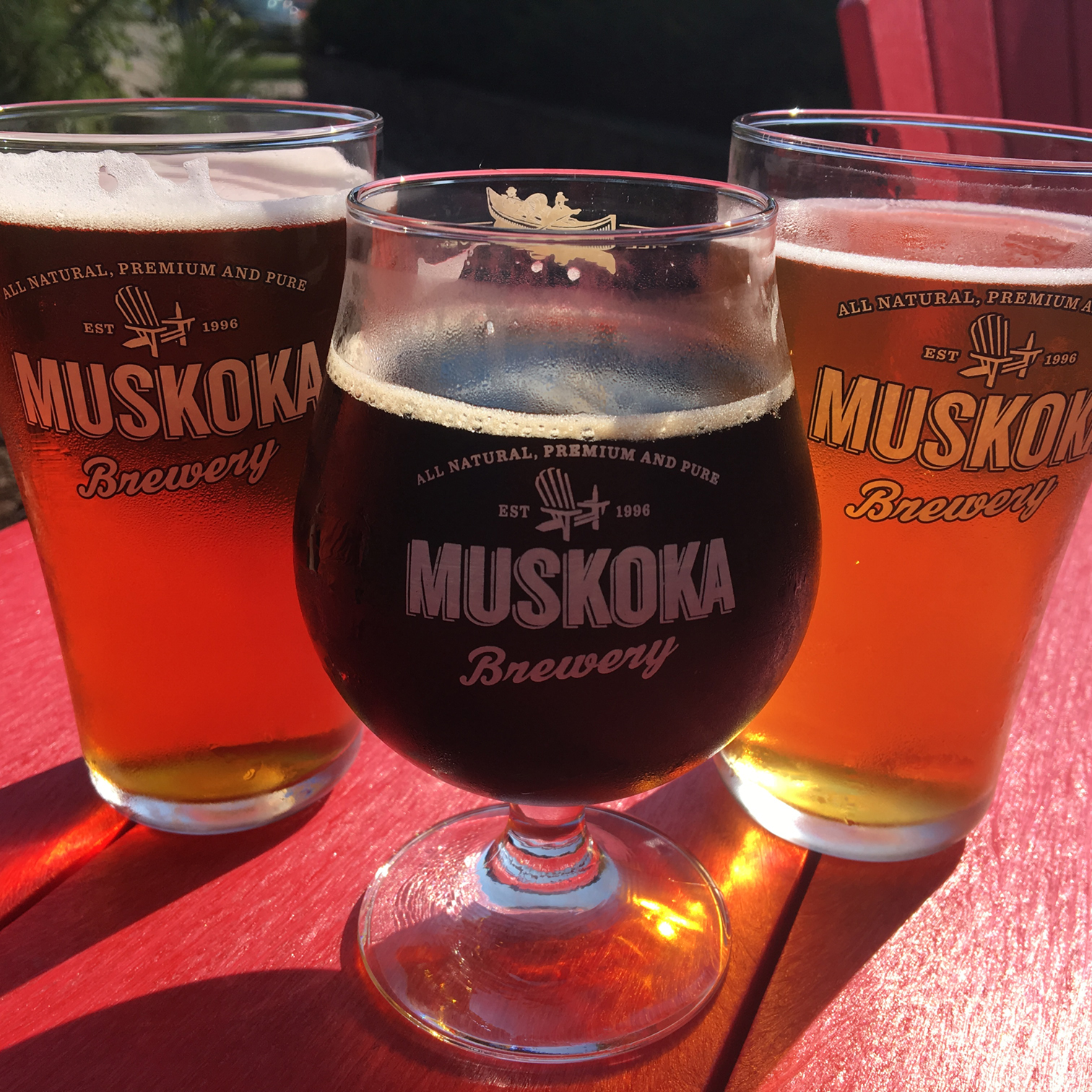 Day 1 – Departure (9 miles)
Kawayaymog > Amable du Fond > North Tea
We packed our gear and departed from the outfitter to paddle just under two miles through Kawayaymog Lake onto the Amable du Fond River towards North Tea Lake. The heat and late afternoon sun provided a perfect setting for our take off. The winds were low and the river looked like glass. After another two miles through the winding and narrow river, we excitedly hit our first portage.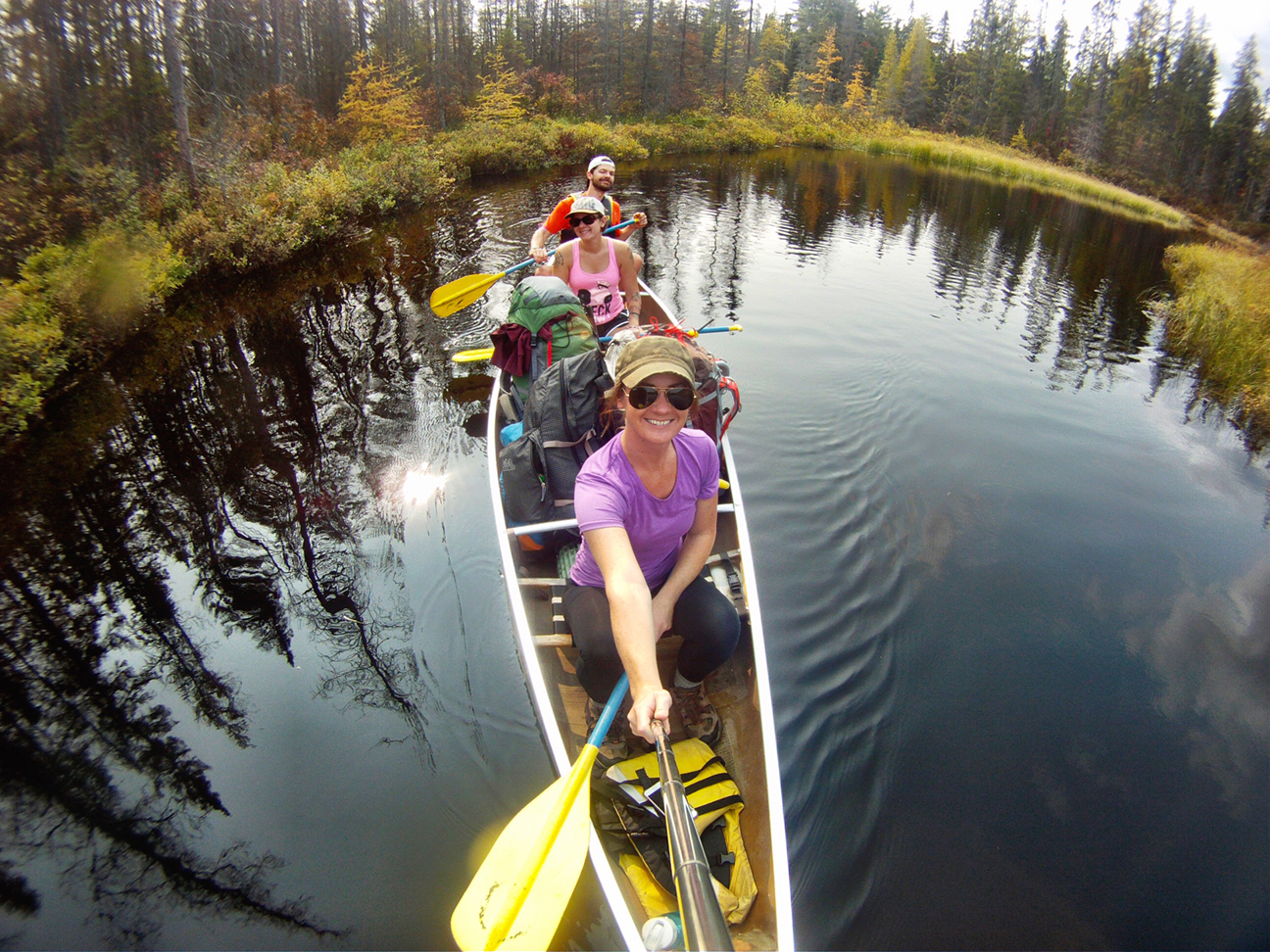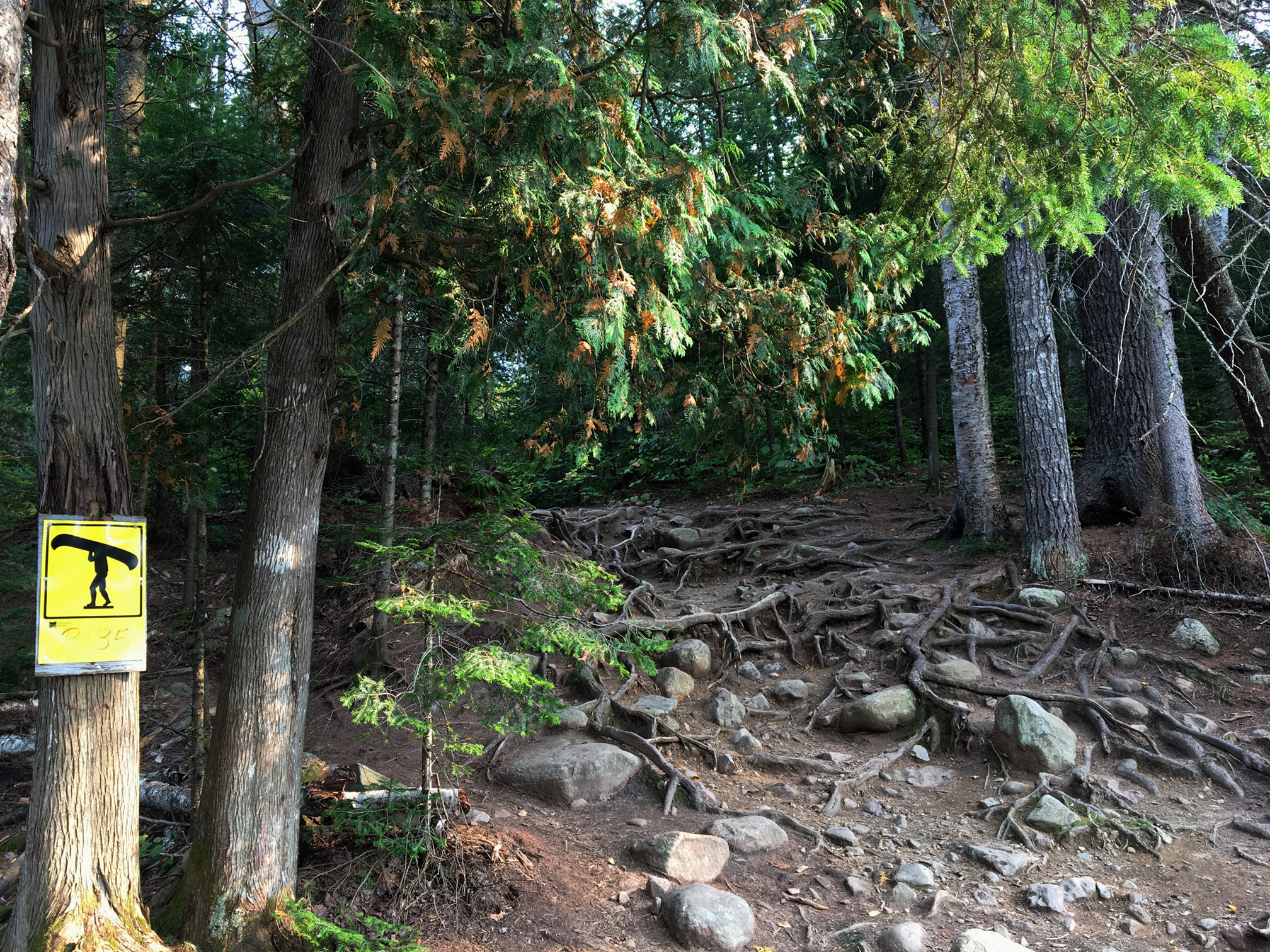 Now, being our first portage trip, I will admit that we were not certain about what to expect. Obviously we all understood that this meant we would carry our canoe and all of our cargo through woods, trails or streams in order to access additional bodies of water. What we weren't as clear about was the distance, difficulty or terrain in which we would run into. It was to our pleasant surprise that we made it through our first two portages relatively quickly and unscathed. Once we repacked the canoe, we were onto North Tea Lake and our first campsite of the trip.
North Tea is a pretty big lake which we found can either be very calm or full of whitecaps. Our Thursday entrance was comfortably still and made the 5 mile paddle across the lake seem relatively easy. The sun had started to set when we hit the ½ waypoint across the lake and the three of us were starting to worry about finding a campsite while we still had enough daylight left to set up. We paddled for another 30 minutes before finding a site we liked that was not occupied. It was a gorgeous site, but we didn't have much time to appreciate it since we still had to unpack everything, set up camp and get ourselves fed.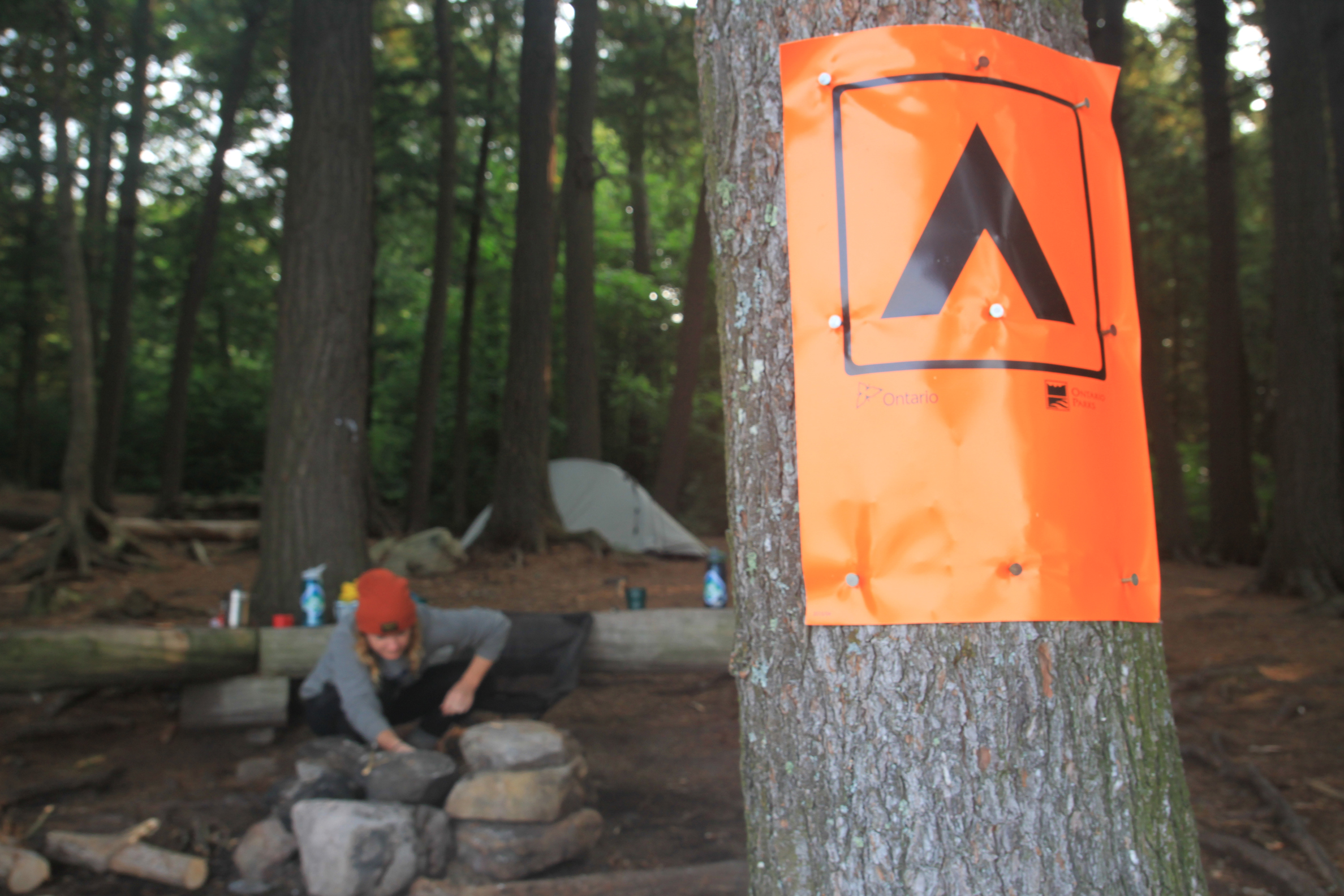 Day 2 (5 Miles)
North Tea Lake > Biggar Lake
The next morning was much different story. I was the first to wake up around 7:00am. While I awaited my crew I quietly enjoyed a hot cup of coffee and my morning oatmeal to the backdrop of a beautiful foggy sunrise. Once everyone was awake we cleaned the site, packed our gear and got back onto the water around 11:00am. We had a much shorter paddle in front of us on the second day. We were headed to Biggar Lake with just 5 miles, 3 portages and two small lakes between us and our next site. The temperature was already close to 80 degrees and it wasn't even noon. I could feel the morning sun scorching it's rays onto my unprotected back. The temperatures were at record highs for late september, but no one was complaining. We didn't see any other people on our paddle onto Biggar, which made for a beautiful and tranquil morning. We stopped to fish at a few of the smaller lakes and waterfalls while we all relaxed and soaked up the sunshine. We made it to our next campsite around 2:00pm and quickly set up and went swimming.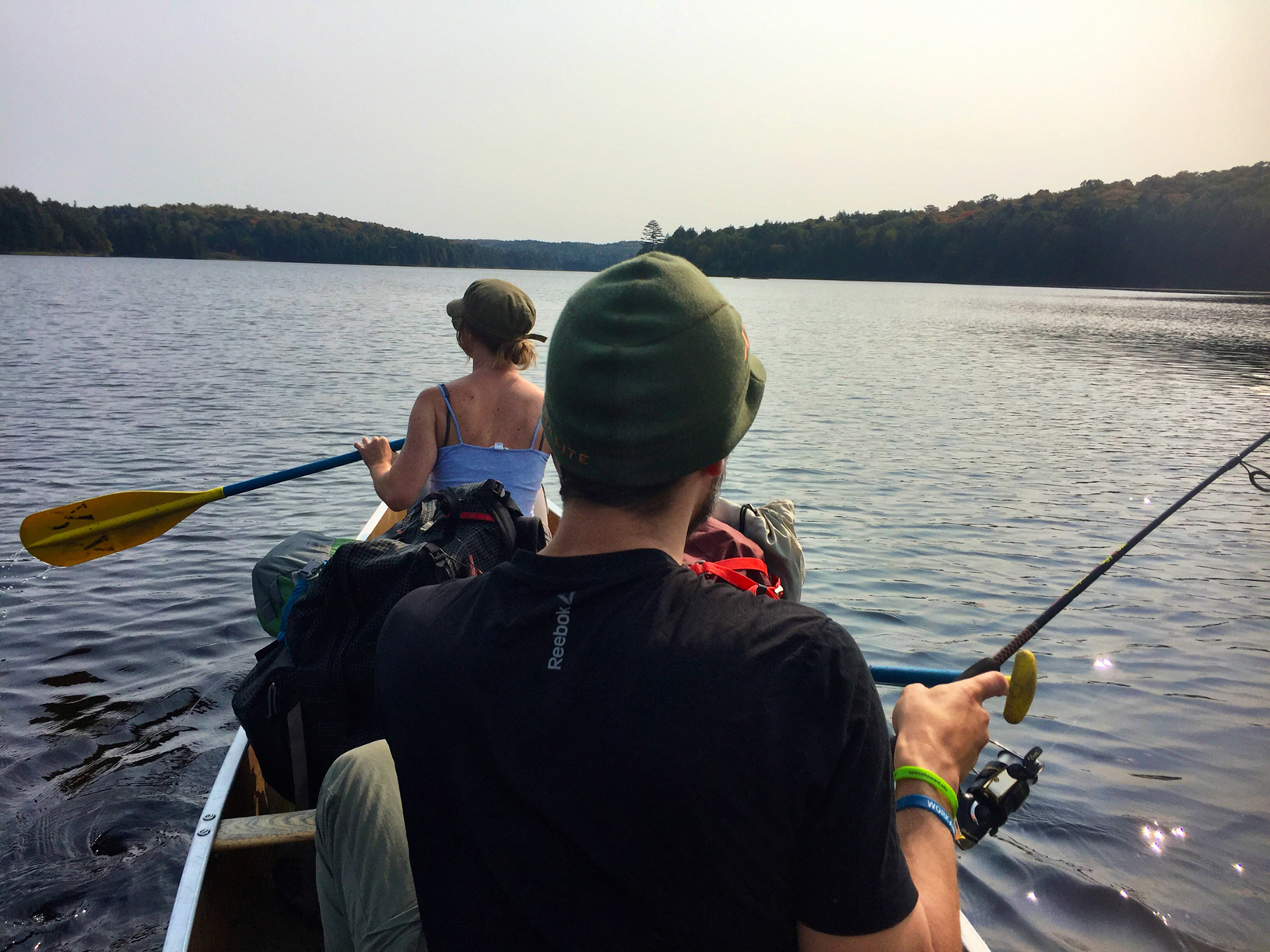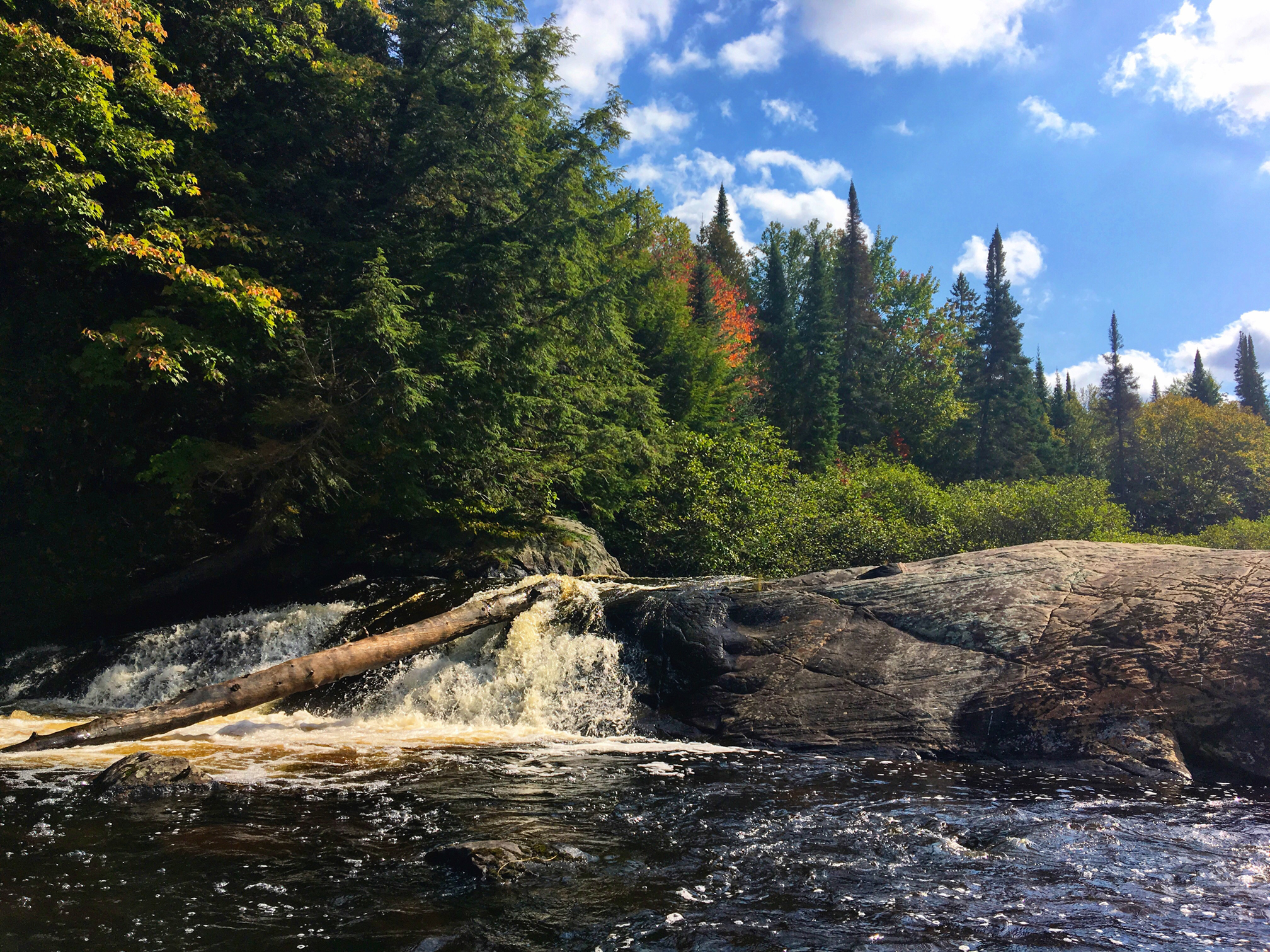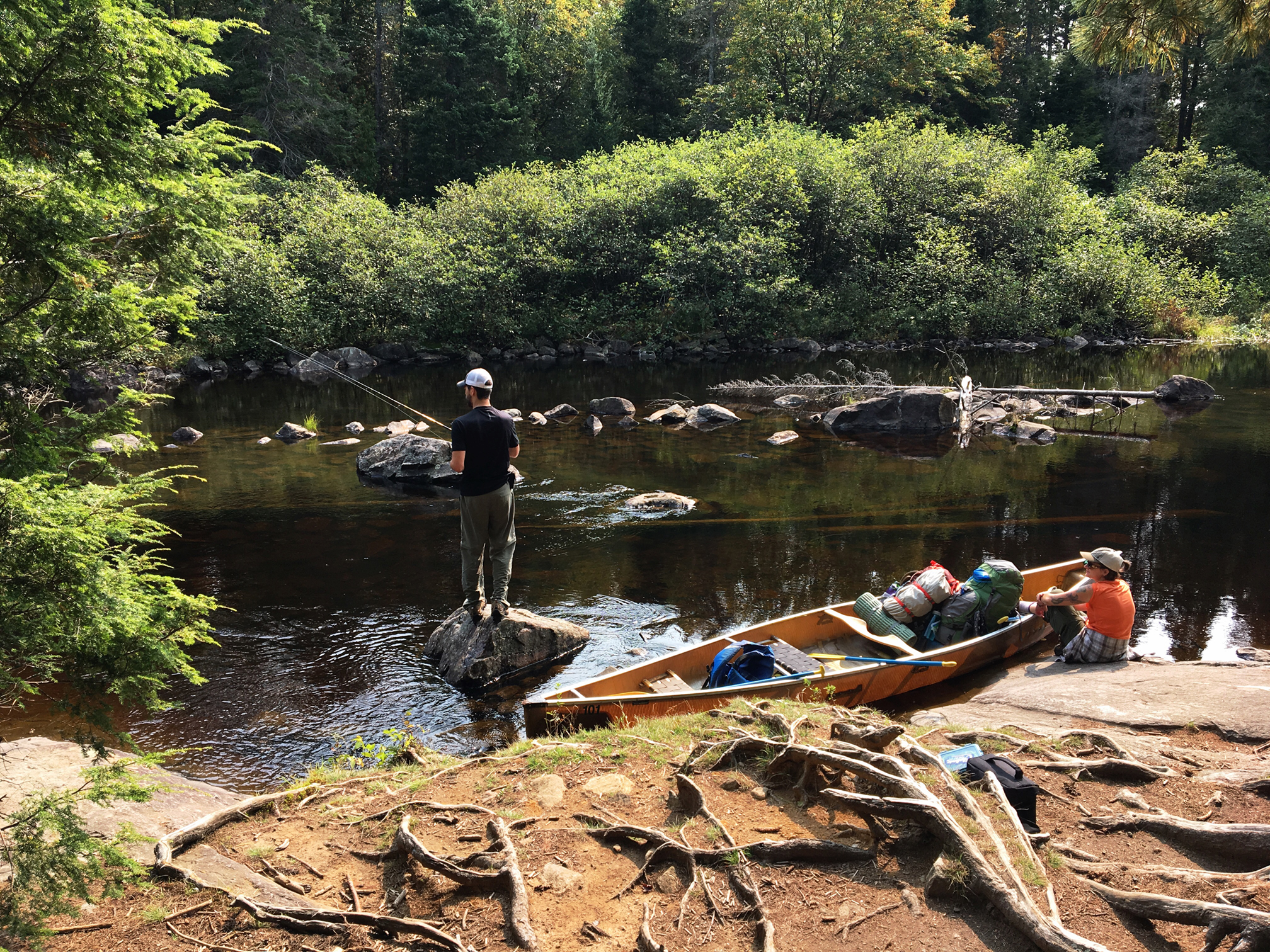 Earlier I mentioned our new friend and unofficial tour guide joining us. Well, he couldn't make it out Thursday but did meet us on Biggar in a solo canoe shortly after we got to our site. Like I said before, he is a very experienced paddler and the rest of us have much to learn from him. After setting up and feeding ourselves we all relaxed, sipped whiskey and swapped stories into the early morning. The lake was so quiet and peaceful and the night sky was bright with stars.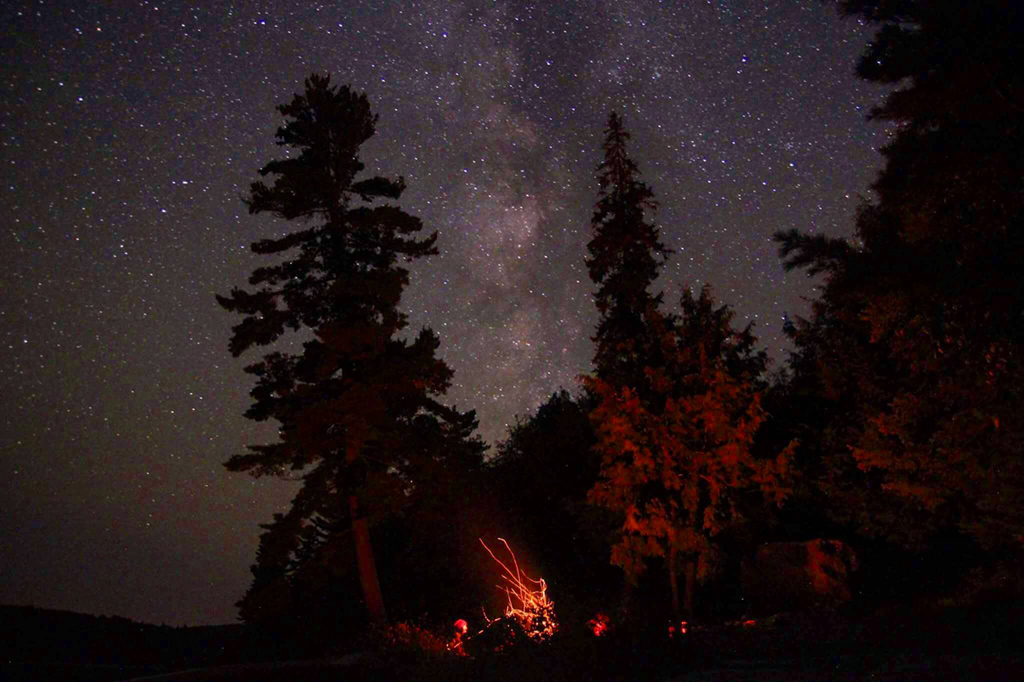 Day 3 (4 miles)
Back to North Tea
Morning number three was a touch on the rough side (must have been the whiskey) but although I was hungover, it was still rather enjoyable. I woke up and was greeted by my new friend's Canadian hangover cure and delicious some camp cooked breakfast burritos. A few of us took the canoe out around the site in search of moose and other wildlife, but sadly turned up nothing. After our paddle we all soaked in the cool clean water that surrounded our campsite, while we washed up and slowly began breaking things down. We weren't in much of a hurry to get out, other than to get ahead of the wind. Our solo canoe headed out first since the rest of us would be much faster in our three person set up. The winds started to pick back up about ½ way back across Biggar, so by the time we hit North Tea paddling had become pretty difficult. Our plan was to grab a site along the North East side and found a gorgeous one just before the sun started to set.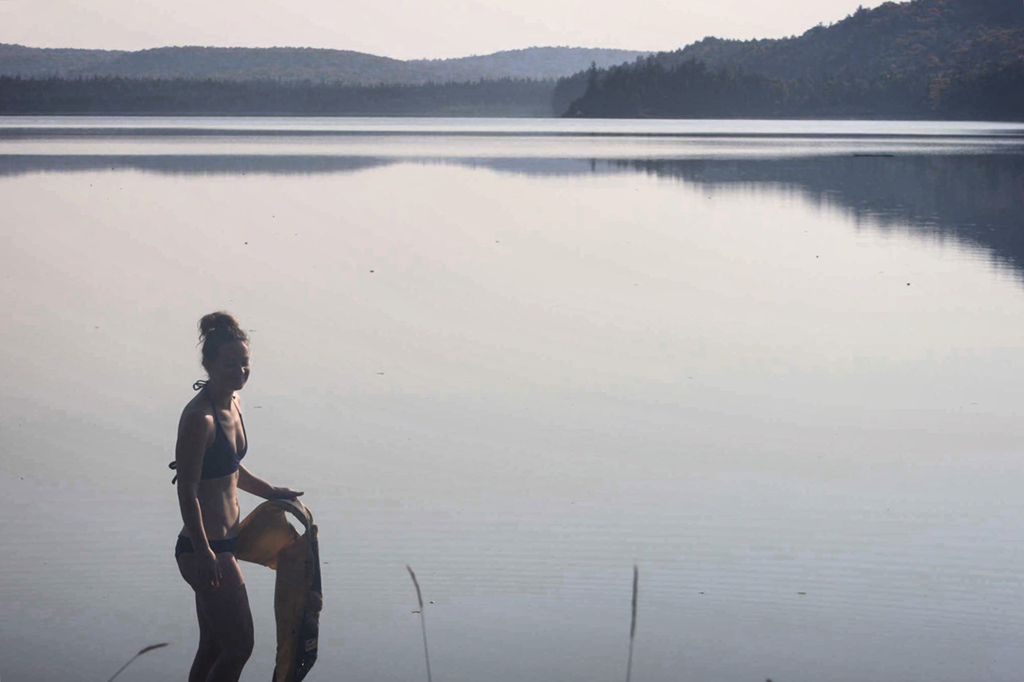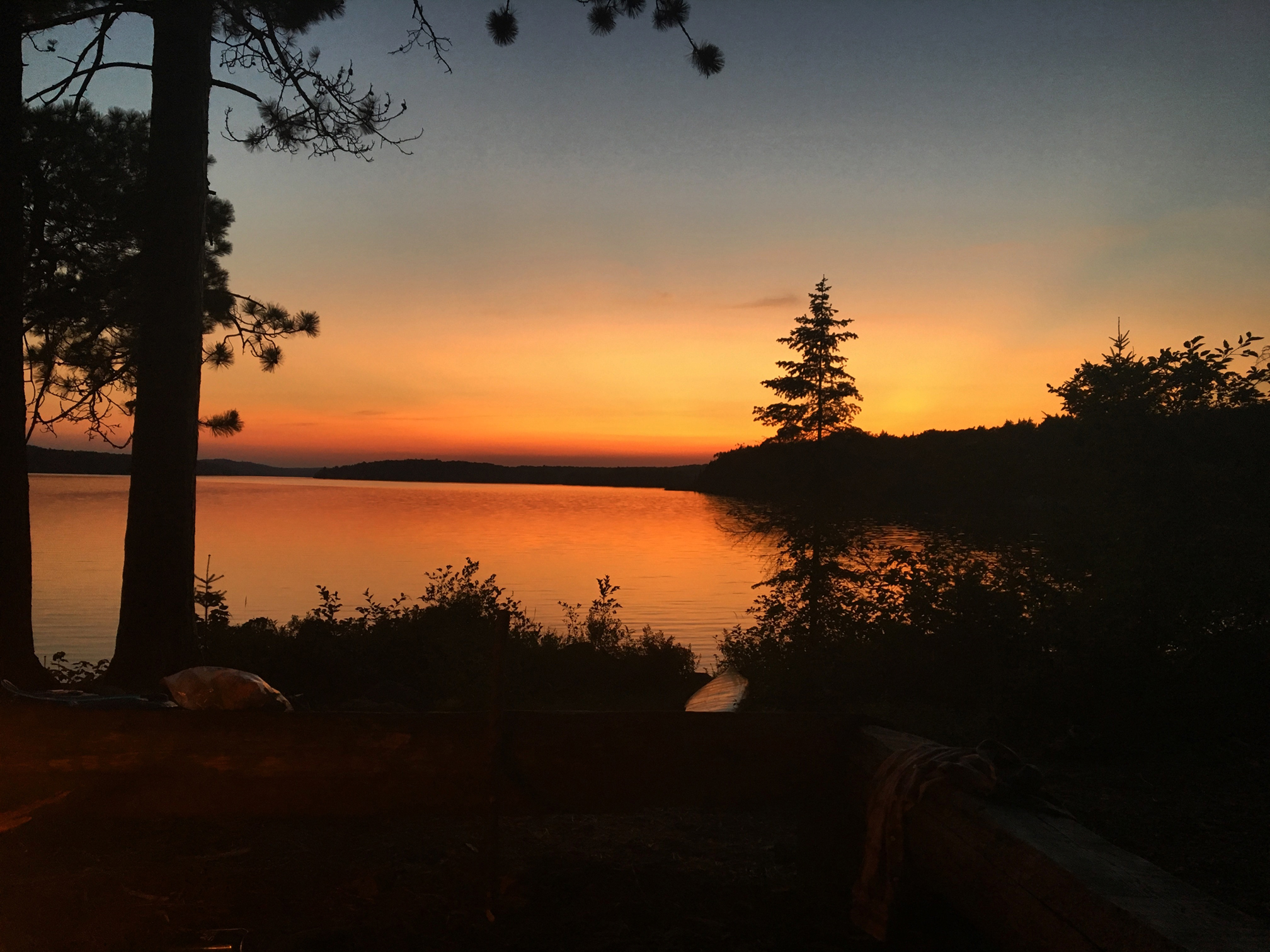 Even after the wind died down, our last evening was the coolest of the three. After getting set up and having our last supper, the four of us spent the rest of the evening around the campfire discussing our past and future adventures. Everyone was exhausted from yesterday's whiskey and the windy paddle back from Biggar. We knew we needed a sunrise start to get a jump on the long trip out, so we called it a relatively early night.
Day 4
Heading home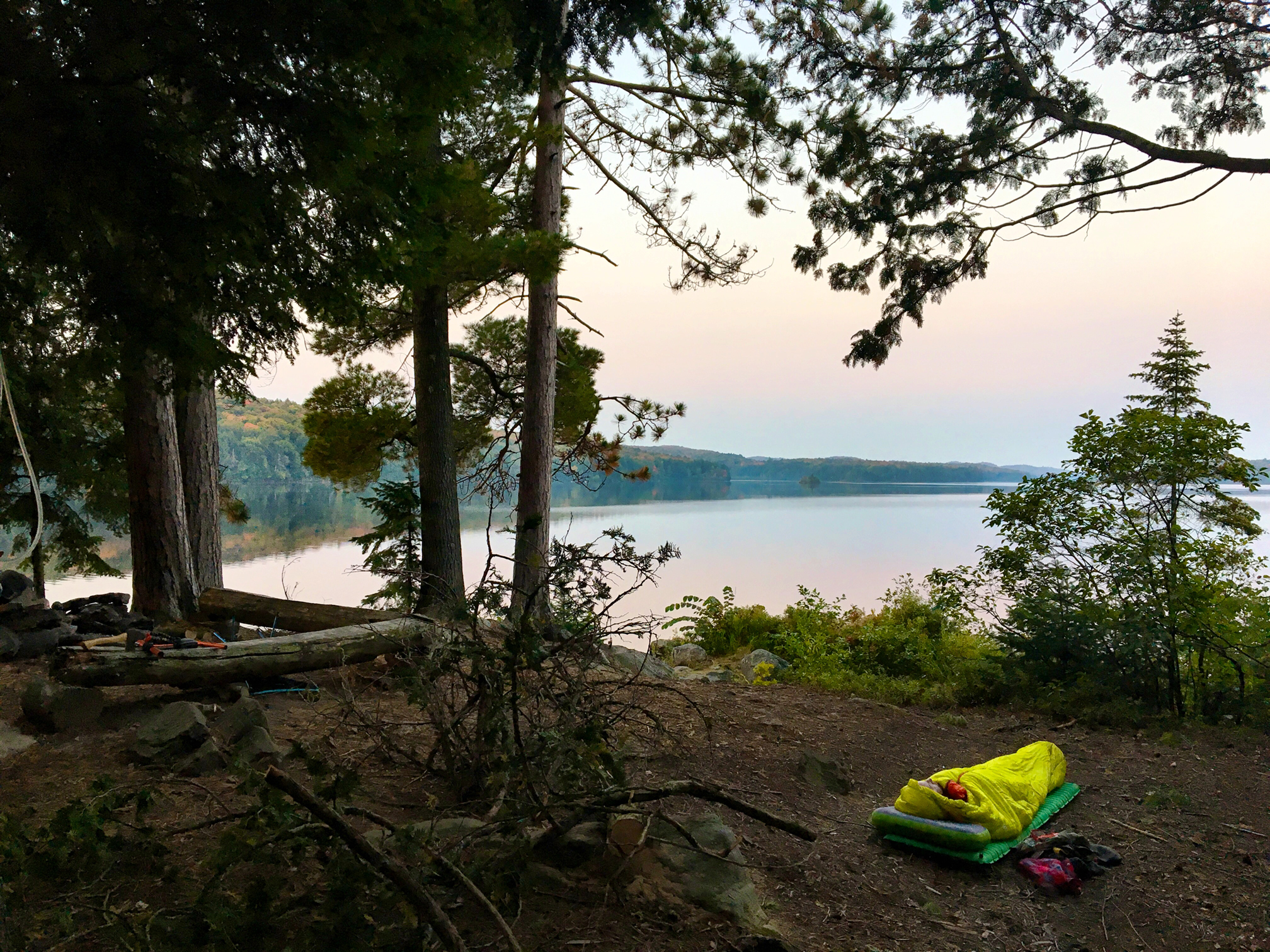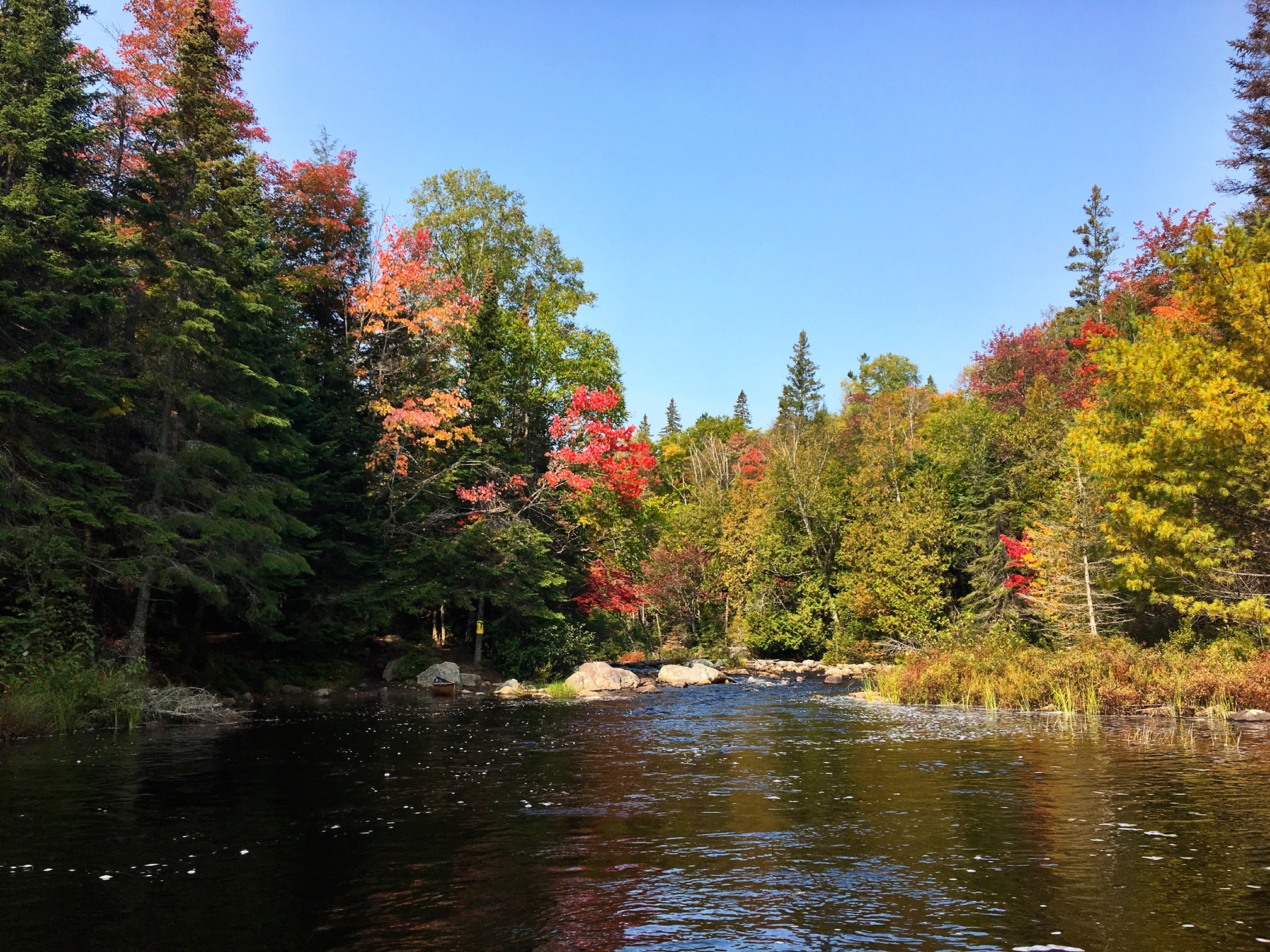 On our last morning everyone was up with the sun, packed and heading out before 8:00am. It was a good thing too because the wind on the way back in was brutal. It started to hit about ½ across North Tea and only got worse from there. The winding river was less than ideal in our three person, 18 ½ canoe and everyone was exhaused before we even hit Lake Kawayaymog. It took us about 4 hours to paddle the 9 miles back to our canoe outfitter. So needless to say the shore was a welcome sight. After returning our canoe and gear we packed the car and headed out. The four of us met back up one more time to fill our faces with Weber's famous burgers before we said our goodbyes and started our long drive back to the states.
Adventure leads to more adventure, so obviously I have already started to plan my next backcountry trip into Canada. I still have so much to learn and many places to explore. I think I'll be riding the high of this epic weekend in the woods for a few more weeks though. I know I will have many more trips into northern Ontario's beautiful wilderness, because each time I go I fall a little deeper into love.