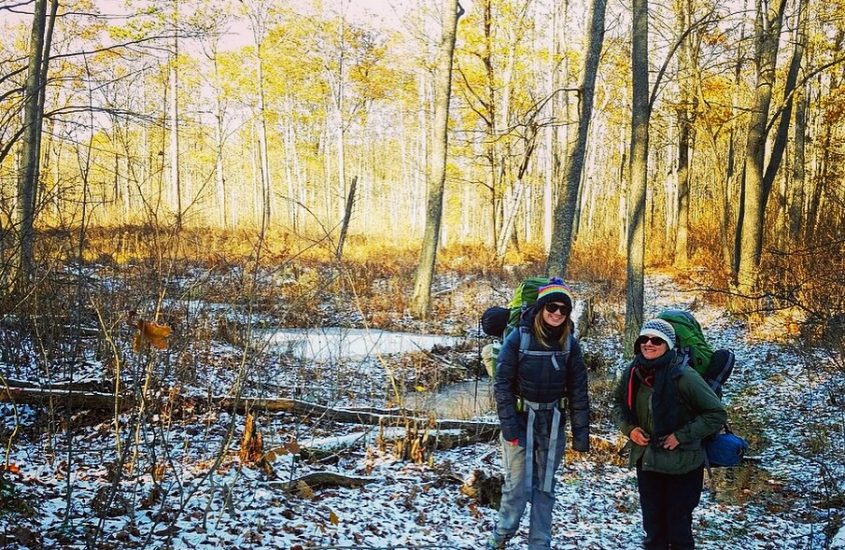 Activity: Backpacking
Date Visited: 11/10/17 – 11/11/17
Distance: 5 Miles
Parking: Hoist Lake East Parking lot
Trailhead: Hoist Lake East Trailhead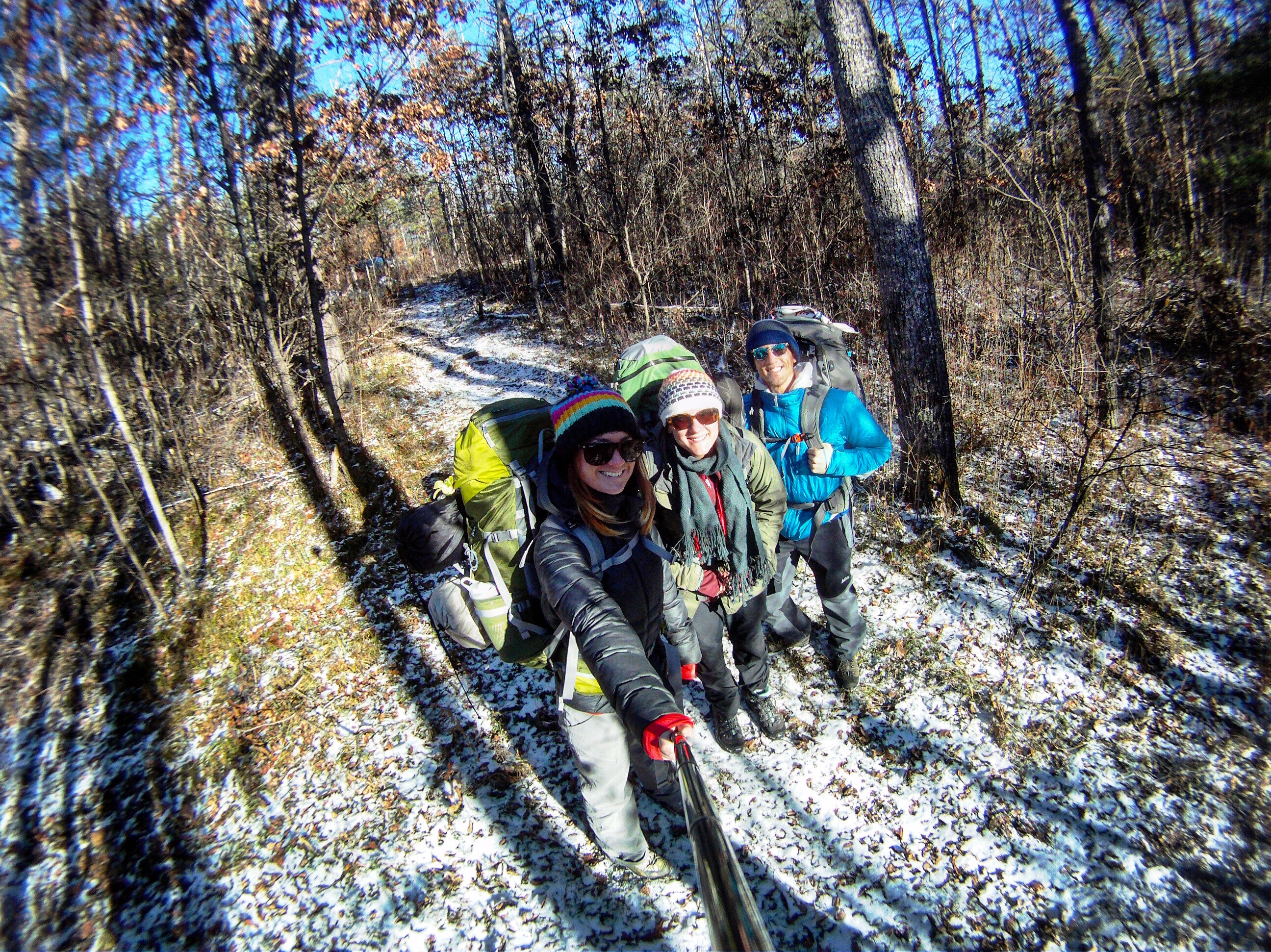 I was overwhelmingly excited when Leah introduced me to yet another Michigan trail that is semi close to home. Hoist Lakes is located in the Huron-Manistee Forest and is only about three hours north of Detroit, so it serves as the perfect quick weekend getaway into the woods. Three short hours to 10,000 acres of pine, aspen and hardwood forest, lake-side campsites and wildlife sightings. It also includes 19 miles of looped trails with various different options for distance. The miles can be broken up any number of ways depending on the number of nights you want to spend and the sections of trail you wish to hike.The loop can be accessed from the east or west side trailheads. Hiking trails range from moderate to more difficult. Hunting, fishing and cross country skiing are also permitted in season. Although, from what I have read the trails are not maintained or groomed. This area makes for another perfectly hidden Michigan gem that provides the opportunity for a quick weekend departure to escape the city or test some gear.
Our weekend at Hoist Lake was basically designed as a trial run for cold weather camping. Both Leah and I have planned to stay active and outside for the duration of the winter, but both of us have a lot to learn. Our friend Matt also piggybacked the trip, hoping to find more opportunities to spend more time outdoors during the Michigan off-season. The trip was originally planned to be 3 days – 2 nights. Although, we were flexible with our milage and our route and decided to pretty much play the entire trip by ear.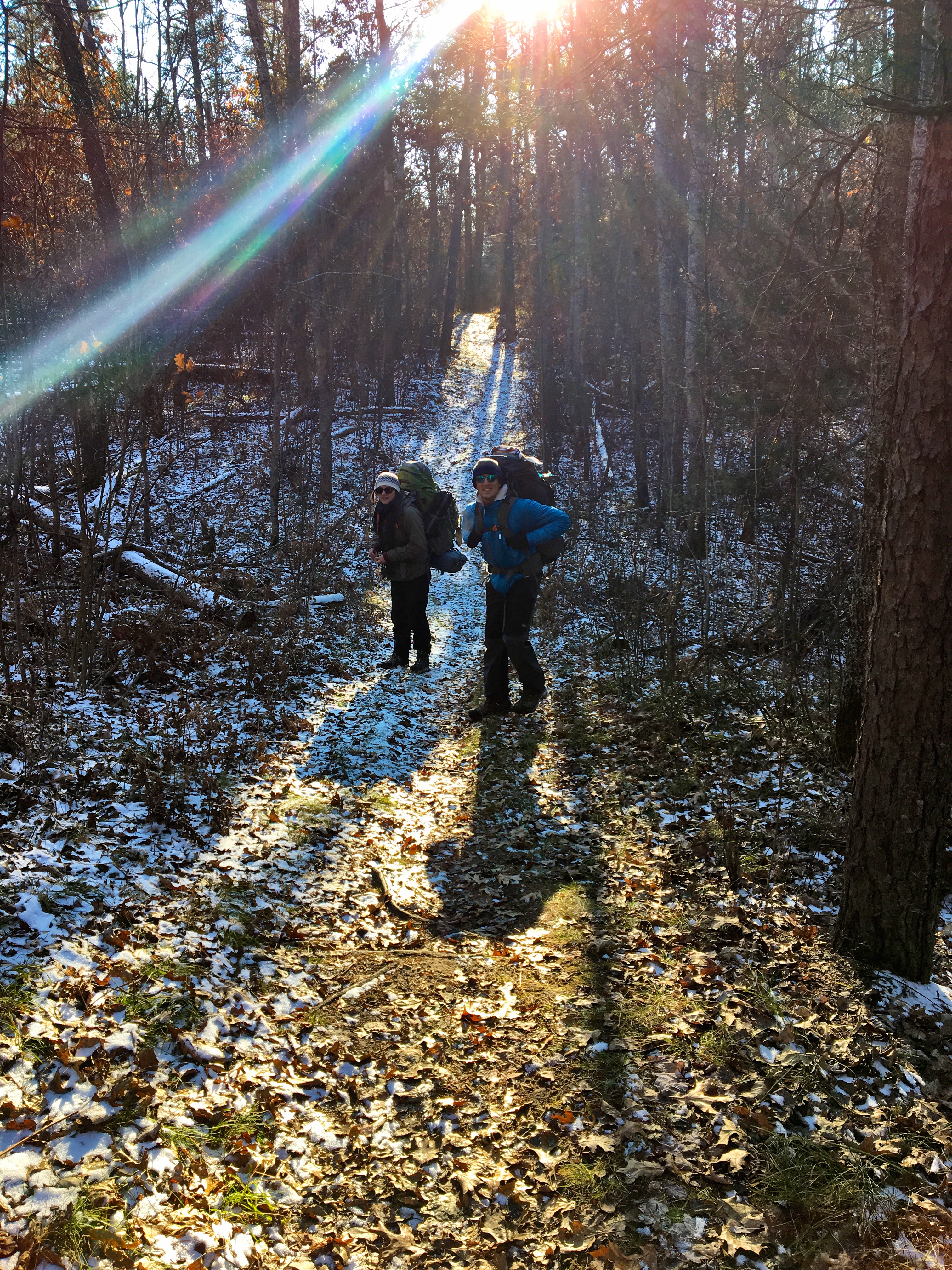 The three of us left the east side trailhead (off M-65 road) parking lot on a chilly Friday afternoon for our intended 2 night trip. The high that day was only around 20 degrees and the low was predicted to dip into the teens. Despite the cold, all three of us were rather excited and couldn't wait to get out onto the trails. We parked the car and dropped our money into the slot. At Hoist you only have to pay to park, which requires $5 a day to leave your vehicle as well as camp in designated areas. We headed towards our campsite, which was only a short 2 mile hike in. The trail hiking in was beyond gorgeous! The sun beamed through the trees and reflected against the light dusting of snow on the ground which illuminated the woods into a bright, beautiful, early winter glow. It didn't take long for us to close in on the campsite and all of us wished the hike would have been a mile or two longer.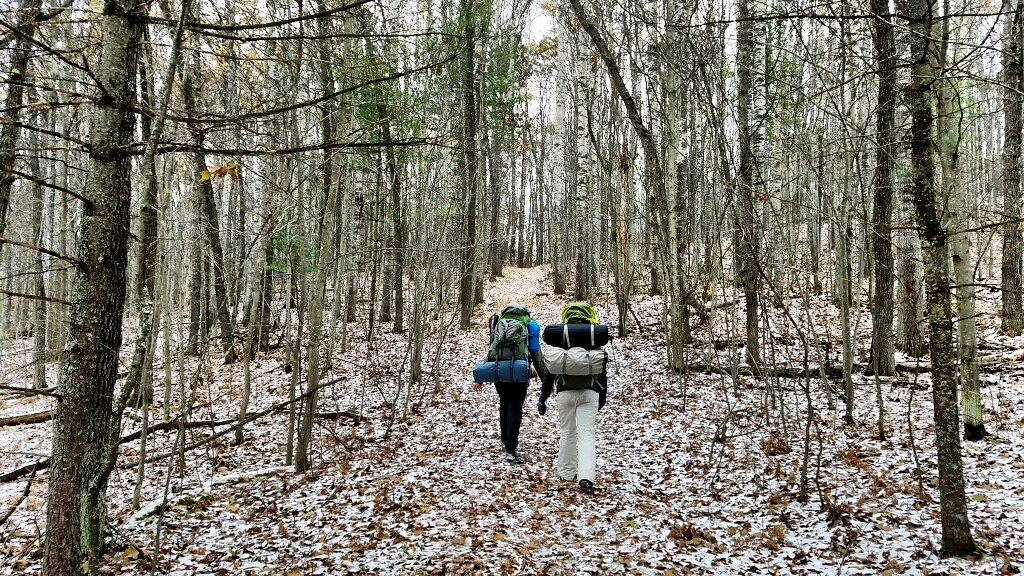 Once we arrived at the site we immediately started unpacking and getting everything set up. I struggled with my tent, which I believe was due to the extreme cold. I have never had issues with my tent before, but for some reason the fabric seemed to of almost shrunk. It took all three of us, but we eventually got it set up. After our site was put together we all got to work cutting firewood. Lots and lots of firewood. Not only was the task keeping us moving and warm but we all knew that we would most likely burn through every bit of it due to the low temperatures.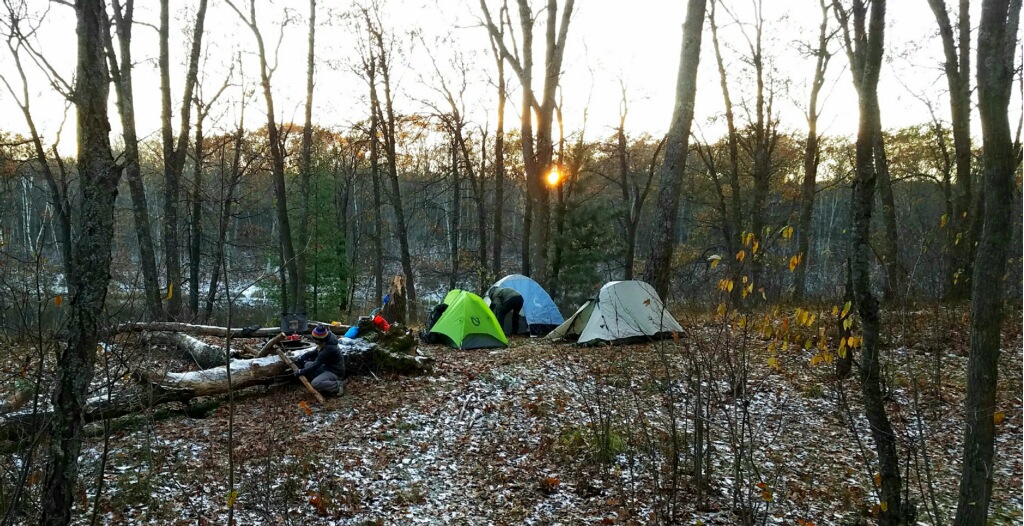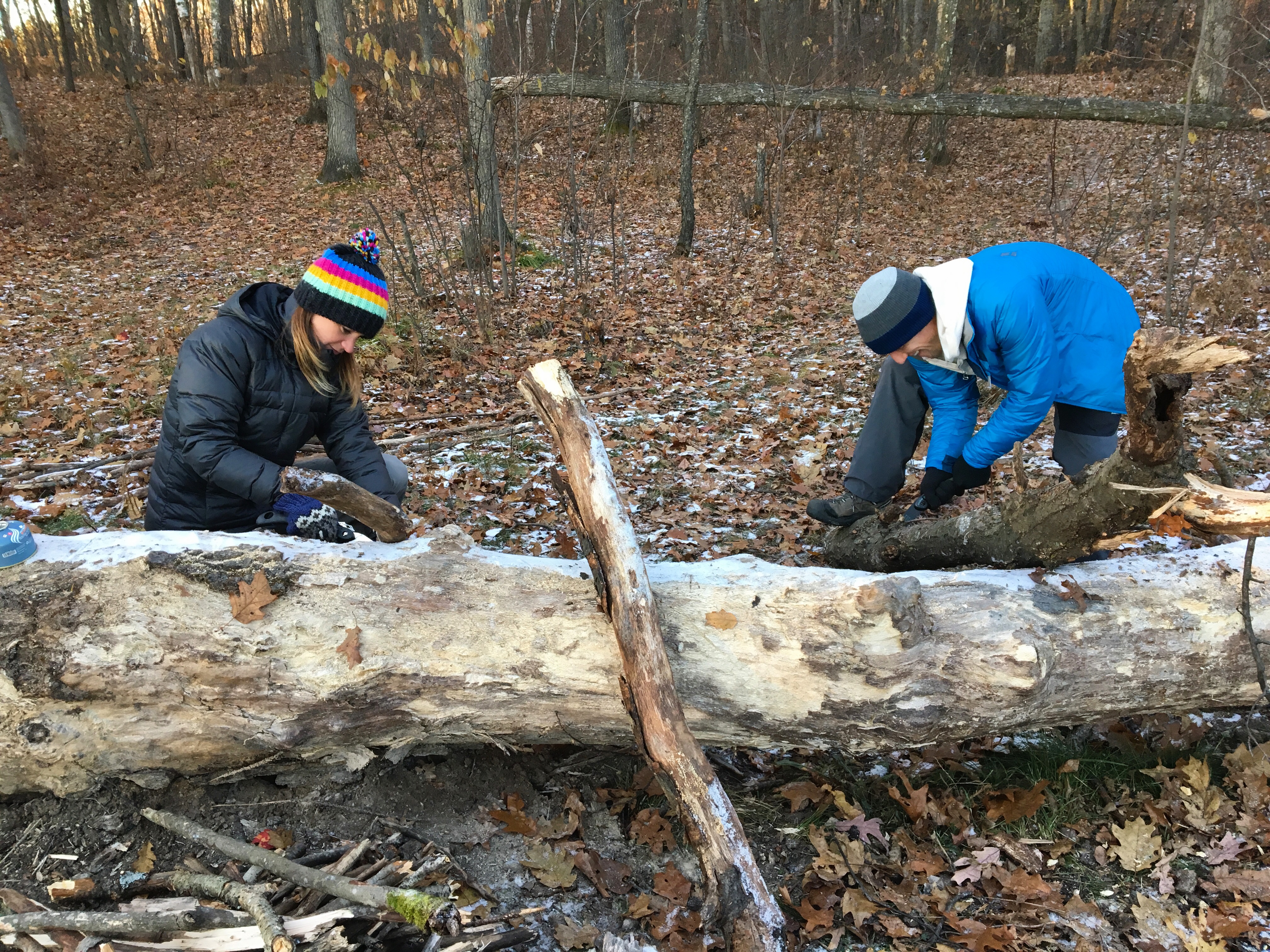 Once everything was setup and the fire was started we could finally relax. Which meant caramel vodka and hot apple cider. Leah prepared spaghetti, while Matt and I searched for a good tree to hang the rope for our bear bag. Dinner was as always, delicious. Except for some minor issues with a few utensils breaking in the freezing temps, we had no problems. After clean up we all settled in around the hot fire. Daylight savings is some kind monster because although it felt like 10pm it was actually only 6:30 the first time we checked the clock. With all of our extra time we decided to get prepared and pump some water for the morning. Although this idea was brought to quick halt within a few minutes of pumping, when Leah's water filter froze up and snapped. So we salvaged whatever water we had, packed everything up and prepared to ride out the remainder of the evening. By the end of the night, no one even wanted to leave the campfire. The temperature had dropped so much that just stepping away for a minute or two left you feeling frozen.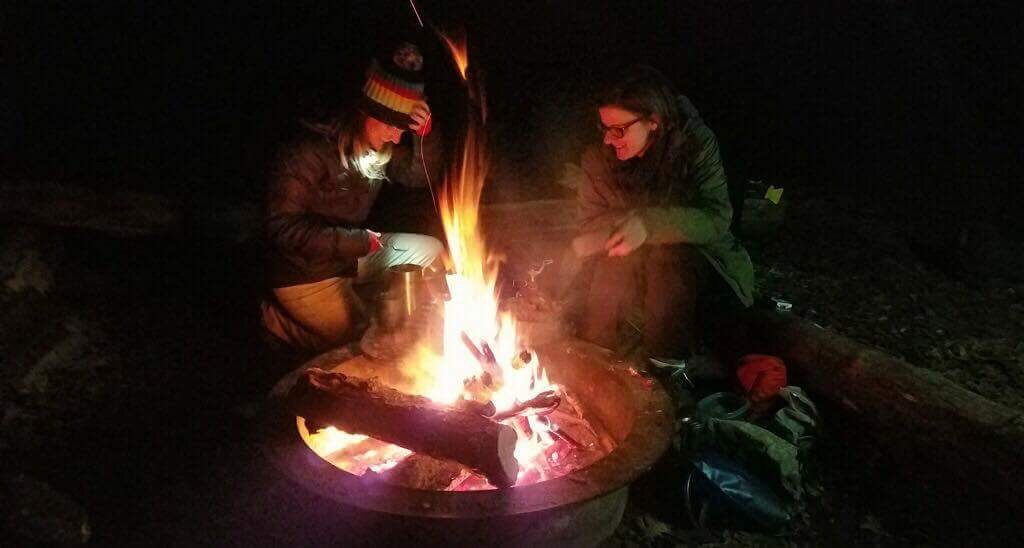 At some point I eventually mustered up the courage to brave the night and get cozied up into my sleeping bag. Amazingly, I fell right to sleep (I think the vodka helped) but I did wake back up around 3:00am absolutely freezing. Luckily, I had extra hand warmers and an emergency blanket that Matt and Leah had each donated to me earlier that night. I put a hand warmer into each sock, rolled myself into the emergency aluminum blanket, then cocooned back into my sleeping bag. At first I was worried I would be unable to fall back to sleep but somehow the methods I used to get warm worked! I was nice and toasty well into the late morning.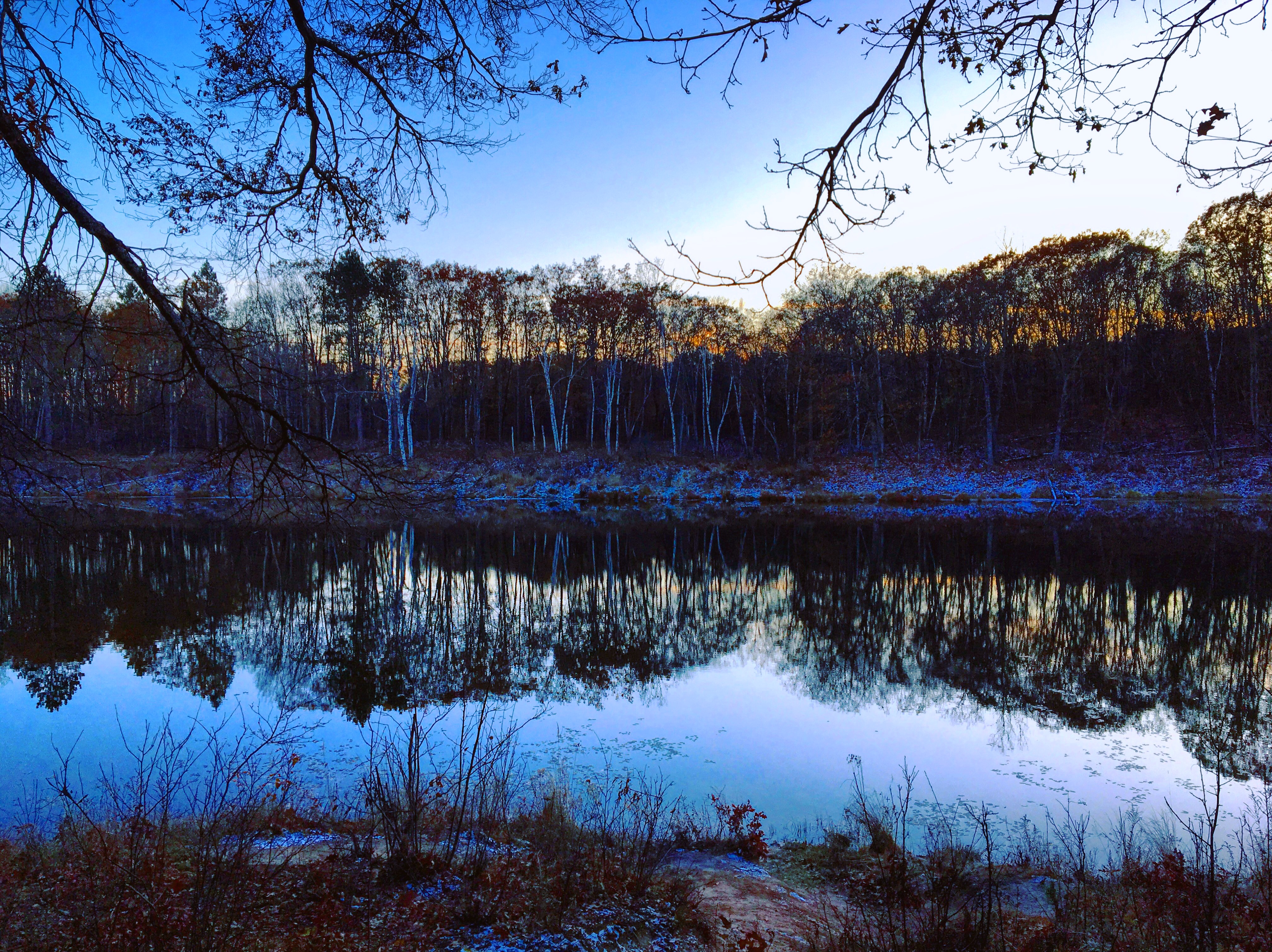 When I woke up around 10am the wind had kicked up and the cold was pretty brutal. I had zero desire to emerge from my cozy sleeping quarters. I waited at least another half hour and still heard no movement outside. I had a suspicion that everyone else was feeling the same way and we were all just playing chicken. Finally I crawled out. It wasn't terrible at first, but it didn't take long before I frozen again. Just as I expected Matt emerged right behind me. At this point almost all our water had frozen solid. I used what I could get to make us both some oatmeal while we waited for Leah to join us. We discussed how cold it was and pondered whether or not we wanted to try and make it through another night. Hearing this, Leah chimed in. She informed us that she had a terrible night's sleep and couldn't for the life of her seem to get warm the entire night. Although she was willing to try a second night, she was just as concerned about how we would stay warm. The end decision was to pack up and hike to the short way (3 miles) to the next campsite and see how we felt. If we decided we didn't want to stay, it would only be another 5 miles back to the car and we could head home. After breaking down the camp and strapping our packs back on, I realized one very important thing, no one had any water. All of us were already dehydrated from the vodka the previous night and this concerned me. At best, we decided to stay and could boil water to drink. At worst, we agreed it was too cold and had to hike back to the car. Which would have meant 8 miles with no water. Under the circumstances I knew I couldn't do it, so I called it. To my surprise, no one argued. It seemed all of us had come to terms with our mistakes and knew the weekend would likely not get easier.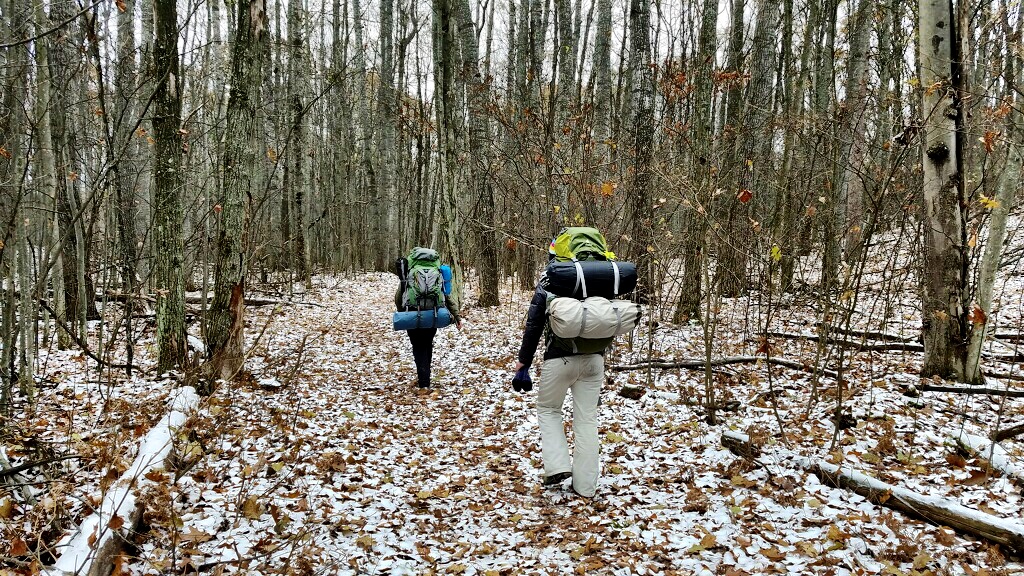 Heading back to the car, we were still baffled as to why we were so cold. We thought we were prepared. We had plenty of clothes, air mattresses to get us off the ground, and even sleeping bags rated for negative degree weather. We knew we needed to do some research and talk to friends who have been camping in similar situations in order to gain some valuable knowledge. So that next time we decide to go, we will definitely know what we need to bring. This trip was a humbling experience for all of us. We learned a lot of lessons. Camping in the extreme cold or snow requires winter-specific gear. Mother Nature can be aggressive but the right gear and knowledge can help keep her at bay. These are a few of our first trip takeaways:
Water Filter and Frozen Liquids
Freezing temperatures can complicate water treatment and purification because filters water filters can clog or break if they freeze. Which can at best make them a poor water treatment and purification method in cold weather and at worst, render them broken or useless. From what I can gather, in the colder months you have a few different options to battle this issue:
Boiling is probably the easiest option but it does require that you carry more cooking fuel. Water would need to be brought to 160 degrees fahrenheit in order to kill water-borne organisms. Which in backpacker translation is a gentle boil.
Another option is to bring the temperature of your water up to the point where its warm to the touch then treat it with a chlorine dioxide water purification tablet.
Extra steps also need to be taken to keep your drinking water from freezing at night or in extreme temperatures. As far as I can find there is no perfect method of doing this, but turning water containers upside down seems to be popular. Water freezes from the top down, so keeping the opening of your container facing down will hopefully prevent it from freezing entirely.
Also keeping your container in the bottom of your sleeping bag or close to your body at night can help with this. Although keeping cold water next to your body during frigid temperatures may not be the most desirable, it will be the difference between having drinking water for your hike in the morning apposed to block of ice.
Layering Your Clothing Properly
There is something of a science in how to layer clothing for cold weather temperatures. It is not just about putting on as many things as you can, but more about order of materials.
Your base layer is the most important layer. Which is the layer that is right next to your skin. Trust the popular belief and stick with merino wool. It will wick sweat while still keeping you cozy.

You will also need an insulating layer, such as fleece or goose down to keep the heat in close to your body.
Top that with a waterproof/windproof gore-tex layer and you should be all set.
This same method applies to socks. Keep the thinner wool layer next to your skin and layer another synthetic or wool sock over that. But be careful not to make your boots too tight. Over layering will cut off circulation, resulting in cold or numb feet.
4 Season Tent
Is it necessary? After all my research, from what I gather, no. It is completely possible to use a three-season tent in winter conditions as long as it provides you with shelter and good protection. The only difference is 4 season tents are somewhat pricier/heavier than a standard 3-season. The reason being to offer better snow and wind protection. While there are plenty of 3 season tents that could support a snow load and lots of wind, you're probably not going to want to be in them in these conditions because it will be equally cold and windy inside your tent as it is outside of it. Also the materials and poles are created specifically for cold weather temperatures, which means no surprise suffering through slightly distorted poles or broken stakes. So basically, it would be up to you whether or not this is a worthwhile purchase for you. There is no need to go out and buy an expensive winter tent if you're only going to use it once or twice each winter. Although, on the flip side, if you do discover that winter camping is enjoyable to you and you see it becoming a regular activity, this would 100% be an investment you will want to make.
I am sure this is only the beginning of the things we will learn as we continue to winter camp and gain more experience, but I wanted to document and report back so I could maybe help someone else avoid a few of our rookie mistakes. What are some tricks you use to stay warm in colder temperatures?