Pinckney State Recreation Area- Green Lake to Blind Lake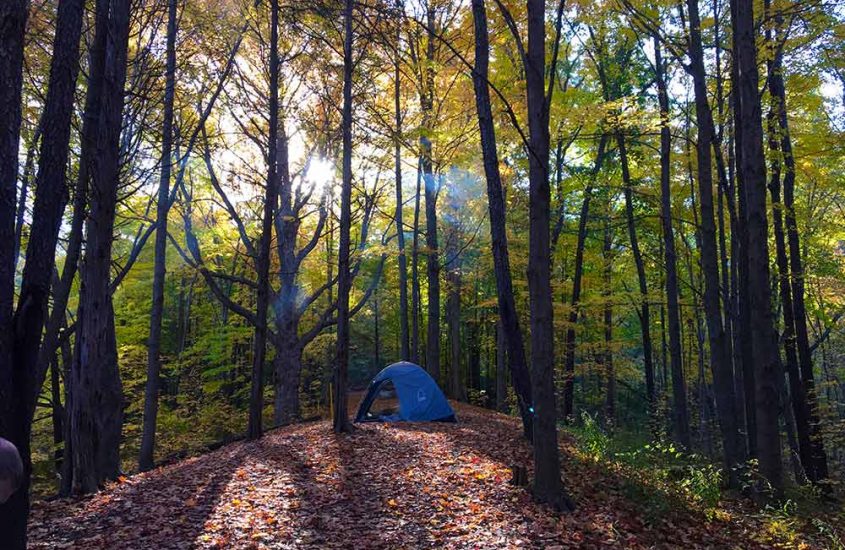 Still riding the high from my previous weekend at Pictured Rocks, I spent the first few nights after returning home discussing my weekend adventure and sharing my photos. Afterwards, I had a few friends reach out to me regarding gear, hikes, mileage, and possible trip planning. One friend in particular, Anthony, had just dropped a hefty amount of money at REI on gear in preparation for his incoming trip to Patagonia. He had contacted me in hopes that we could get into the woods for some hiking, but mostly for a gear check. Since he had just purchased his pack, tent, pad, sleeping bag, and almost anything else backpacking related that you can think of just a few days prior, he did not want the mountains to be the first time that he tried out his gear.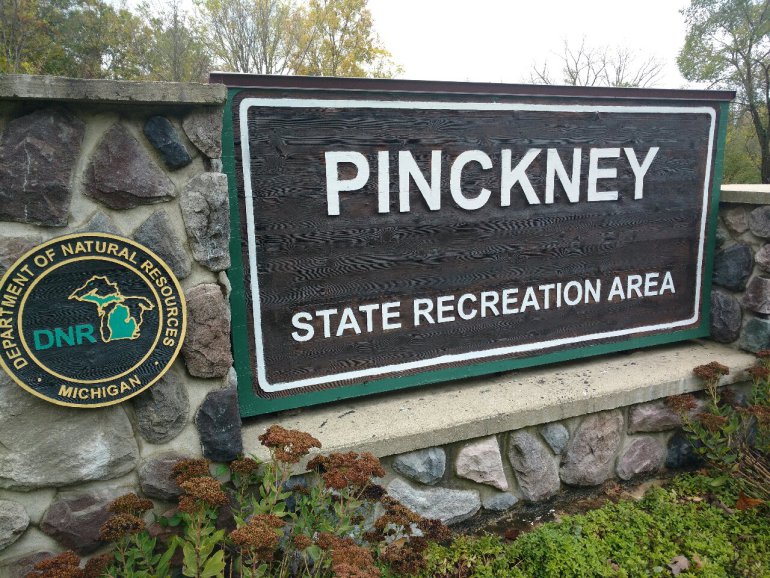 We decided on a Wednesday that neither of us had any plans for the weekend, so we should take a short trip. Since last summer when I discovered that Blind Lake in Pinckney Recreation Area has a backcountry campground, I have been dying to check it out. After visiting the Michigan DNR site and reviewing for availability and price, I decided to just go ahead and book it. I chose site #2 and paid my $21 for the night. I sent a message out to my adventure friend, Leah and of course she was also on board. As well as her Sister, Sarah, who was wanting to try out backpacking for the first time. So that was that, the 4 of us and my two dogs would head out Saturday morning for two days/one night in the woods.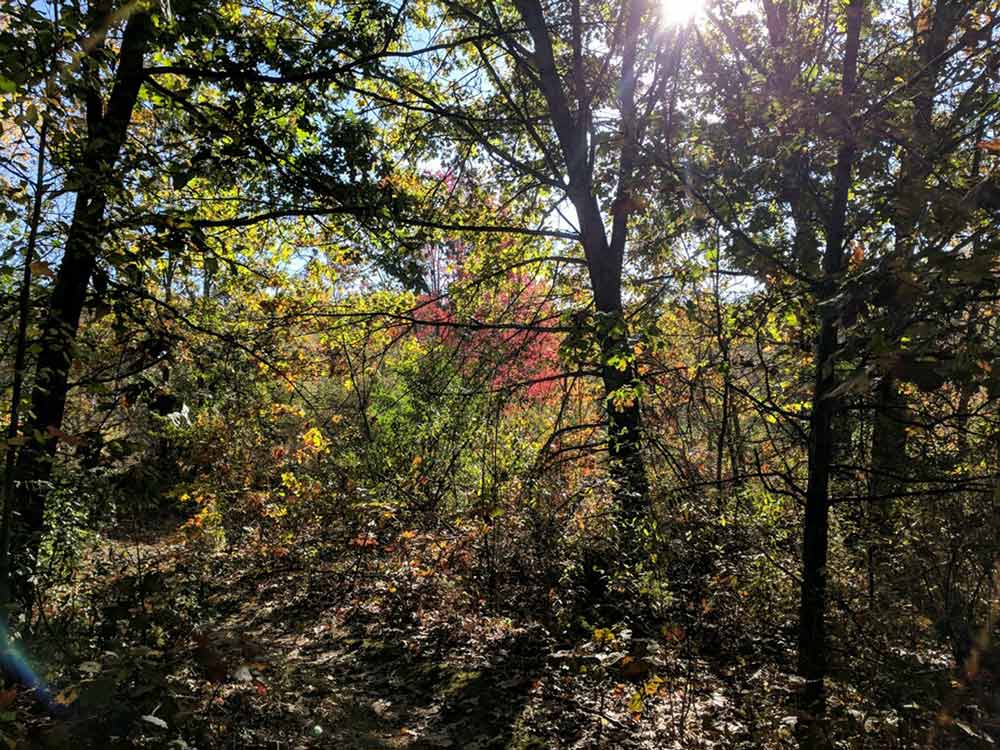 The weather report for late October in Michigan could not have been better. Friday, Saturday, Sunday of 75 degrees and clear skies. The overnight lows didn't dip below 50 and zero percent chance of precipitation. Anthony knew the area best, so he suggested taking an alternate route rather than leaving from Silver Lake, which is what the Michigan DNR site had suggested. The Potawatomi Trail is a 17.5 mile loop that is most popular for extreme mountain bikers, and if we hiked in from Silver Lake we would primarily be on that trail for the majority of the hike. Since my dog Gus isn't very fond of bikes and sharing the trail isn't much fun for hikers OR bikers, we decided to alter our course. Anthony decided that the best way to access Blind Lake for a short, one night trip would be to park at the Green Lake Campground and hike 6.5 miles in. Everyone else agreed and we planned to meet around noon on Saturday afternoon.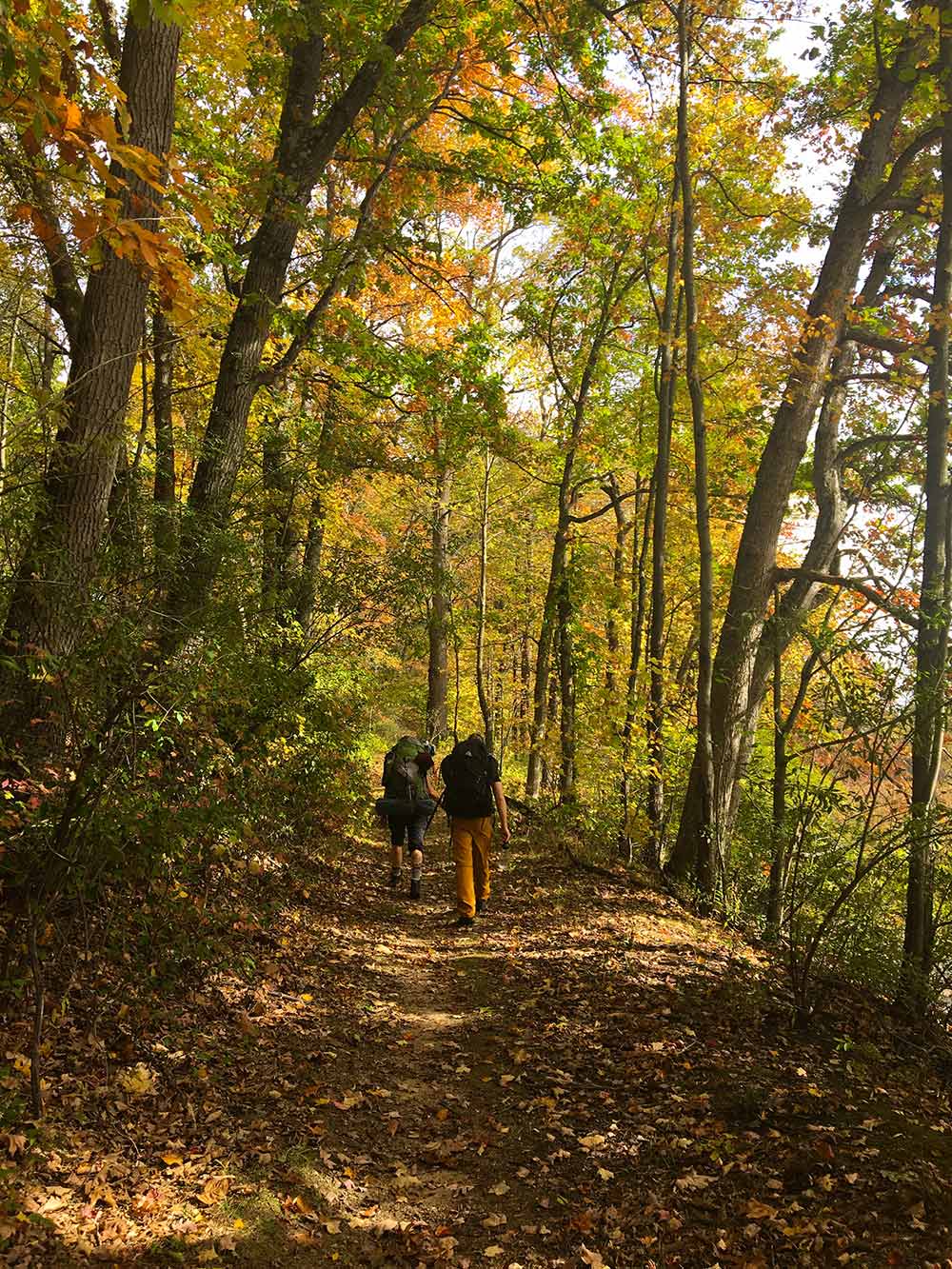 This "gear check" idea also happen to work out very well in my favor, since I had backpack problems myself. The previous weekend on the NCT had proved that my old pack was now entirely too large after having some recent weight loss. Unfortunately, I could no longer tighten the waist straps small enough, which left an excessive amount of weight resting onto my shoulders. Which meant it was time to invest. I went to REI the following day and tried on every women's pack they had. I decided on the Dueter Women's ACT Lite 60+10 because it seemed to suit my body structure the best. I was really surprised because I had heard so many great things about Osprey packs, but to me they all seemed rather uncomfortable. Each body is different and I suppose that is why it is so important to get fitted for the right backpack. As well as that, Leah, Sarah and myself had all recently purchased new hiking boots that needed a test hike and some breaking in. The 6.5 miles in would be the perfect opportunity.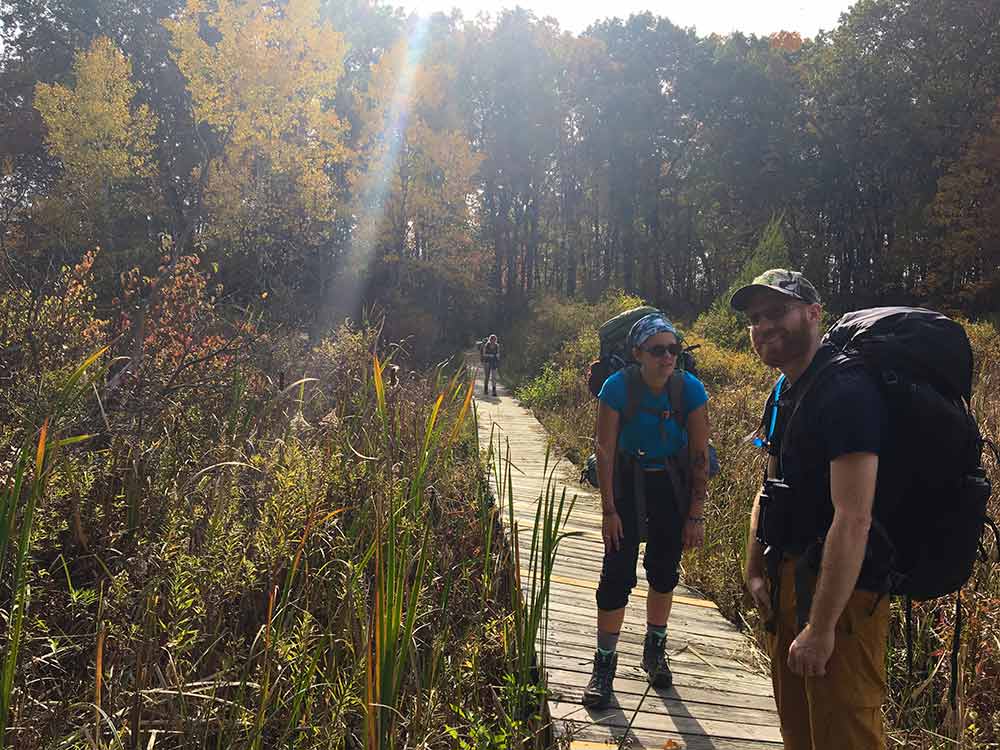 After arriving at the trailhead around 1:00pm we all packed up and headed into the woods. The majority of the hike is fairly mild terrain. There were a few short, steep hill climbs and some narrow boardwalks over marsh and wetlands but overall an easy hike that offered up enough scenery to keep it interesting. The wooden bridges and boardwalks added a beautiful sunny change after trekking through the shaded yet colorful autumn forest. The trail changes course a few times and isn't always that well marked. Keep your eye on the map and pay attention to any direction changes you make and you should be fine. Cell service works in most areas but phone GPS is not always the most reliable so be sure you have a map.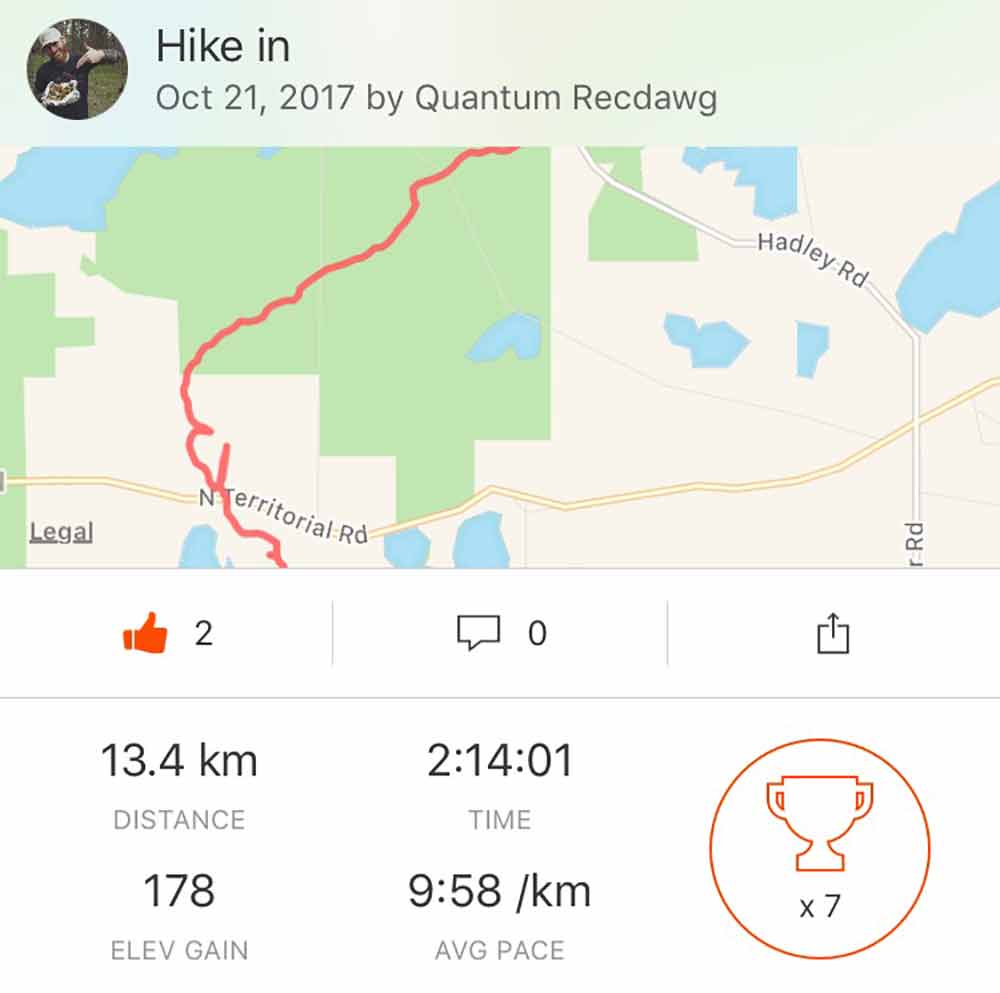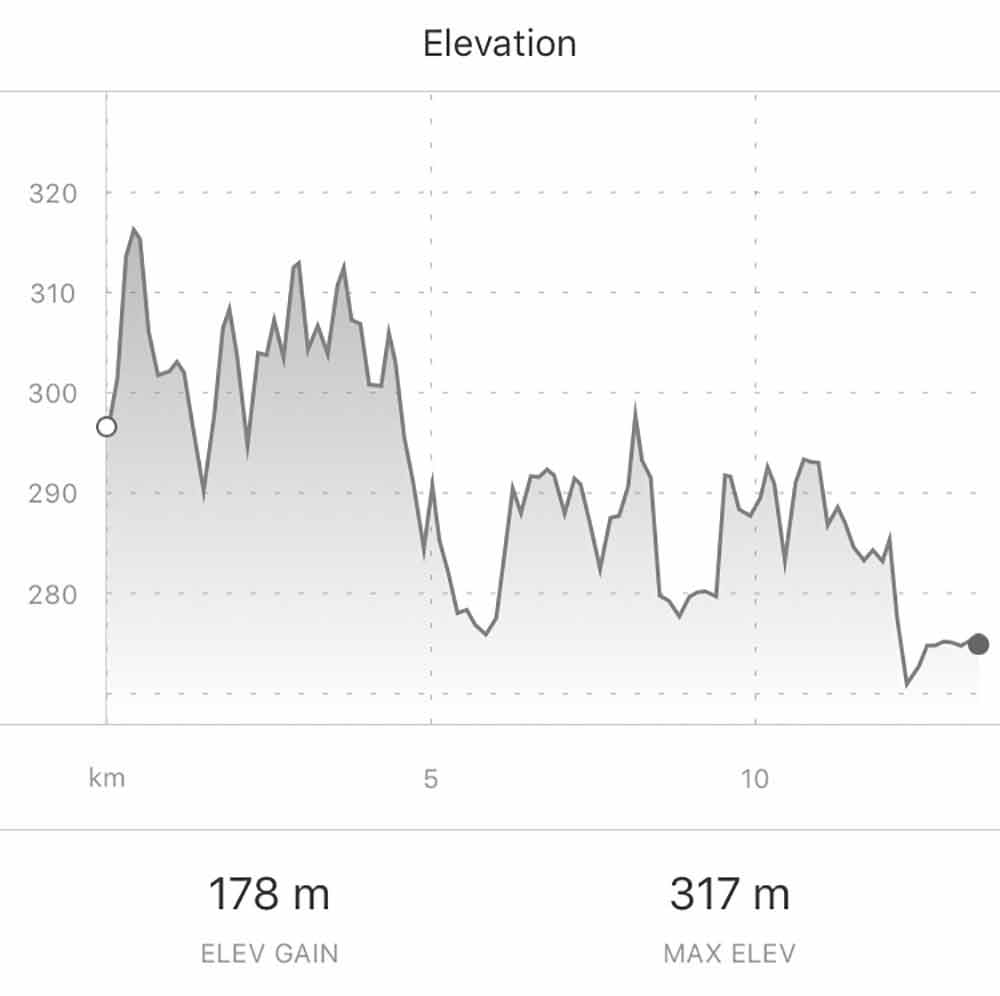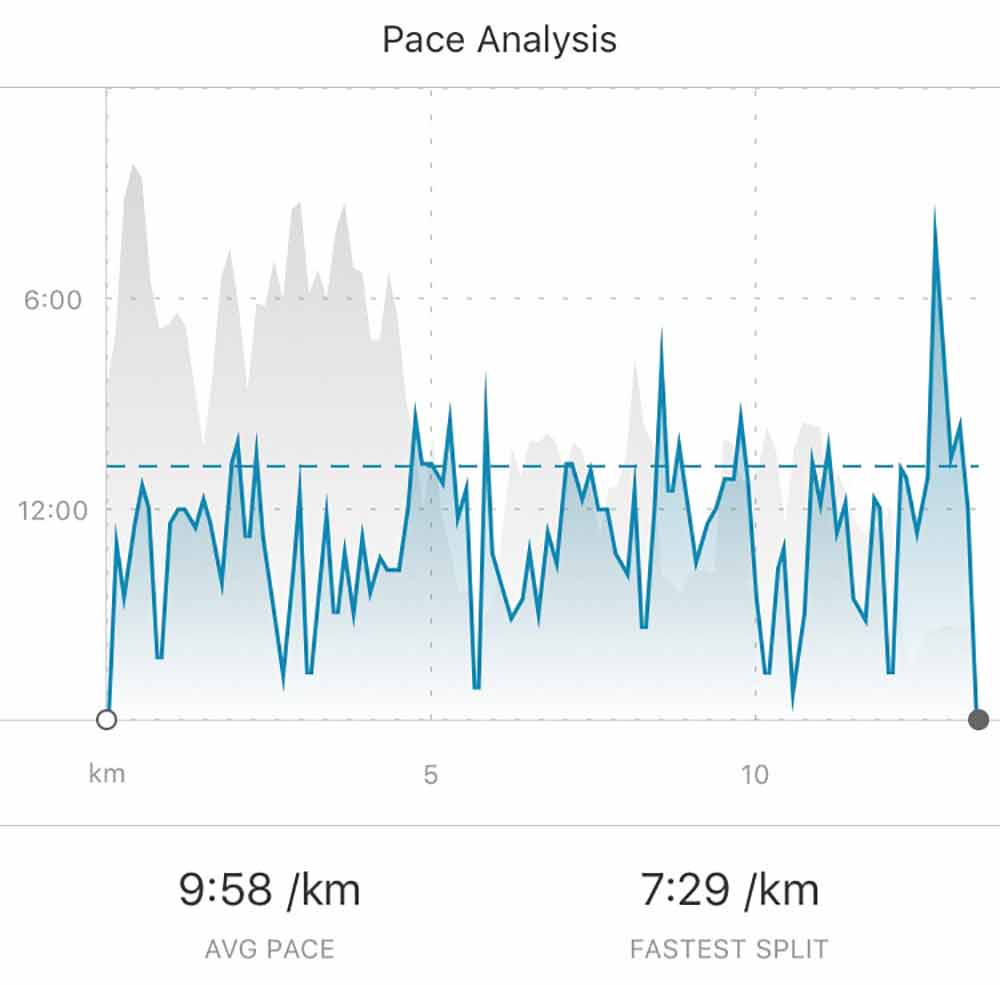 The hike in took us about 2 1/2 hours and we arrived at the campground about 3:30pm. We were pleasantly surprised to find that although Blind Lake is considered a "backcountry campground", it does offer a water pump and an outhouse. The campground contains 10 sites that are spaced apart nicely, providing plenty of privacy for each inhabitant, as well as a fire pit for each site.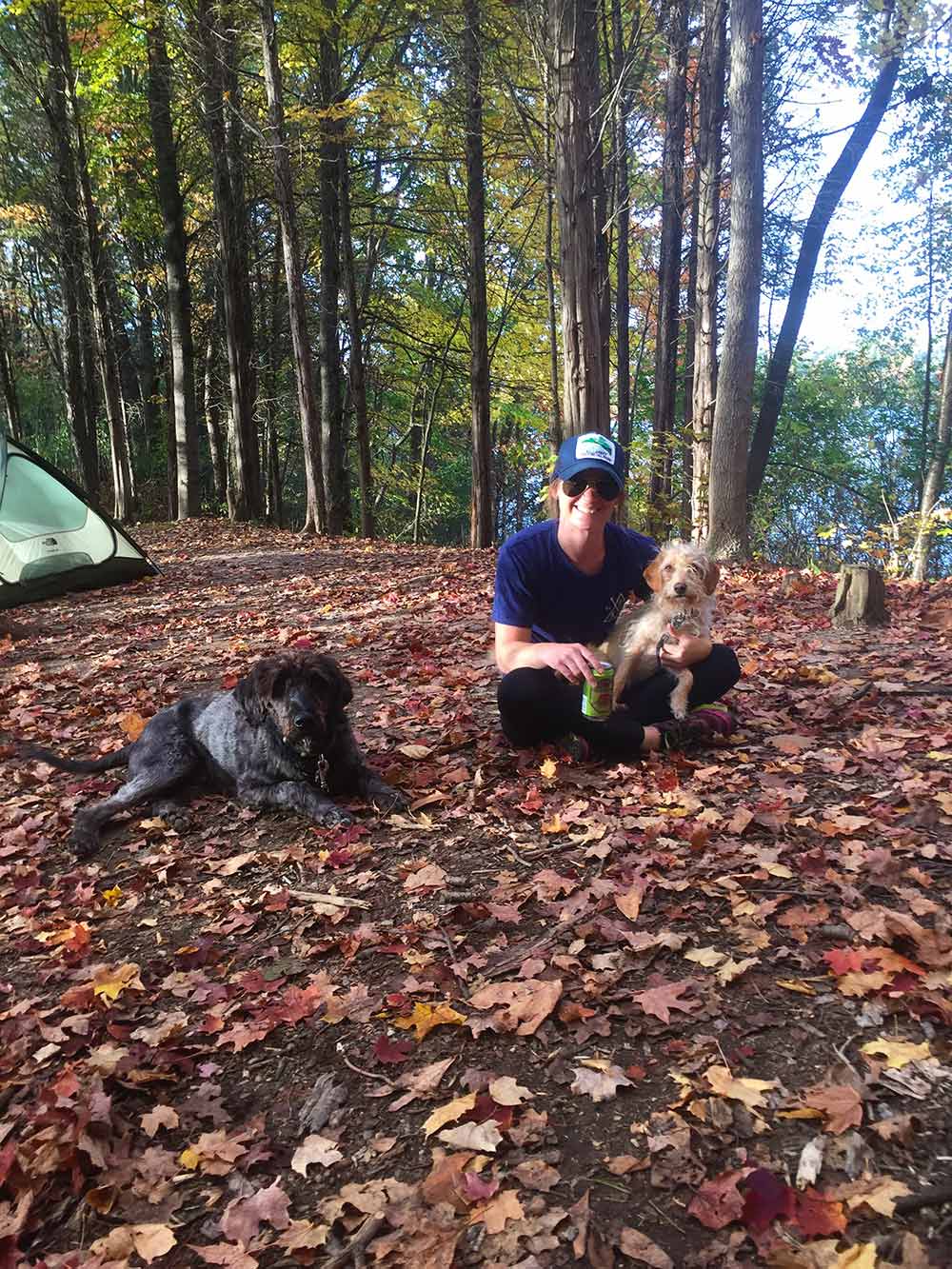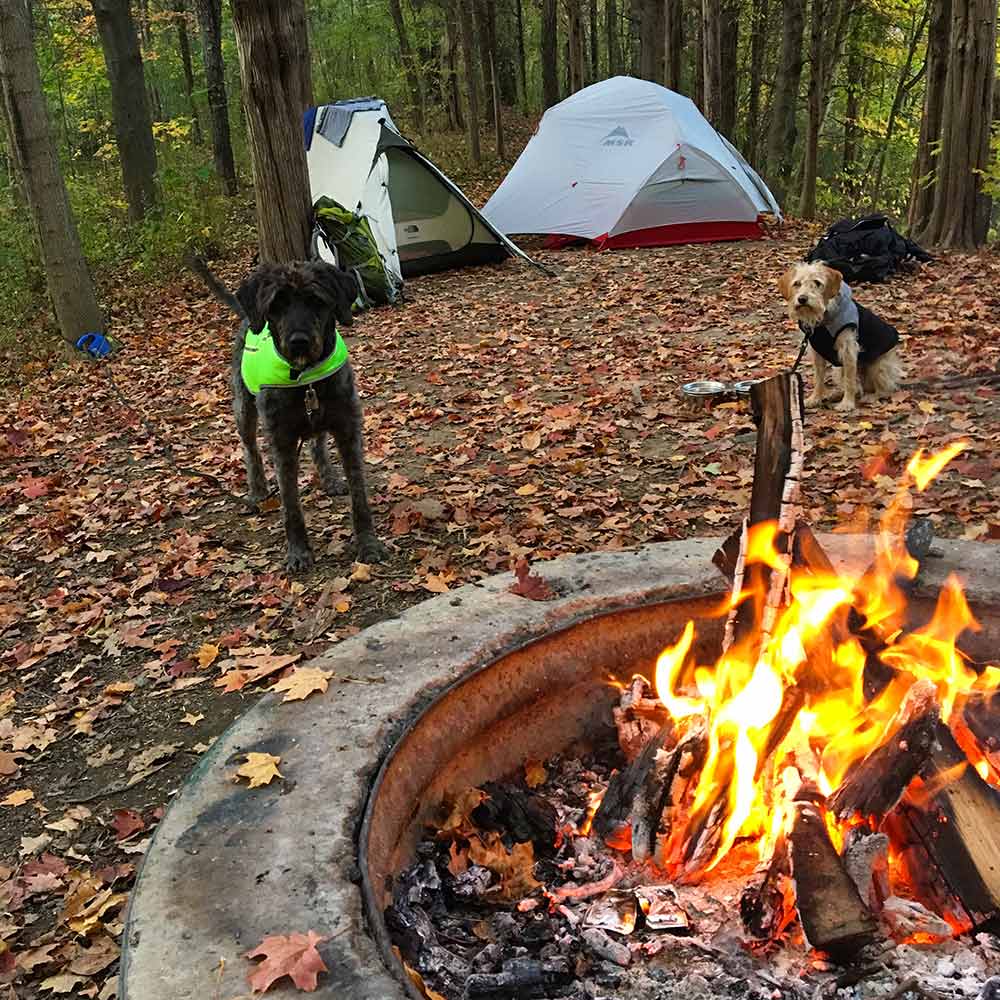 After we all changed out of our sweaty hiking clothes, unpacked and got our sleeping arrangements set up for the night, it was time for a few beverages. Leah pre-made steak fajitas at home and kindly offered enough to share with the group. She froze the ingredients the night before, so by the end of our hot hike, things would be just about thawed. The meal was incredible. It could have just been the long, hot hike but Leah's fajitas tasted absolutely bomb. We cleaned up the dishes and got everything put away just before dark. Anthony got the fire started and we all enjoyed a few cold beverages around the fire. Bedtime came earlier for Leah and Sarah, while Anthony and I decided to stay up and do early morning dawn patrol.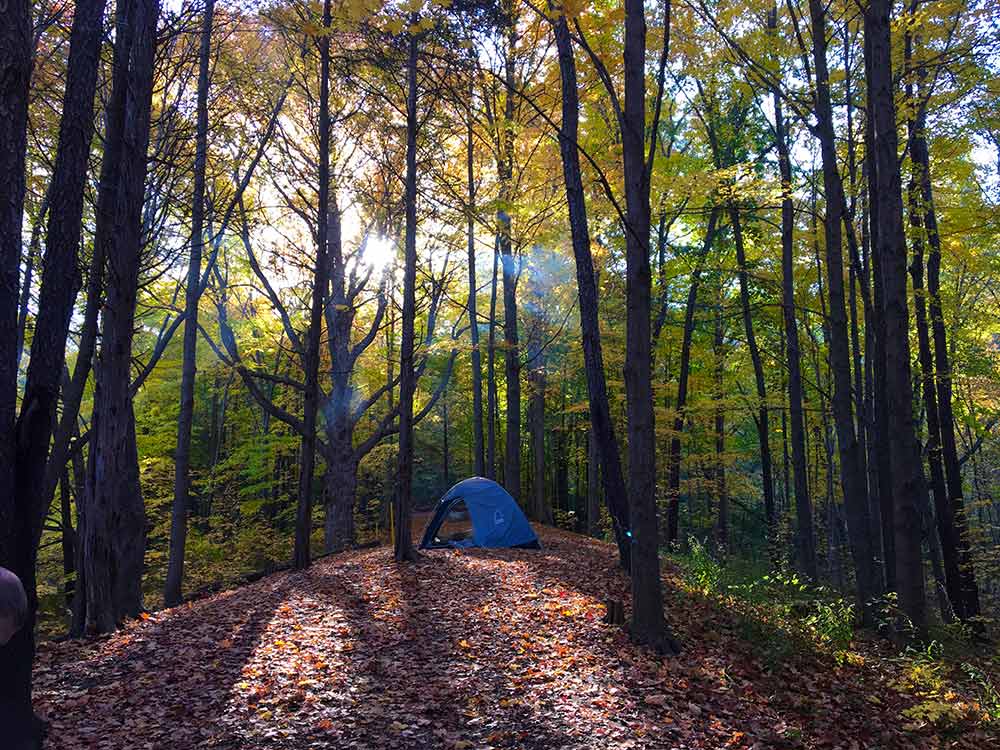 For some reason I tend to sleep in the latest when I'm sleeping outside. I was so cozy that night snuggled into my small tent with my two dogs. So of course I was the last one up and finally emerged from my slumber around 10am or so. I joined the rest of the group for coffee and quick breakfast before we packed everything up and headed out.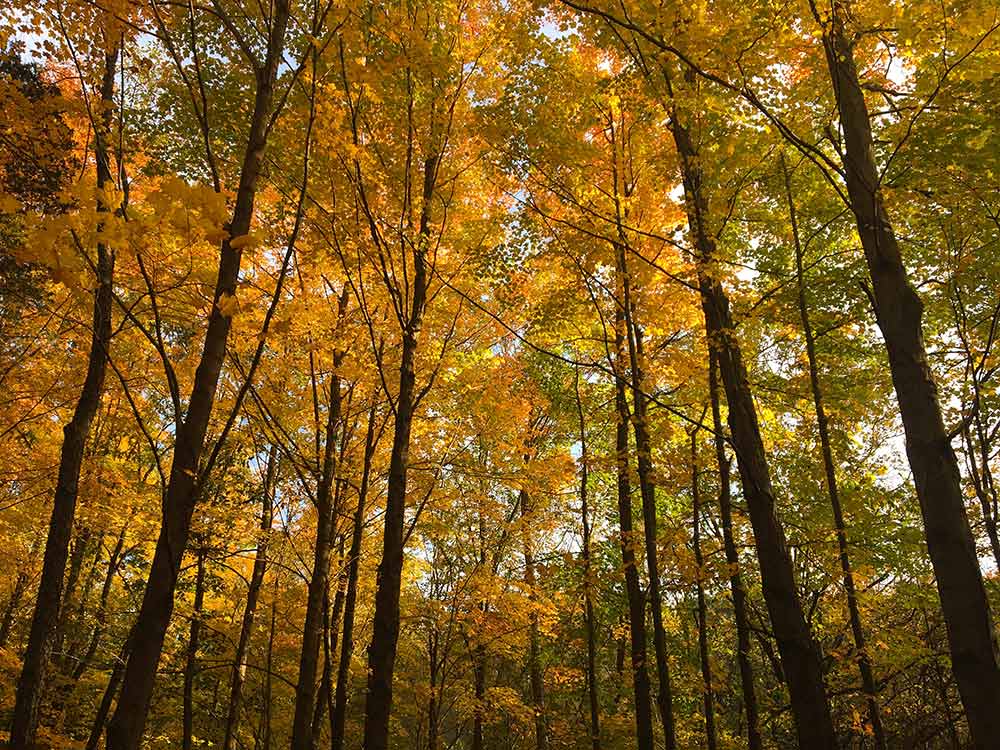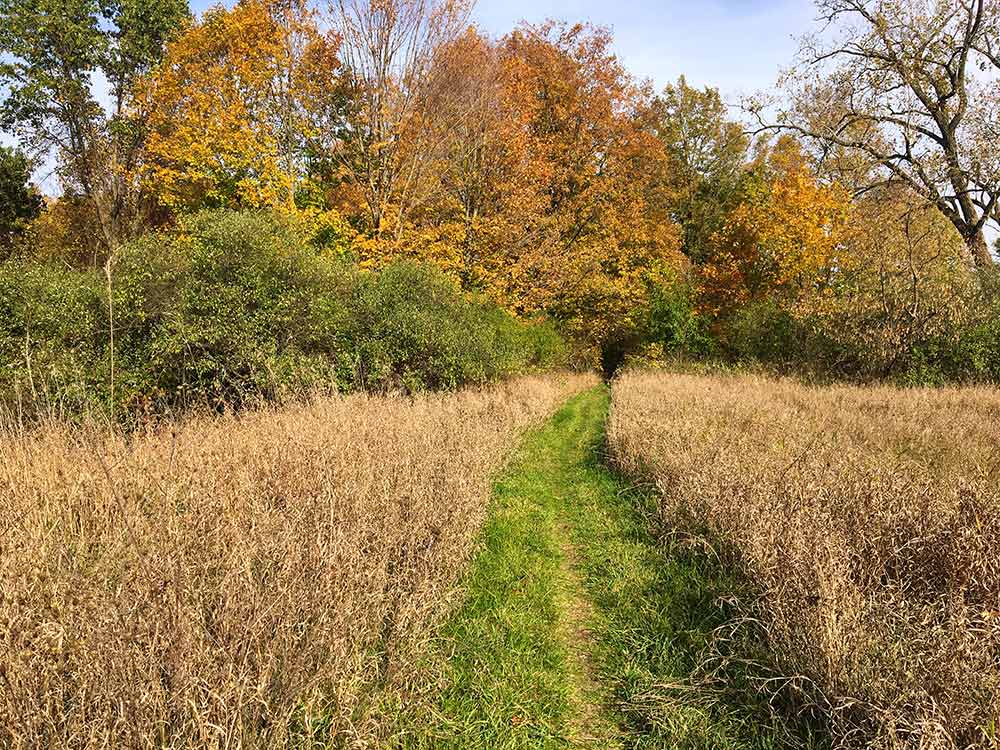 Although this hike was relatively short, we all had achy feet and muscles from all of our new gear. Despite our sore muscles the hike back to the car ended up being even more enjoyable than the way in. The crisp autumn air and sun peaking through the brightly colored trees was perfectly peaceful while we made our trip back. We even stopped to take a few breaks, relieving ourselves of our packs and sprawling out into the warm grass. The last few miles became a little trying due to the new boots, but a great hike just the same. Overall everyone found this adventure very enjoyable. Blind Lake proved to be a very beautiful, close to home destination for a quick trip to test gear or just to get outside for a little late season hiking and nature fix.