Body By (22 of Michigan's Best) Burgers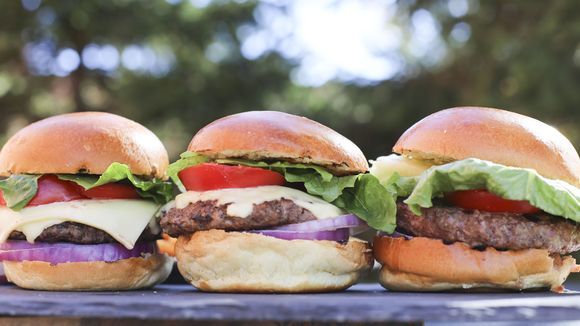 BURGERS! I love them. I crave them. I dream about them. Medium rare, bacon, melted cheese and all the fixings. It's safe to say if it absolutely came down to it and I had to pick, I would probably pick burgers as my favorite food (sorry pizza). So when I came across the thrill-list of Michigan's 22 Best Burgers I couldn't refuse the temptation. This checklist was purely pleasure and had no deadline. With that said, I guess now it has been somewhere between two and three years since I started visiting these places. That may seem ridiculous, but Michigan is a big state and the burgers are sprinkled all over the place. Not to mention, it has been kind of nice always having this list as sort of a work in progress. It always added some extra adventure if I was planning to be in a nearby town or gave me a reason to travel to somewhere different on a lazy weekend. Just the other day I realized that I am now more than halfway through the list. So I decided I should start getting some of my experiences into print for all my fellow burger lovers. I haven't decided yet if I am going to rank these or not, and since I'm not completely through the list, I am just going to list them in the order I ate them for now. Upon completion I will most likely choose my top five, and also add a few of my own favorites that didn't make the original list. But for now, here are the first eleven.
The Bronx Bar

Location: Detroit (midtown)
[star rating="5″]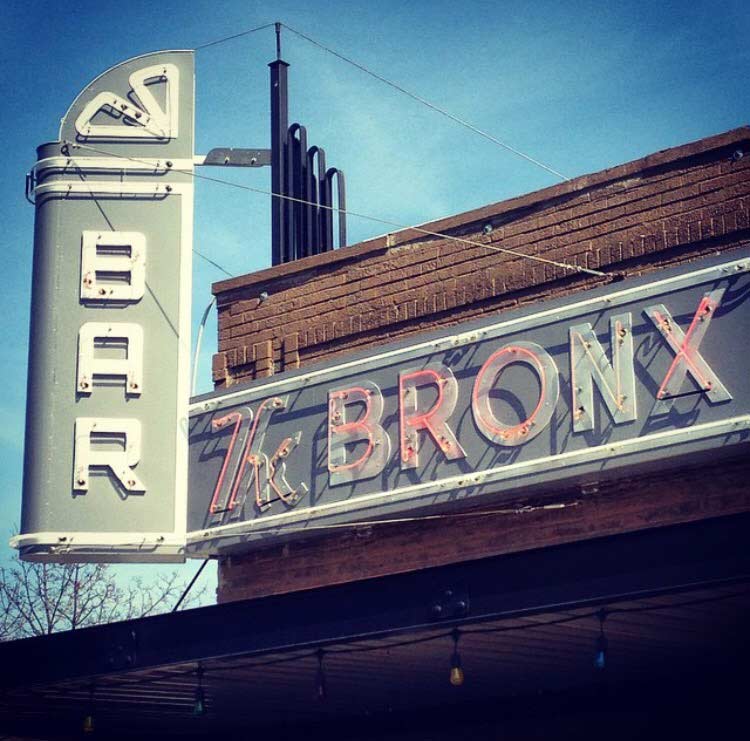 Unlike most of the other bars/restaurants in this area the Bronx has actually been there a while, something like 2005. It's a no frills kind of place. When you walk in, you seat yourself. We always like to sit at the bar, or a table surrounding the bar. Pretty much anywhere you sit, you'll have to walk up and place your own order with the bartenders. It is one of those dim lit bars, where everything is wood. For lack of better words I'll call it a dive. The menu is simple and the bartenders don't give you any fluff. What do you want to drink? When do you want to eat? Do you want the check? etc. Which in my opinion, is the best. I am somewhat slow when I go out to eat and like to drink a few beers and relax before I even look at the menu. So I hate the feeling of having a bartender or waiter continually ask me if I need anything. This place was great in the fact that they let you come to them. When it comes to ordering just get the burger. Get it medium rare, with cheese and all the fixings. This is a no nonsense kind of place because they have seriously perfected the art of the burger. This burger comes out the size of your head on a bakery fresh sourdough bun, which I was told are delivered daily. It's actually mind-blowing good. If I had any doubts about attempting to complete this list, this burger definitely made my mind up for me.
Blimpy Burger

Location: Ann Arbor
[star rating="2.5″]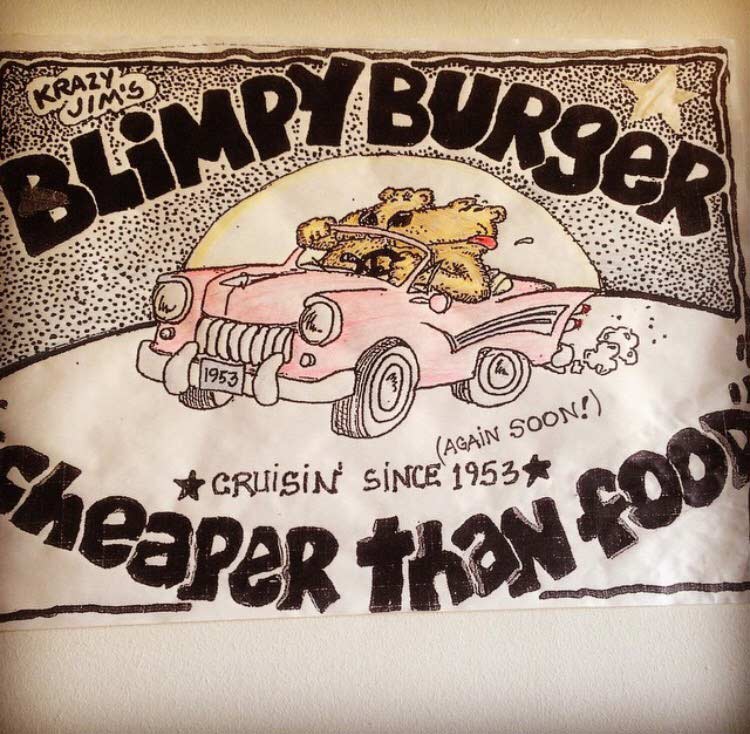 The blimpy burger was the second burger by default. I was running the Ann Arbor Half Marathon and had to do packet pickup the day before. Since I was already in the city and needed to carb load for my race the next day, I figured what the hell. So this place was not at all what I expected. When we got there they had just reopened a few days prior after changing locations and there was a freaking line out the door. My other half was immediately annoyed because he loathes waiting in lines for food, but reluctantly he waited. It's one of those walk to the counter, order, then pick up your food on the other end type of deals. You pick how many patties, cheese, toppings, etc. It was almost like a five guys for any of you who has been there. The original list that I was going off of suggested that I get the triple (at minimum), but after eyeing up the triple that was ordered in front of me in line, I decided to go with a double. These burgers are seriously huge! You pay with cash only (which we didn't realize before we got in line) but luckily had enough to cover our meals. For the record, this place does not sell alcohol so I went into this burger dead sober which is not my normal behavior. After the long line and all the buildup, I assumed this burger was going to nothing less of iconic. Sadly, it wasn't. I will say that it was good. It was fresh, hot, greasy and seemed to be slapped together with love. Although for me, it was just a bit much. I mean don't get me wrong, I'd eat it again, but maybe next time after a long night of drinking when my stomach needs a serious coating of grease.
Cutter's Bar and Grill

Location: Detroit (Inside Historic Eastern Market)
[star rating="3.5″]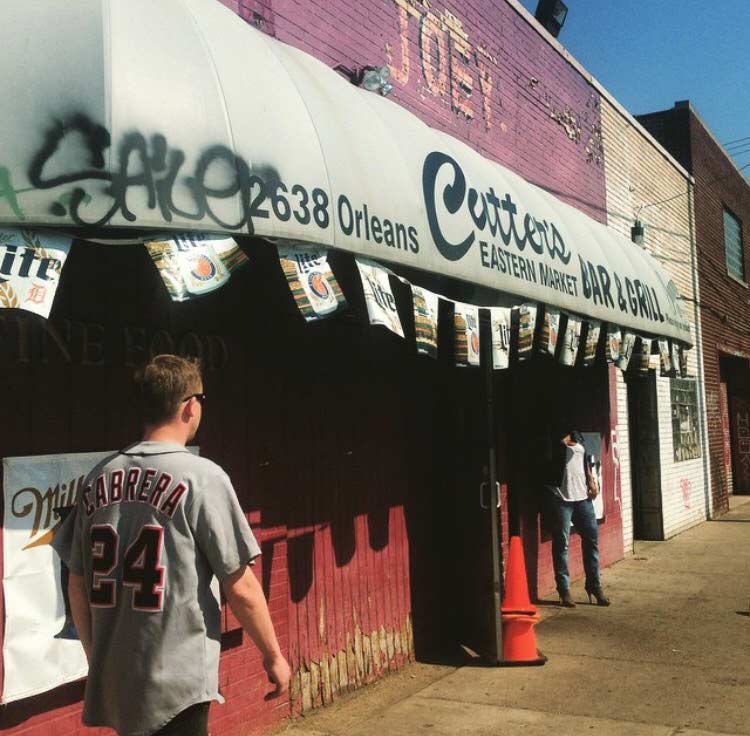 I made my visit after an early season Tigers game and the streets were packed with people. It was mid afternoon on a Friday and I already had a healthy buzz from the baseball game. The vibe inside is nothing like what you would expect by looking at the exterior of the building. The bartenders were super friendly and chatty and the bar patrons were the same. The drinks were strong and the burgers were fantastic. They are known for their "stuffed burgers" which I wasn't all that familiar with at the time, but let me assure you that they did not disappoint. My entire experience is a bit hazy but I believe I ordered a cheddar and bacon stuffed burger topped with fried egg. Did I get fries? I don't know. Wouldn't have mattered because I inhaled the entire thing so fast I may not have seen them anyway. I washed it all down with another alarmingly strong vodka soda and called it a day.
Spike's Keg o Nails

Location: Downtown Grayling
[star rating="4.5″]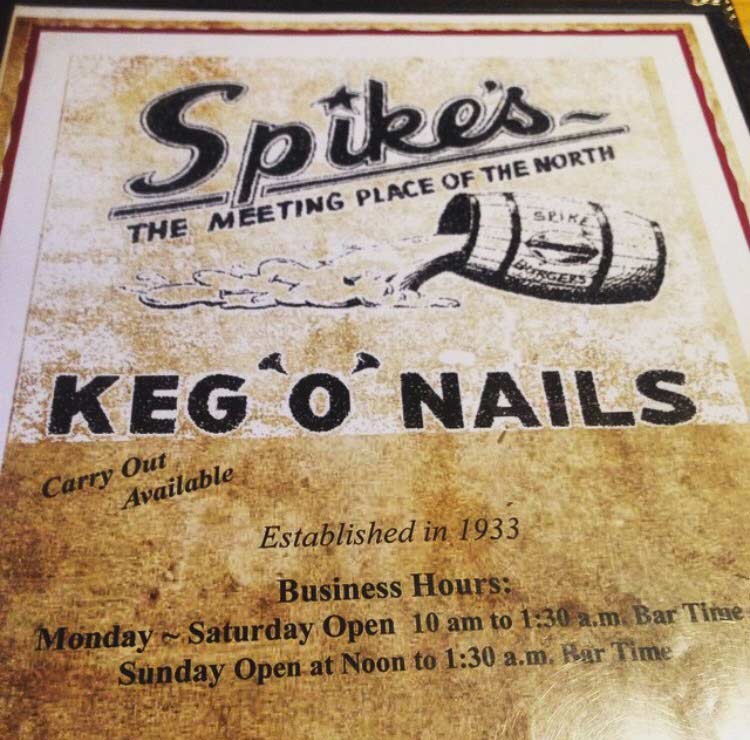 I have been taking camping trips in grayling every year since I was about 15. How have I never been here?! It is right off the main highway 72 just outside of downtown. It's a drab little hole in the wall, but does have a rather large sign, which is surprising I missed all these years. We swung through on a early Saturday evening on the way to our favorite campground. The place is pretty tiny, so fills up fast. Luckily, it wasn't quite dinner time yet, so we snaked a few stools at the bar. The bartender was super friendly and chatted us up our entire meal. He told us all about local breweries that were nearby and a few new pubs that had just opened and he suggested we tryout. We had a few beers while we chatted and when we did finally put our order in the place was completely packed. Even so, the burgers came out in record time. Perfect, massive, cooked to perfection, and full of grease. I ordered a jalapeno burger with bacon, pepperjack and guacamole. Everything about this place gets a thumbs up! The atmosphere, the service and the food.
The Torch Bar and Grill

Location: Downtown Flint
[star rating="3.5″]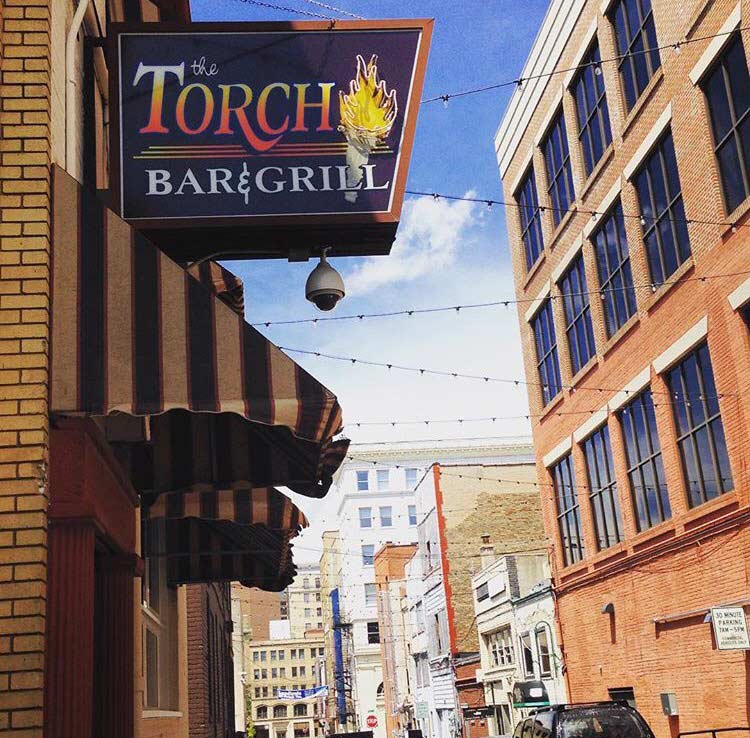 Torch is a tiny little bar that was established in 1946. It's tucked away in an alley in downtown Flint. I decided to check this place out after riding the Crim bike race in early spring. The bike race isn't huge but I expected this place to be pretty packed because there isn't much around. Well, it wasn't. Actually I think we were two of only 6 people in the bar. They had a nice selection of craft beer on tap and everyone in the bar had also just finished the bike race. I was preparing for my first full marathon and happened to sit next to a man who had ran some insane number of them like 45. While he humble bragged, I sucked down a few beers and a ½ pound burger of fresh delivered daily ground beef on a bakery bun. I ordered a standard bacon cheeseburger and it was nothing short of delicious.
Schlenker's Sandwich Shop

Location: Jackson
[star rating="3″]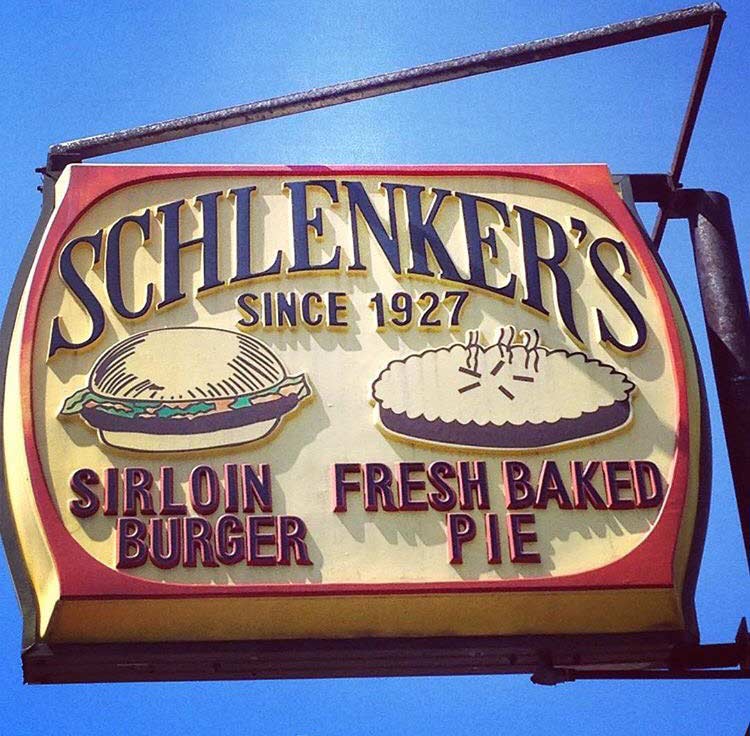 I visited this adorable little establishment after I ran the "Running Between the Vines" half marathon at the Sandhill Crane Winery. Are you sensing my theme yet? Yes, I did do most of these burgers post or pre race. Anyway, this place is super cute! It's a little Mom and Pop diner that was established in 1927 with an old school U-shaped counter centered right in the middle of it. No alcohol and a pretty short little menu. There was only one young girl working the counter but she was really sweet and quick on her feet. The burgers are your typical greasy diner burger, and who doesn't like that? They were double patties with cheese, onion, relish, ketchup and mustard, all slapped together and served in wax paper. I don't know when (if ever) that I will be back in Jackson. But if I was, this is where I would eat.
Clyde's Drive-In

Location: St. Ignace
[star rating="3″]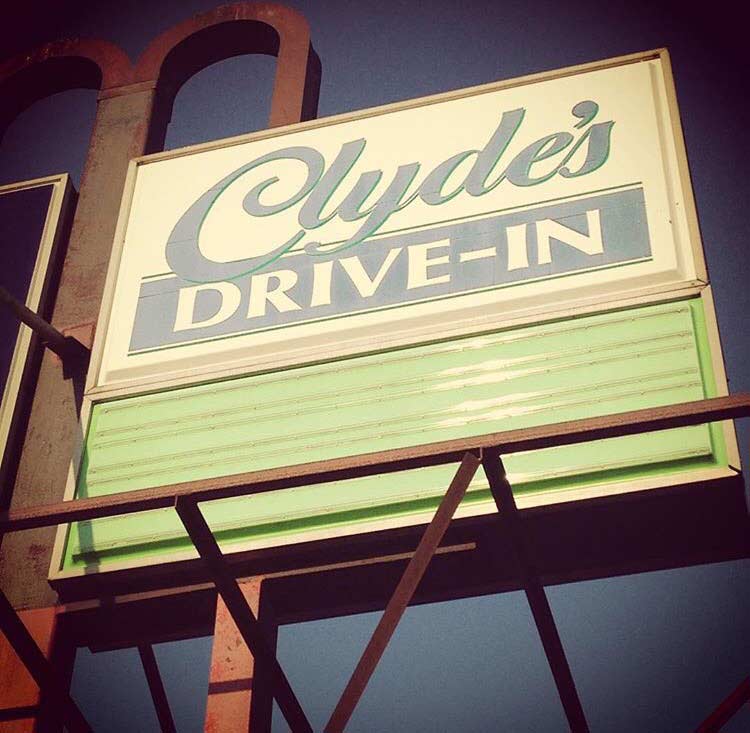 Okay seriously, do not get "The Big C" unless you're a maniac! The list I was following suggested this monster and I am still recovering from it. It's a triple patty cheeseburger served with pretty much everything. This burger was massive. I could barely even hold it together, let alone try to take a bite of it! I mean, don't get me wrong it was incredibly tasty but I think I would have done much better with a single or double patty. I don't even think I was able to finish half before I was forced to throw in the towel. Being a greasy diner burger it's not exactly the kind of food that keeps well either, so it was kinda a waste. All of that aside, it's a really cute place! An old time diner where you drive up and they take your order then bring the food right out to your car and hang it on the window. They have a ton of options other than burgers but I think all of it is deep fried. It's not the healthiest meal, but a perfect closing to long trip up north before crossing back over the bridge.
Red Coat Tavern

Location: Royal Oak
[star rating="4″]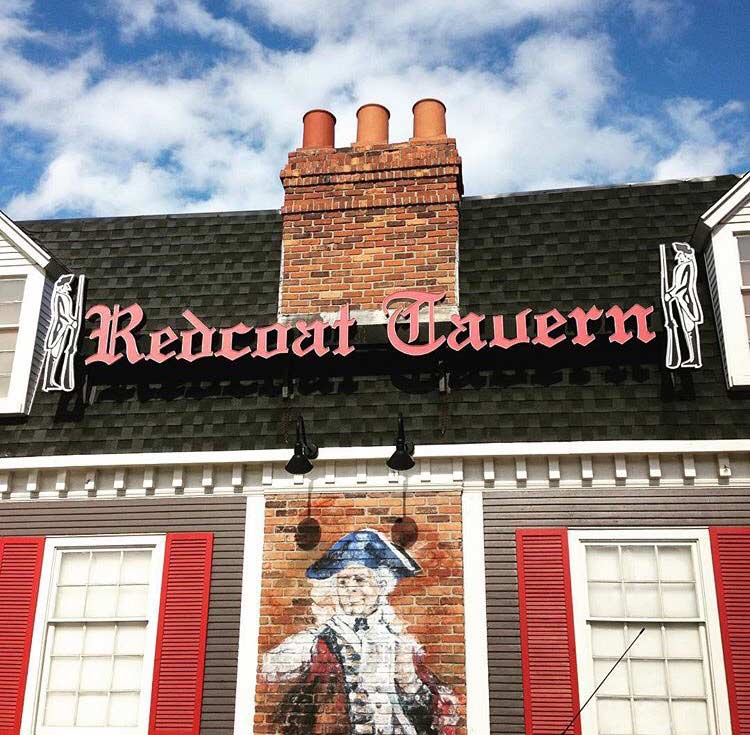 It's almost embarrassing that I hadn't visited this place before I decided to do this list. All I ever heard when people talked about it was how amazing it was. The burgers are pretty much famous around here, which makes it a pretty popular place. So I guess that's why I hadn't been there, because I don't really care for popular places. Not that I don't enjoy the food, but I hate waiting in line for a table, only to be rushed through your meal so the next table can sit down. Anyway, I can't remember why but we ended up here on a weekday afternoon and it was perfect. It was still semi busy because I think it was lunchtime, but the bar was completely empty and just waiting on us. They had an outstanding selection of beer choices and we got to take our time and try a few. I ordered the Red Coat Special and just as reviewed, it was alarmingly good. Part of me thought maybe all the hype might of ruined this one, but that was not the case at all. This burger was fantastic.
Frank's Eastside Tavern

Location: Mt Clemens
[star rating="4.5″]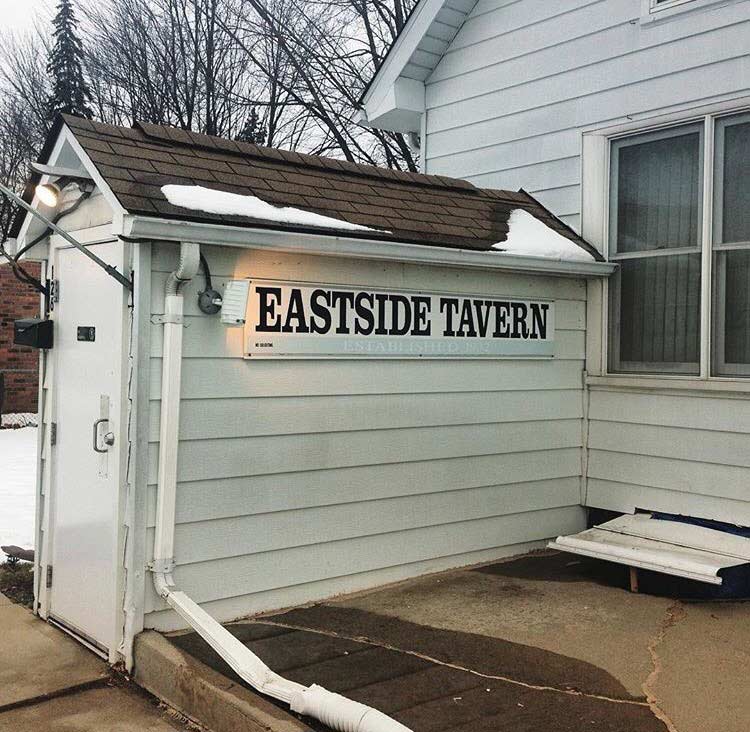 Spoiler alert, this place is legit in the basement of a house that is in the middle of a residential neighborhood. Complete with low ceilings, limited space and an owner that lives upstairs. I guess once upon a time it used to be a Prohibition bar that served it's alcohol illegally to patrons, which is why it's not your typical bar setting. You know what else is not typical? The burger. These burgers were the most wonderful, delicious unexpected surprise. Cooked and prepared by the same bartender who poured our drinks and took our order, they were nothing short of perfection. I will admit I was super skeptical of this entire place, but Frank has proved to me that everything is not what meets the eye.
Sidetrack Bar and Grill

Location: Ypsilanti
[star rating="5″]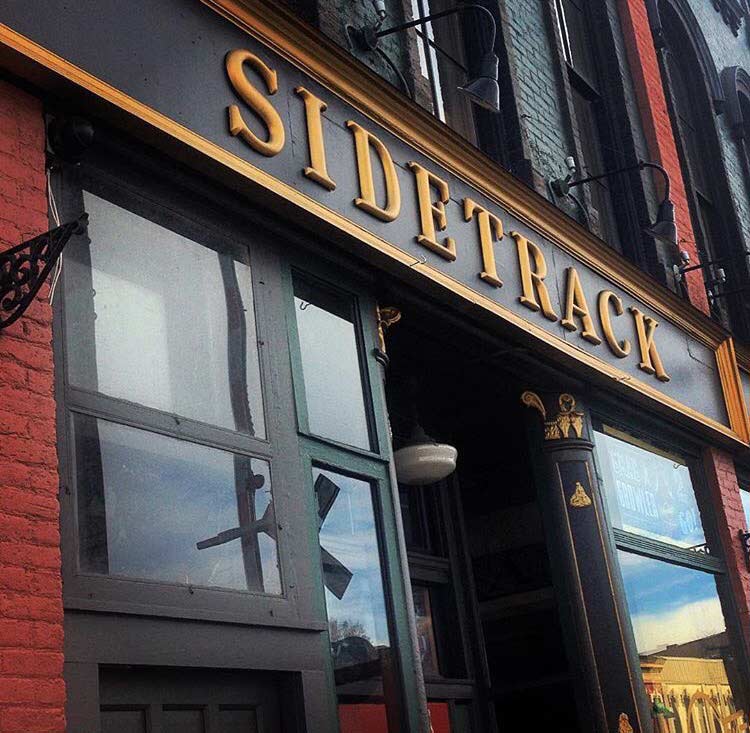 Joe and I have been trying to come up with excuses to go back to this bar since the moment we left it. I really enjoyed everything about this place. First, this was not your typical burger. They provide a crazy long list of cheeses and toppings that are nothing out of the ordinary. Not to mention they have a wall of taps with more beers and ciders than you can count. They even have alcoholic kombucha on draft. We also learned that there is a kombucha brewery just down the street that offers tastings and classes for people who want to make their own. Of course we visited that as well. According to thrill list, Sidetracks burger has actually be voted one of the best in America and not just Michigan and I would have to agree.
Falls Sports Lounge

Location: Dearborn
[star rating="3.5″]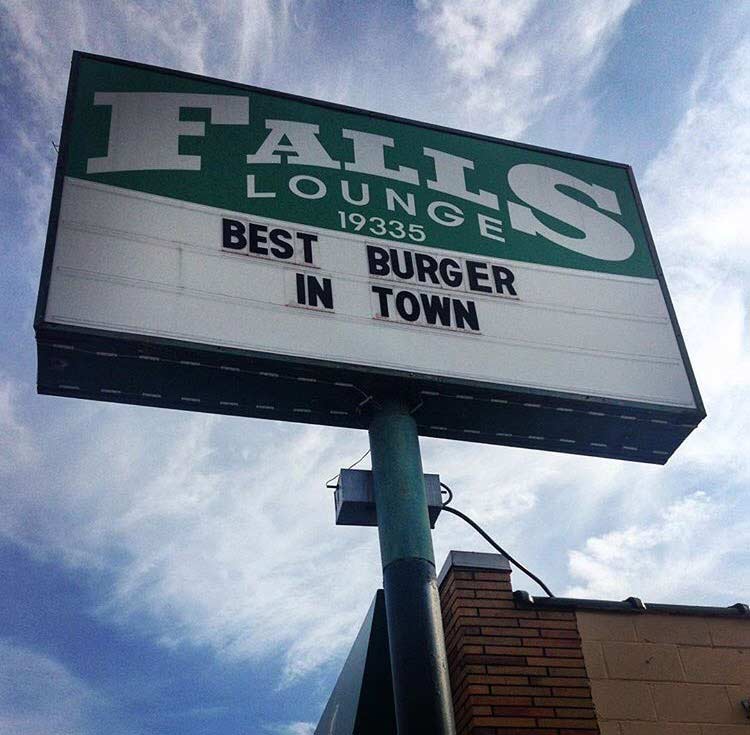 Sometimes it's nice to get back to a good old sports bar. We wandered over to this place on a Sunday in the fall. We enjoyed some football, two giant-sized perfectly cooked burgers and a few too many cheap domestic draft beers There wasn't anything all that special about this place, but we didn't see that as a bad thing. Seeking out the best food can get exhausting, so this place was the refreshing reset we needed. It was a nice quiet little bar with cheap beer, good food and a lot of TV's. What more could you ask for on a Sunday in October?
To read Thrllist's 22 Best Burgers in Michigan article click here